It's midnight in a few minutes and I've had a beautiful evening that I want to share with you without too many technicalities. My husband has just gone to bed and I, in that sweet post-coital intoxication, am watching Fifty Shades of Red on Netflix. I'm sipping the last glass of "Fausto' 2017, the spectacular Timorasso Colli Tortonesi DOC from Vigne Marina Coppi. Today I had two exams after a very intense period of study and work: Ecology and Sustainability (grade 30) and Tourism and Gastronomy Statistics (grade 29) and I really needed a relaxing evening. But a good bottle is not enough, you need a match on the level... actually two!
The first match was totally unsuspected: my husband came home with a beef carpaccio delicious that he got from our butcher in Monte Isola, la Mascia, and by the way, if you pass by our beautiful little island, you absolutely must come to Siviano to discover her Salame di Monte Isola. I gave him a round of the monocultivar Sbresa oil that my neighbour Maurizio Ribola makes and it was absolutely perfect.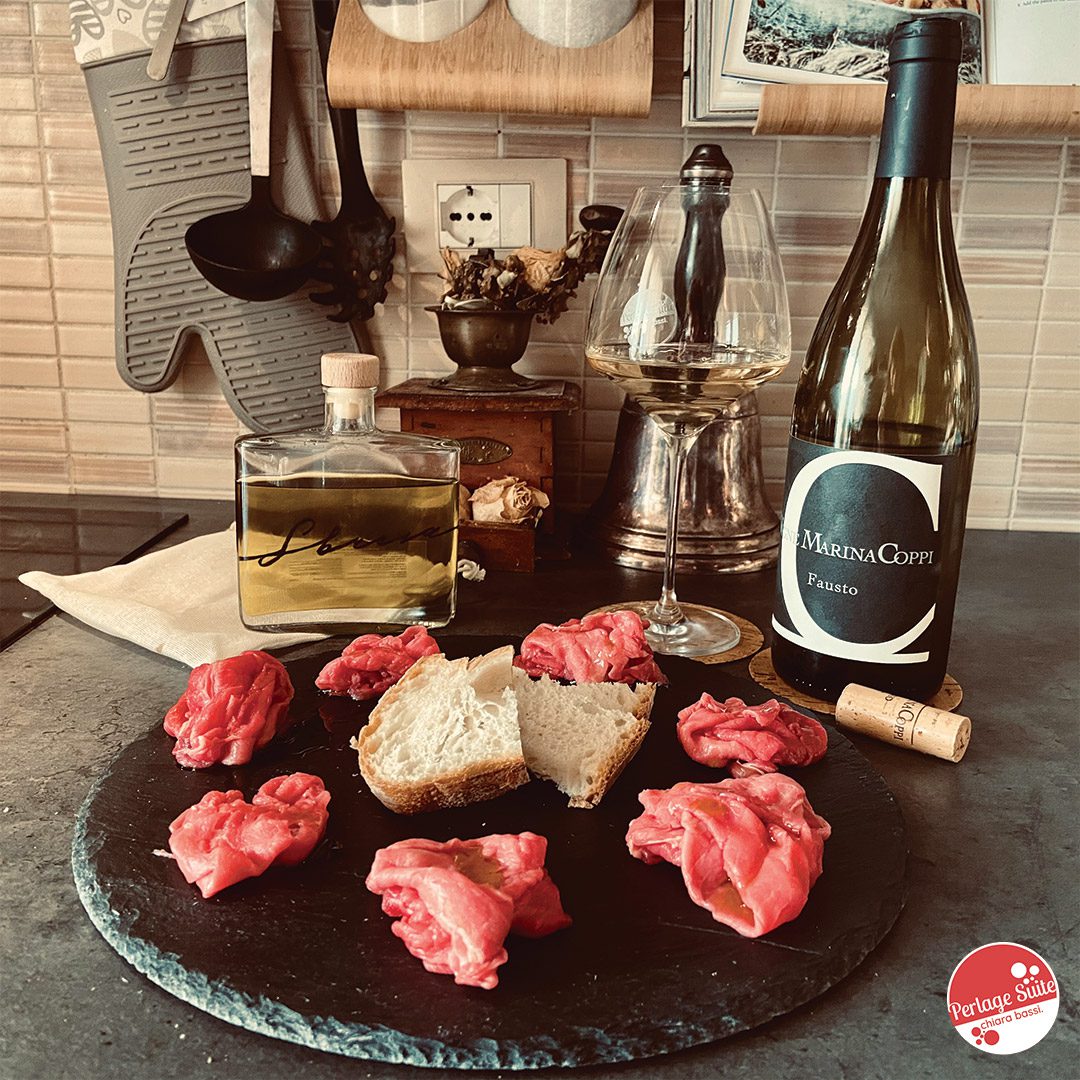 The second pairing, on the other hand, was absolutely premeditated: my husband and I's homemade Neapolitan pizza topped with cherry tomato puree, burrata, chilli pepper cream, basil and the same extra virgin olive oil. A spectacular thing to say the least!
I had already tasted the Timorasso 'Fausto' 2017 by Vigne Marina Coppi just before Christmas, but I must say that these four months in the bottle have been decisive in giving you an olfactory orgasm as soon as you pour it into the glass. To say the least, it is incredible thepowerful hydrocarbon developed. Here, this is a Timorasso of the kind I like... with an intense and elegant nose all centred in this family of scents. You can also recognise candied tangerine, flowers and lime honey... all the scents are defined and clear. In the mouth it enters intense, consistent, with an important pseudo-caloricity muted by a great acidic shoulder and a salty note. Great structure and great persistence. Given that this vintage is taking this turn in the bottle, I am already asking my dear Anna Bellocchio (Francesco's wife, the man with his hands in the vineyard and the cellar) in this article to keep two bottles for me to taste in a few months... and a few years! I advise you to do the same! By the way, absolutely try their favourite Marine and the Barbera I Grop: you will love me for these tips! 😍 I'll just say that Fausto timorasso and I Grop barbera are in the top ten of my favourite Italian wines... 😍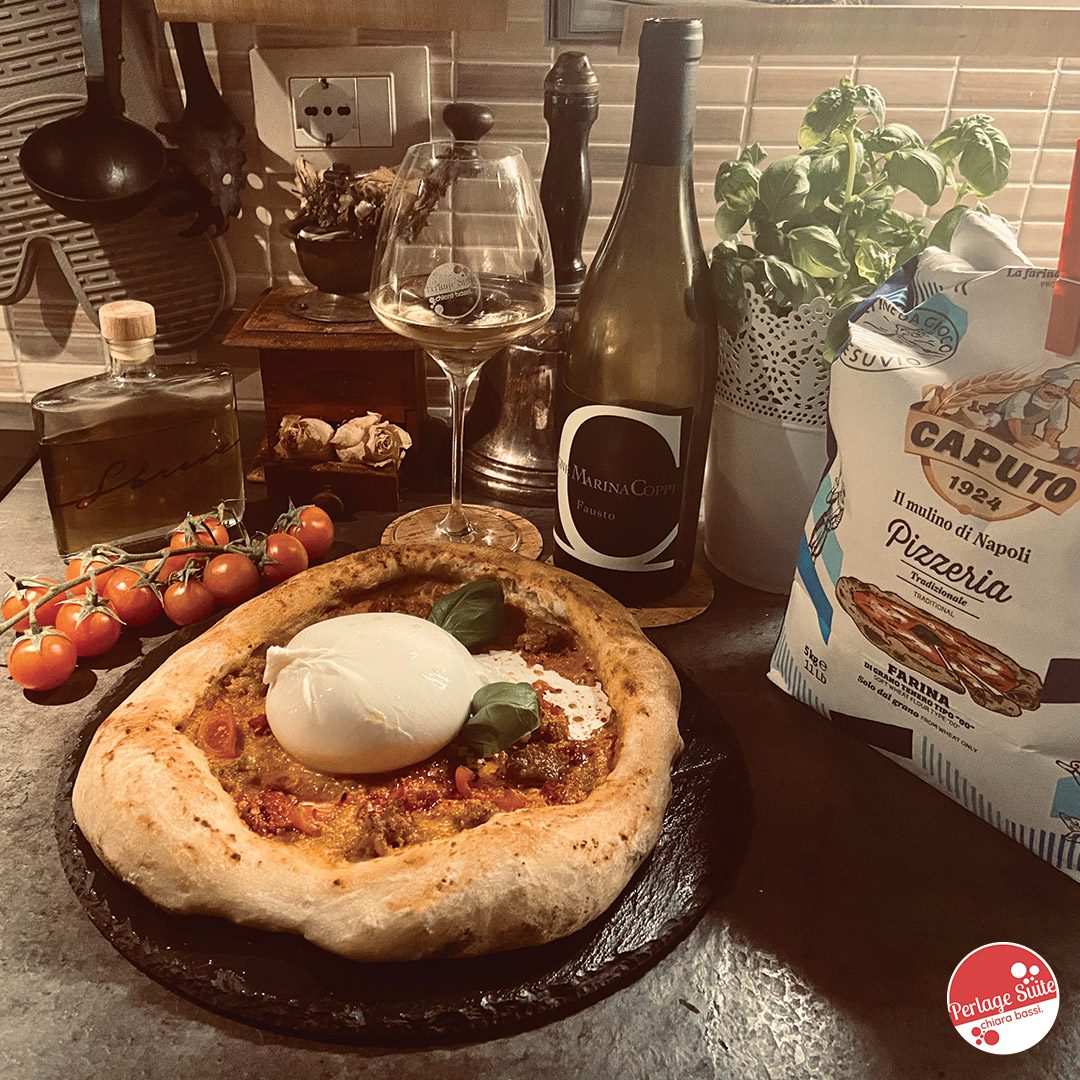 To make a pizza like the one in the photo at home is very easy, just follow my foolproof recipe that I shared with you in this very article. The biggest secret is to let the dough ripen in the fridge for 72 hours (4°C), the perfect time to have a much more alveolar and digestible dough, before the 'real' rising at room temperature.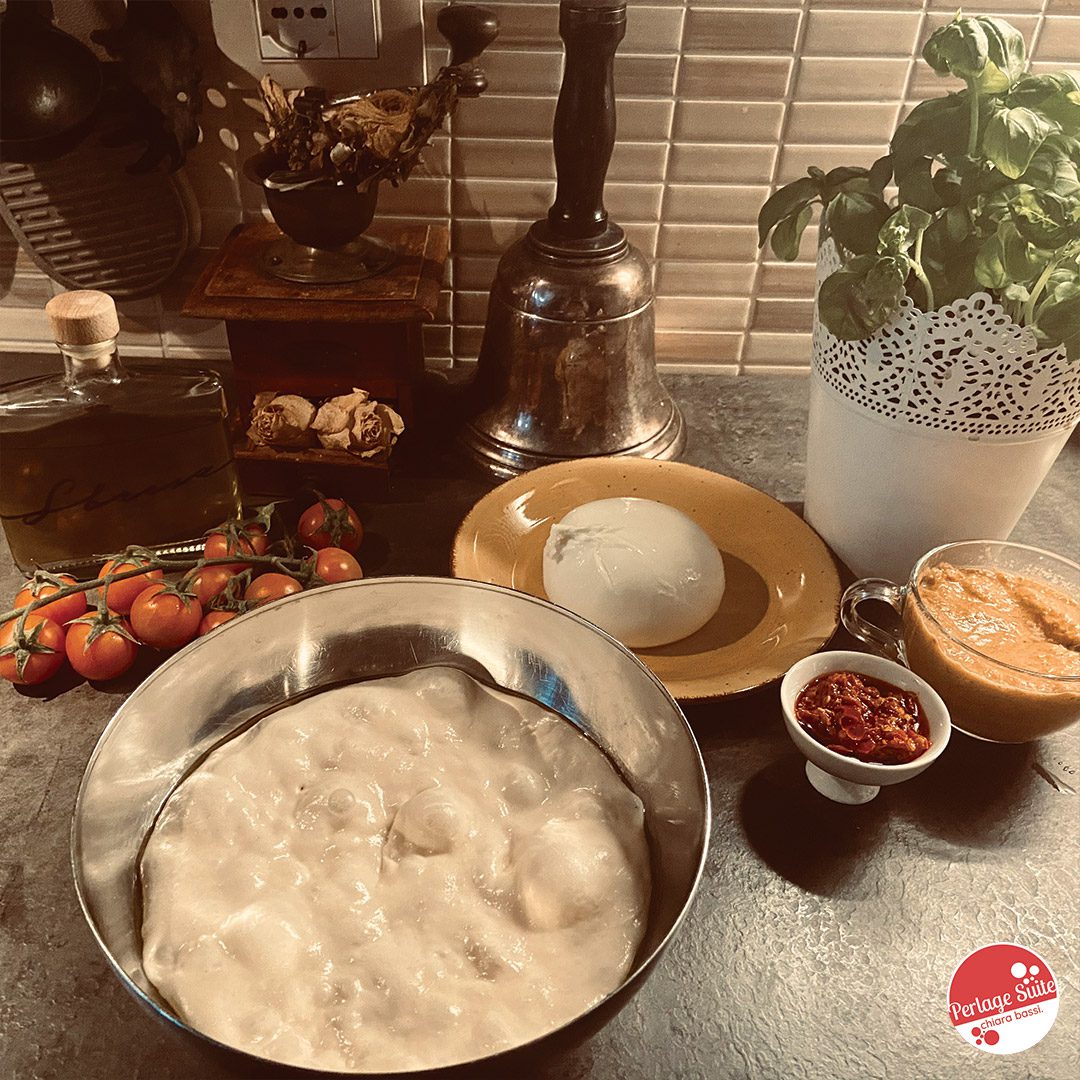 The recipe for homemade Neapolitan pizza? Try mine: it's foolproof!
I had already shared with you the recipe for homemade Neapolitan pizza, but after a few years and dozens and dozens of pizzas made, I think I have fine-tuned the recipe to the point where it is infallible. This recipe is for two large pizzas.
Ingredients for the pasta:
Ingredients for the tomato sauce
16-20 cherry tomatoes
1 clove of garlic
2 tablespoons of extra virgin olive oil
8 basil leaves
a pinch of fine salt
Ingredients for the dressing:
2 burrata of 200g each
basil leaves
extra virgin olive oil
a few teaspoons of fresh chilli pesto to taste
 Procedure:
Phase 1:
Put the flour, water and yeast into the planetary mixer or kneading machine. If you use fresh yeast, dissolve it in a little water. Turn on the planetary mixer and knead at low speed with the dough hook for 10 minutes.
Add fine salt and knead for another 2 minutes, then place the dough on a work surface, fold it into a homogeneous ball.
Grease a rather large aluminium bowl with extra virgin olive oil and place the ball of dough in it, then seal well with cling film.
Ripen in the top shelf of the refrigerator for 72 hours.
Phase 2:
Take the large bowl out of the fridge.
Grease two smaller aluminium bowls with extra virgin olive oil.
Break the dough into two pieces.
Give each piece 10 folds and form a ball.
Place each ball in a bowl and seal with cling film.
Leave to rise at room temperature away from heat sources for 24-48 hours.
Step 3:
Turn on the static oven to the highest possible temperature, I set it at 300°C.
While the oven reaches temperature, grease the baking tray well with extra virgin olive oil.
Take the ball in your hand and roll it out strictly by hand. I recommend you watch the demonstration video I posted below which explains it very well. If, like me, you have long nails and this technique is impractical, you can crush the ball with your palm from the centre outwards, making the ledge.
Season the pizza with tomato sauce, then add a few teaspoons of chilli and a few basil leaves. Drizzle with oil and brush some more on the crust.
When the oven is hot, bake for about 10 minutes. This time may vary by a few minutes depending on the oven temperature.
Take the pizza out of the oven and place the burrata and a few basil leaves on top. Serve in a large, strictly flat dish (Here is the link to my slate flat plate from Tescoma).
If you like this article subscribe to my newsletter or scroll down the page to watch the demonstration video explaining how to roll out Neapolitan pizza!
As you can see in this demonstration video, rolling it out with a slap is not impossible! You just have to get the hang of it a bit, but after a few tries the result is assured! If you really can't, I'd like to repeat the advice to start from the centre and slap with the palm of your hand towards the edge, reaching about 2-3 cm to leave the crust. The ideal is to have the pizza 3 mm thick in the centre and 2-3 cm in the rim!