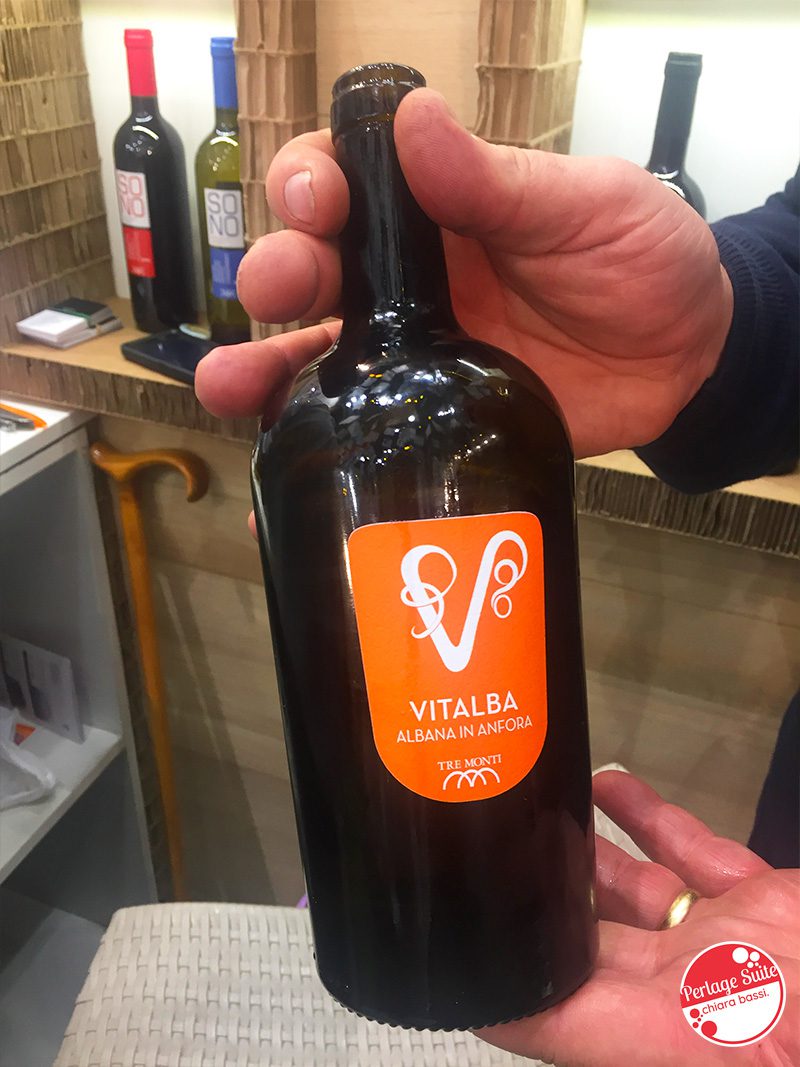 Vinitaly 2019/1: Tre Monti, 'Vitalba' Romagna Albana DOCG dry in amphora 2017
Romagna | albana 100% | 14.5% vol | 15€
How much oenological ignorance of the Romagna region does it take to say that good Albana does not exist? I can think of a few, one better than the other! But there is one that for me surpasses them all: and that is this one by Vittorio, Sergio and David Navacchia! For me, 94 points from Wine Enthusiast or 90 points from Veronelli are low, you are warned!
"Not so humbly should you be drunk, but goldertito pay homage to your suavity!" Empress Galla Placidia, when she named Bertinoro after drinking albana produced from local vineyards in a crude earthenware jug.
In a vineyard dating back to 1983 in the hills of Imola, at 100 metres above sea level and on predominantly clayey soil, 4500 vines/HA are planted with a yield of 2 kg each. Vinification takes place without the addition of selected yeasts and without temperature control in 470-litre Georgian amphora -kvevri-. Maceration lasts, depending on the vintage, between 70 and 120 days.
It is an intense, bright golden yellow with reflections tending towards bronze. The nose is an orgasmic succession of sensations, one more pleasant than the other: honey, hydrocarbons, chamomile, apricot and ginger dance together in great harmony. In the mouth, it boasts a perfect balance between acidity and softness, it does not tire and, despite its important structure, one sip leads to another. Long finish of ripe yellow peach.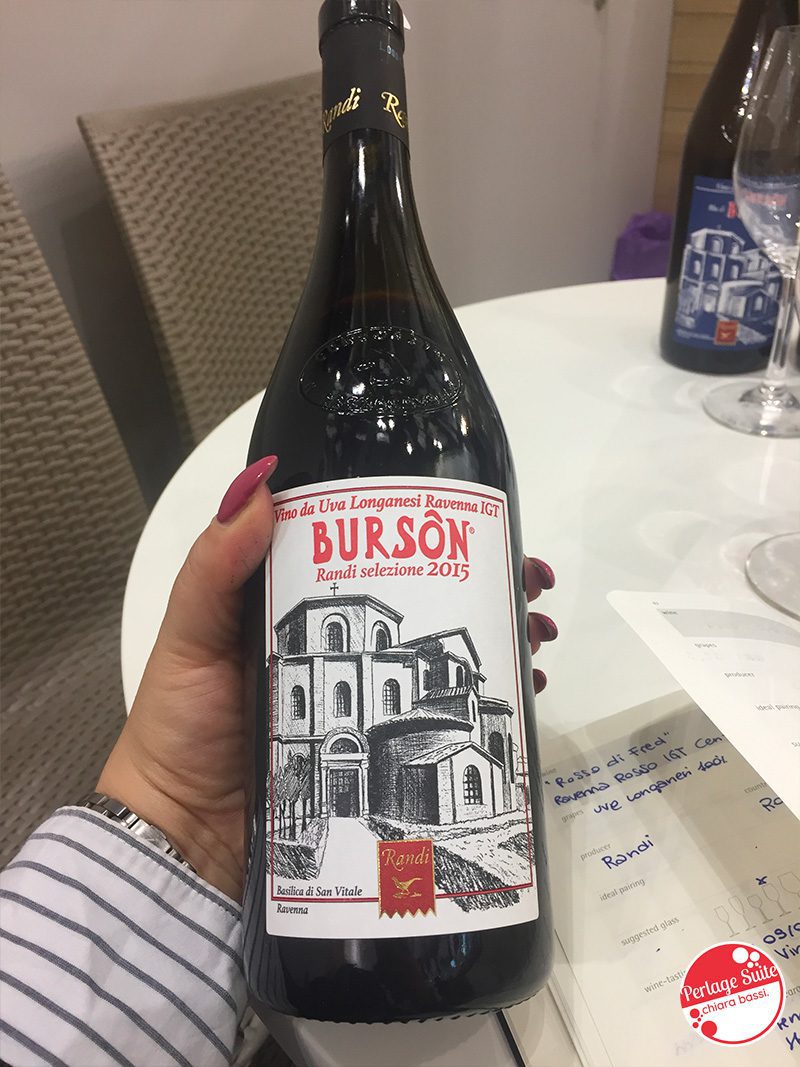 Vinitaly 2019/2: Randi, Burson 'Randi selezione' black label 2015
Romagna | grapes Longanesi 100% | 14.5% vol | 11 €
Here I am playing at home with a Romagna grape variety that few people know about: Longanesi grapes. It was 1956 when the first vine was planted in the province of Ravenna, 'saved and spread' thanks to the grandchildren of Antonio Longanesi. In 1913, his grandfather had discovered a vine shoot around an oak tree on his property and tried to make a home-made wine with a result above expectations, which was a great success among family and friends. Wine has been produced in Bagnacavallo since 1998. Bursônwhich is none other than the nickname of the Longanesi family. Today the Bursôn is produced by around 30 producers of the 'Il Bagnacavallo' consortium in the municipality of the same name in the province of Ravenna. The Longanesi grapes are harvested partly at the right degree of ripeness and partly after drying on the vine. Massimo Randi's Bursôn wine is aged for 24 months in wood, 5 blends from different casks, 2 second-passage French casks, 2 first-passage French casks and 1 new Canadian cask that gives the vegetal hint.
It is a beautiful, intense and impenetrable ruby red, and swirling the glass shows great consistency. The nose is delicious, with notes of chocolate, bitter cocoa, black pepper, cinnamon, undergrowth, porcini mushroom and leather. In the mouth it has a good balance between freshness and softness, but with a great acidic backbone. Intense, elegant, very pleasant and with enveloping tannin. Long, spicy finish. For me it's perfect on its own... but if you really want to pair it, try it with game! 🤤😍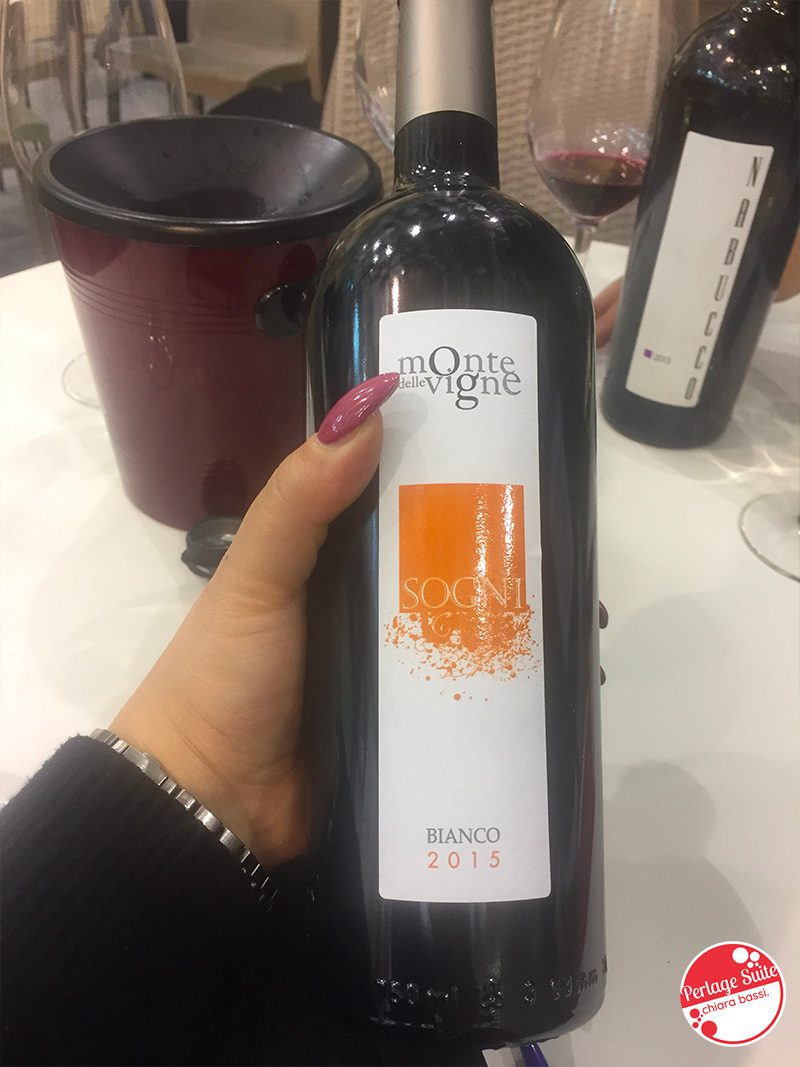 Vinitaly 2019/3: Monte delle Vigne, 'Fai bei sogni' Emilia IGT white 2015
Emilia | petit manseng 100% | 13.5% vol | 40€
I came across this winery 'out of my plans' with my friend and colleague Morris of Vino per Passione thanks to the excellent work done by the agency in Parma Jac Le Roi. Well I must say that it was a very pleasant discovery and not to fall in love with your winemaker is absolutely impossible!
Only 6,000 bottles of this wine are produced from one hectare of high-density vineyard with an average plant age of about 30 years. It has an almost Riesling-like acidity!
It is an intense straw yellow with brilliant green-gold reflections. The nose is a tangle of fresh citrus aromas in which cedar stands out, then blending with notes of white yoghurt with acacia honey, very ripe passion fruit, basil and a hydrocarbon finish. In the mouth, it is very acidic, almost sharp, but is made pleasant by a good softness. It is characterised by elegance and coherence, but also by great sapidity and a long mineral finish. It goes perfectly with raw langoustine.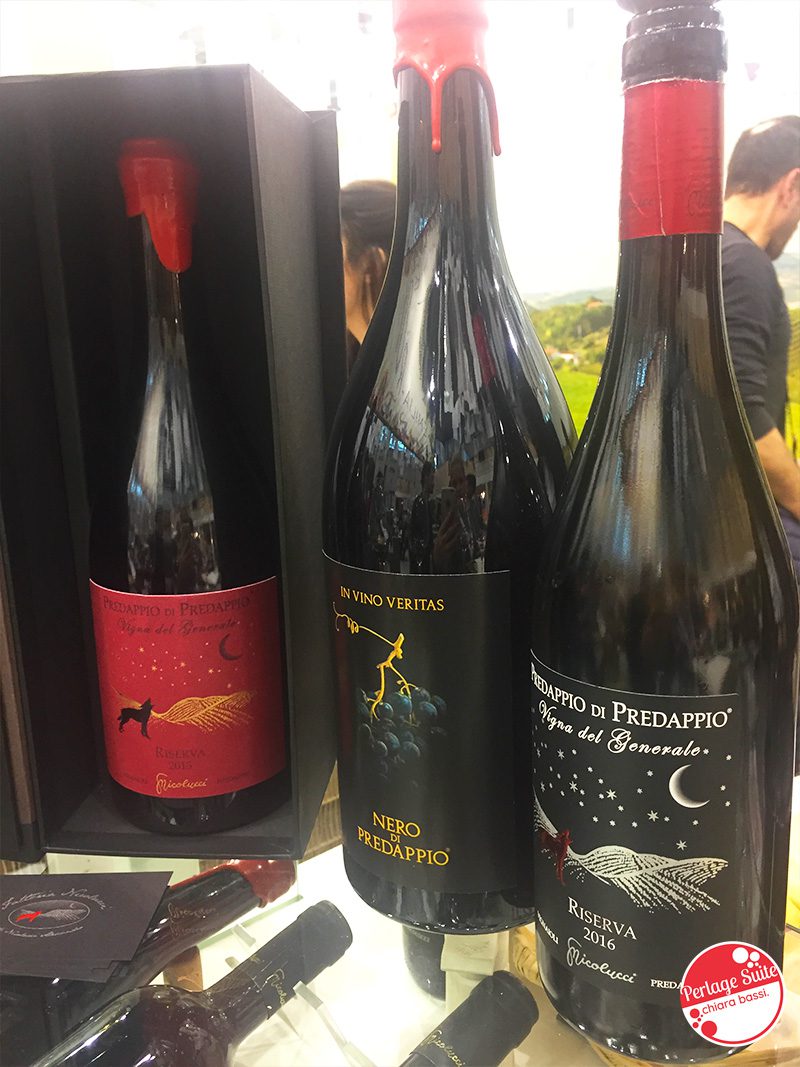 Vinitaly 2019/4: Fattoria Nicolucci, 'Vigna del Generale' Romagna Sangiovese DOC 2016
Romagna | sangiovese 100% | 14.5% vol | 27€
Alessandro Nicolucci is perhaps the producer who has most brought prestige to Sangiovese di Romagna outside Romagna, which is also being 'ennobled' thanks to his wonderful work.
That Romagna is almost always incapable of selling its wines at the price they deserve is a well-known fact, but when I hear people say that in Romagna they drink badly, the smoke comes out of my nose! We could do with more Sangiovese wines of this level around Italy... and I don't want the more famous appellations to suffer!
It is an intense, transparent ruby red. On swirling the glass it forms very close and regular arches. The nose is intense, complex, elegant and fine with spicy notes of tobacco that intertwine with the roasted scent of freshly ground coffee and the fruity notes of morello cherries, from fresh to under spirits. In the mouth, it is very elegant, soft and very fresh, with well-blended tannins blended into an important structure. As a tribute to our land, I would drink it in combination with cappelletti di magro al ragù.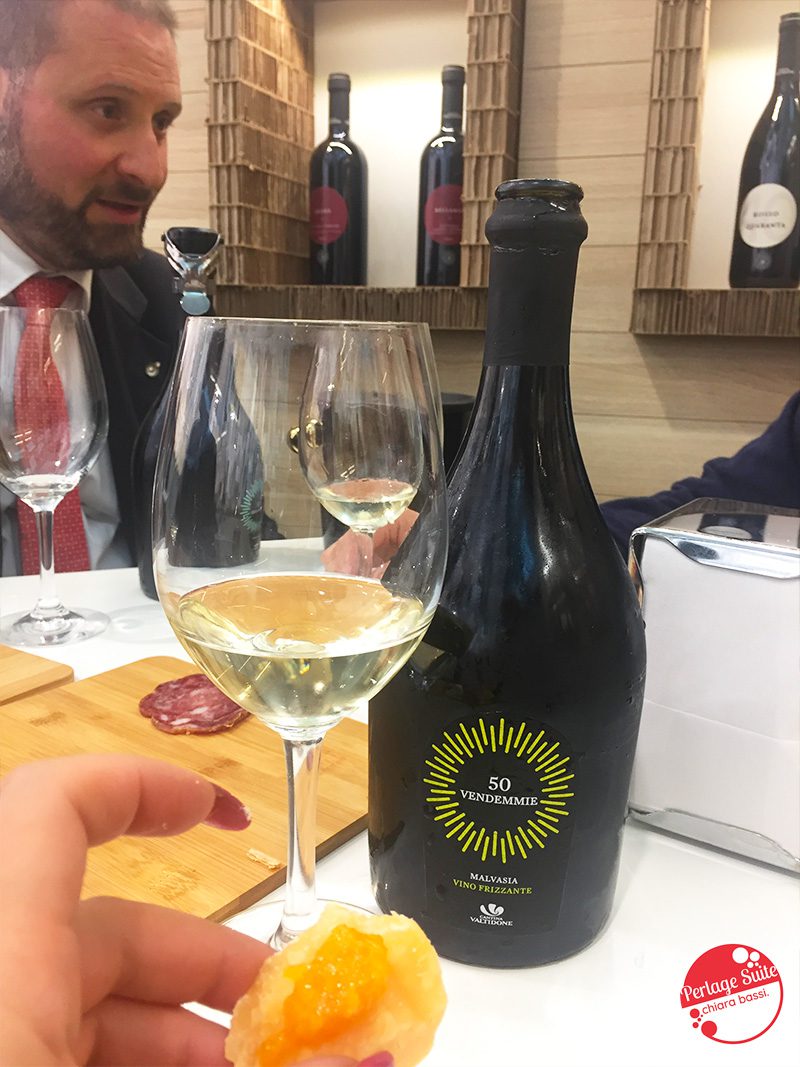 Vinitaly 2019/5: Valtidone, Malvasia Frizzante '50 vintages' 2018
Emilia | malvasia bianca di Candia aromatica 100% | 11% vol | 5,50 €
In an oenophile era where sparkling wine is viewed almost with suspicion, especially if it is cheap and no one sings Beethoven's Ninth or Rihanna's latest on the vine, I have decided to offer you among my best tastings from the Emilia-Romagna pavilion a sparkling Malvasia that I dare you not to fall in love with.
It is a beautiful bright straw yellow with a fine and numerous bubble. The nose is fragrant and intense and it is impossible not to fall in love with it, with the typical scents of Malvasia, among which apricot both fresh and jammy stands out. In the mouth, it enters creamy, fresh, aromatic and very pleasant. It pairs divinely with PDO pancetta piacentina, in a way that malvasia itself in a still version could never manage. After all, the link between wine and the gastronomic tradition of a territory is inextricably written in history, why break it to please some fashion?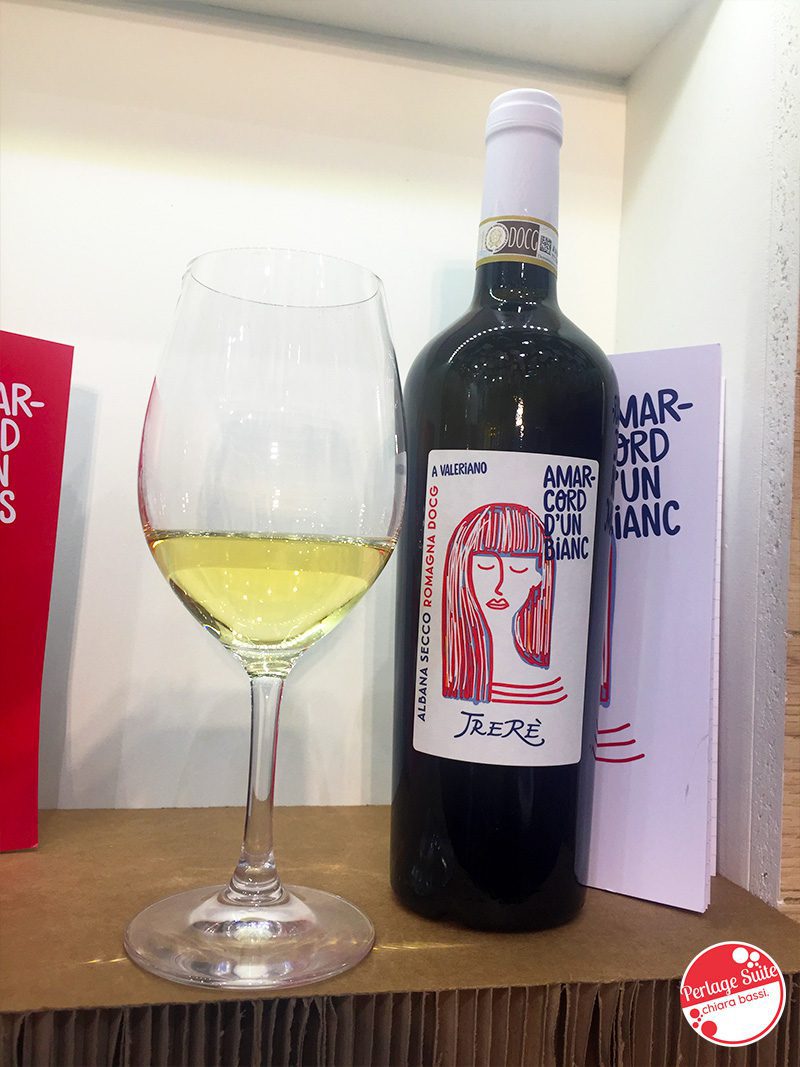 Vinitaly 2019/6: trerè, "Amarcord d'un bianc" romagna albana DOCG dry in cement 2017
Romagna | albana 100% | 13% vol | 15€
A completely different Albana di Romagna that Morena Trerè and Massimiliano Fabbri presented at Vinitaly 2019, which I liked because it reminded me of my childhood with my beloved grandfather Mario. The name was never more apt: 'Amarcord d'un bianc', which in Romagnolo means 'I remember a white' and in fact this Albana seemed to me to be a hymn to tradition, to Albana as it used to be made... could this be why Morena dedicated it to Valeriano, her father?
What is certain is that it is 'Albana', the real thing, rustic, pleasant and, despite its significant alcohol content, truly enjoyable. Besides, for me Albana is a red wine 'disguised as a white wine' and for this reason it goes very well with all fresh pasta with tasty sauces typical of our land... but it also goes very well with our classic grilled meat!
It is a beautiful, intense and brilliant straw yellow. Swirling the glass reveals all its texture. The nose is typical of Albana, with delicate floral notes of lavender, magnolia and hawthorn that meet a very fresh apricot. In the mouth it is 'loaded', with good acidity despite a well-present pseudo-caloricity. It needs a few more months in the bottle to express itself at its best.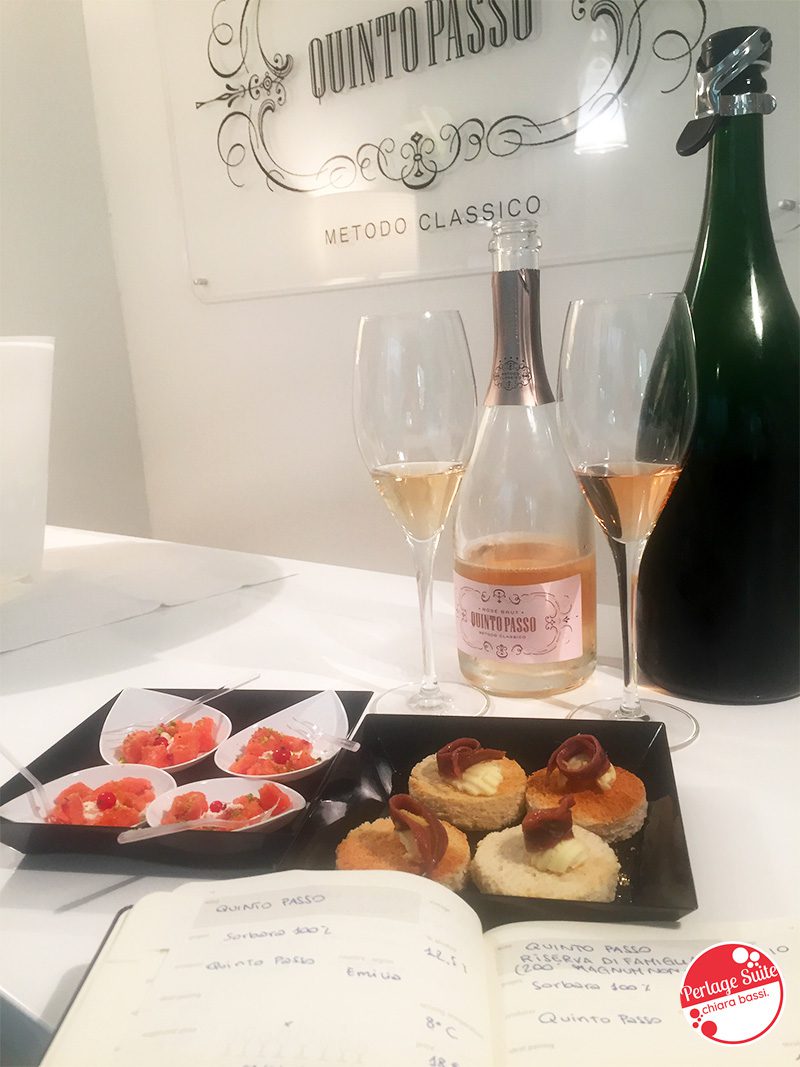 Vinitaly 2019/7: Quinto Passo, Family Reserve 2010
Emilia | 12% vol | lambrusco di Sorbara 100% | not for sale to the public
When Marco Chiesa introduces me to this 'family reserve' of which there are only 200 bottles in magnum format, I become more curious than a macaque when watching a man cook (because if you don't know, Japanese macaques salt their vegetables with seawater, a habit learnt from observing men)! 🤤🤣 What is known about it is that it comes from grapes owned by the Sozzigalli vineyard, which has plants over 120 years old, and the disgorging was done in 2015. The dosage is unknown.
It is a beautiful bright onion skin pink, with a very fine and numerous perlage. The nose, elegant and very persistent, is not typical of sorbara: it is very soft, with aromas of jammy fruit and sweet spices. In the mouth, on the other hand, you feel all the expression of the vine, with a marked acidity that leaves nothing of its age behind. Perfectly paired with Nardin anchovy crostino from the Cantabrian Sea, on a curl of butter flavoured with fresh ginger.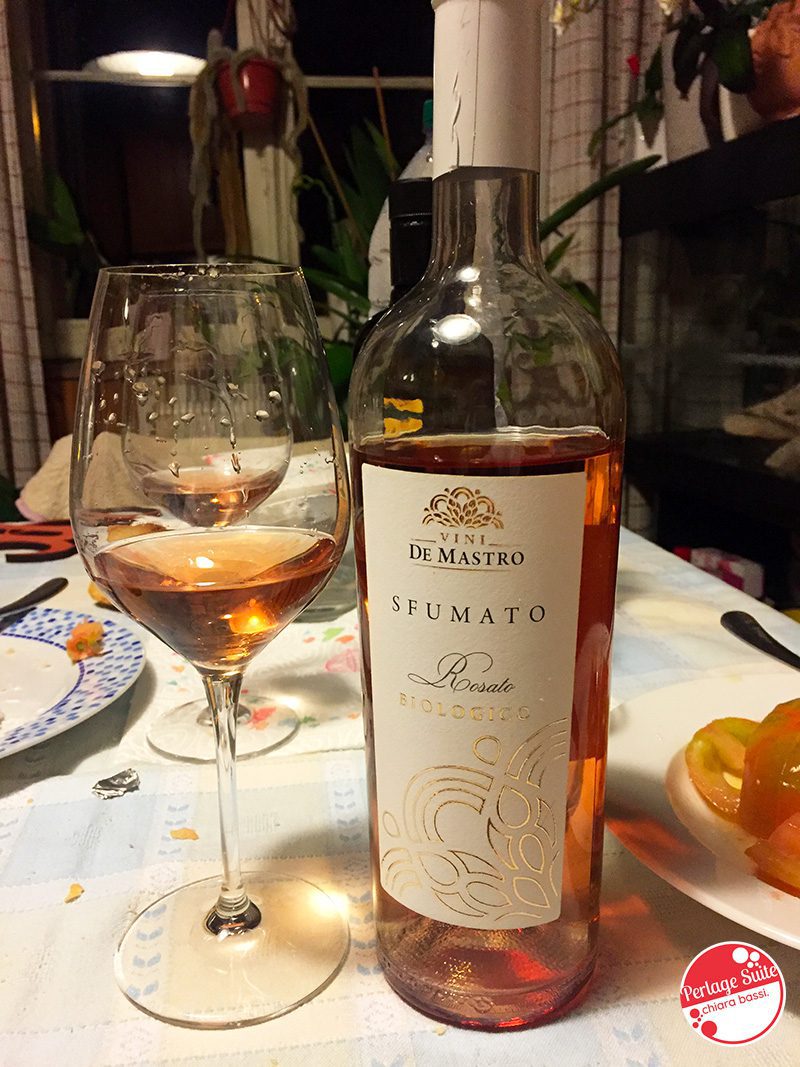 Vinitaly 2019/8: de mastro, 'faded' Forlì igp rosé
Romagna | sangiovese 100% | 13% vol | 9€
A brand new company that has been cultivating vines for many years and has recently decided to come out with its own line of good quality daily organic Romagna wines. It deserves consideration because, unlike many 'lots of smoke and little roast' companies, here there is very little talk... but the roast is very good!
At Vinitaly 2019, Gianni De Mastro presented for the first time his rosé wine from Sangiovese 'sfumato' grapes, which for me is absolutely the best wine of his production. The bottle on the side I drank it at my mother's house, paired with tagliatelle with strigoli sauce (I'm sorry but the tagliatelle disappeared in an instant and for the photo there were just the tomatoes left in the salad... 🤤🤣
It is a beautiful onion skin pink, very deep and bright. The nose is intense, elegant and the aromas are particularly sharp, although not particularly complex. Delicious notes of small red fruits, white pepper and freshly bloomed roses present themselves both on the nose and in the mouth. Remarkable acidity, which gives it a freshness that makes it a perfect match both with our beloved piadina with Mora Romagnola cold cuts and with fresh pasta... but trust me, even as an aperitif it goes down easy, between one chat and another!
Now I'm curious if you know any of these wines... and what were your best tastings at Vinitaly 2019!
Cheers 💪🍷
Chiara