The subject I am most passionate about is definitely that of food and wine pairing. In particular, I love experimenting by creating unexpected, but always very reasoned pairings. The theme of pairing red wine and fish is something that has been catching on for a few years now. Due to the increase in food and wine awareness and culture, more and more people are asking me a lot of questions about this type of pairing. In this article, therefore, I have collected some of your questions and will bring you an example of an extraordinary red wine and fish pairing, complete with a final recipe to try it out for yourself: i passatelli with mackerel sauce and Sangiovese Caiarossa Pergolaia 2018. In addition to this, we will also taste together the Pergolaia 2015 from this Tuscan winery and see if it is equally suitable with fish and above all 'why yes' or 'why no'.
Before I even start with the pairing analysis I want to tell you two things about this company, with the promise to write a more in-depth report when there is a chance to visit them in safety. Now that in Brescia we are - once again - the area most affected by the pandemic, I am not moving from home because the last thing I want is to circulate the virus further. I confess, however, that going around the wineries and vineyards I miss so much, although Zoom and Meet are making up for it in some way. Caiarossa was founded in 1998 and then became owned in 2004 by the recently deceased Belgian entrepreneur Eric Albada Jelgersma. Today it is a little oenological gem in Riparbella, and I particularly appreciated the care with which they have parcelled out their 30 hectares of property and the attention with which they choose the most suitable grape variety for each plot. As you know, I am not an 'at all costs' supporter of biodynamic, but Caiarossa really excited me. I advocate good wines and Caiarossa didn't miss a beat with me: all truly extraordinary!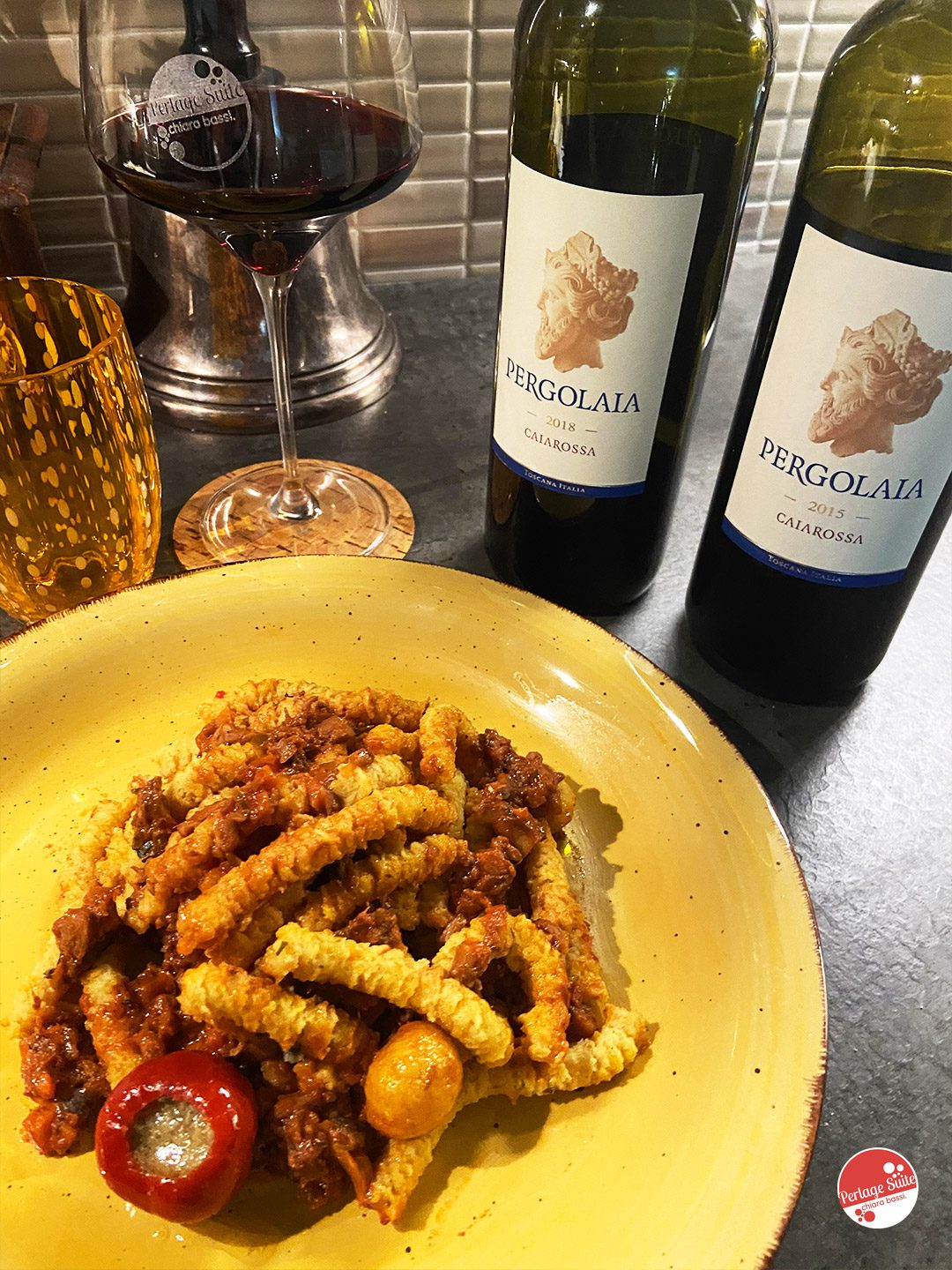 The first two Caiarossa wines I am telling you about are the Pergolaia 2018 and the Pergolaia 2015, although I have actually already shared with you Irene's recipe for spaghetti with tomato sauce paired with Caiarossa 2015. The Pergolaia 2018 is a preview that will be released in a few weeks and I recommend you really hoard bottles because it is extraordinary. I have touched with my own hands the growth of this winery because, apart from having tried two different vintages from a climatic point of view and the fact that bottle-ageing time has a non-negligible effect on the wine I tasted, there has been a huge leap here. Don't get me wrong: the Pergolaia 2015 is a lot of stuff. I opened the wines about an hour before the tasting, but this wine improved so much when I tasted it the next day.
Red wine and fish: tastings
Pergolaia 2015 Caiarossa Toscana IGT
It is impenetrably ruby red and quite consistent. The nose is intense and complex, with notes of strawberry and raspberry jam, coffee powder, marasca cherry in alcohol, trinity chocolate, gentian and angelica. In the mouth it is very soft, consistent, savoury, tannic, fresh and persistent.
This Sangiovese is not suitable for pairing with passatelli with mackerel sauce because it has a family of aromas that are too mature, much more suitable for pairing with certain types of cheese. In fact, I prepared passatelli with gorgonzola and malga cheese fondue for this wine and it paired perfectly. If you really want to try it with fish, however, I recommend a grilled eel: fatty and tasty, with a smoky note that goes perfectly with it.
Pergolaia 2018 Caiarossa Tuscany IGT
It is semi-transparent ruby red and quite consistent. The nose is very elegant and complex, with notes of vanilla, butter, criollo chocolate, fresh cherry and dried rose. In the mouth it is consistent, soft, quite tannic, fresh, savoury and with a very long finish of sweet spices. It has great ageing potential, I would uncork it in at least 10 years!
Subscribe to the newsletter or scroll down to continue reading the article! 😉
Red wine and fish: Pergolaia 2018 Caiarossa Toscana IGT and passatelli with mackerel sauce
What would life be without passatelli? I grew up with it because my grandmother used to make them for me very often. This is my perfected recipe, but if you want Grandma Mira's original recipe you can find it by clicking HERE. Did I mention that passatelli has now also become my husband's favourite dish? First he said that his favourite version was this one with mackerel sauce, then the next day I made him the gorgonzola version for Pergolaia 2015 and he went crazy... 🙃
ingredients for passatelli for 2 persons
2 eggs
100g grated cheese
100g breadcrumbs
nutmeg
Procedure for passatelli
 In a bowl, place 2 whole eggs and beat them with a fork for a few seconds, then add the tip of a teaspoon of nutmeg and beat for a few more seconds.
Add 100 g of tasty grated cheese such as Parmigiano Reggiano or Grana Padano. I often make them with alpine cheese and they are even more special. Beat for a few more seconds until the egg and cheese form a creamy mixture.
Add 100 g breadcrumbs and mix well with a fork, then turn out onto the work surface and knead for a few minutes. With the right doses, the passatelli will not break if you knead them well!
Make a ball with the dough and cover it with the bowl for 5/10 minutes. To make the classic passatelli shape you can do as I have always done and use the traditional iron (you can buy it on Amazon HERE) or hang it up as I did a few days ago and switch to Tescoma's legendary Delicia (you can buy it on Amazon HERE)! Ah, if she had been around in my grandmother's time... how much less work she would have done! If you use a potato press or a potato masher, you'd better shape them directly on the pan with boiling water/broth so that you don't risk breaking them by moving them.
Cook for a few minutes until they float. As soon as they float, drain them in the pan with the sauce using a skimmer.
ingredients for the mackerel sauce
2 mackerels (about half a kg)

100 g chopped celery, carrot and onion
50g tomato paste
1 coffee cup of red wine (I used the same one I drank, as it is about 50g)
1 coffee cup of whole milk
20g lard (or extra virgin olive oil)
water qb
salt and nutmeg
Procedure for mackerel sauce
Put the mince and lard in a non-stick wok-type pan, then stew until tender.
Fillet the fish and cut it into pieces of roughly the same size and cook it.
As soon as the outside of the mackerel changes colour due to the heat on all sides, douse with wine and let it evaporate.
Dissolve the concentrate in a glass of water and stir it in with a teaspoon, then add another glass of water or so... in short, the fish must be completely covered. Add just enough, not too much.
Stir well and as soon as it simmers, add the milk, salt and nutmeg, then lower the heat and let it simmer for at least 30 minutes (better 1 hour).
To assemble the sauce and passatelli you can be gentle in the pan, or you can drain the passatelli directly on the plate and pour the sauce over it: it will still be delicious!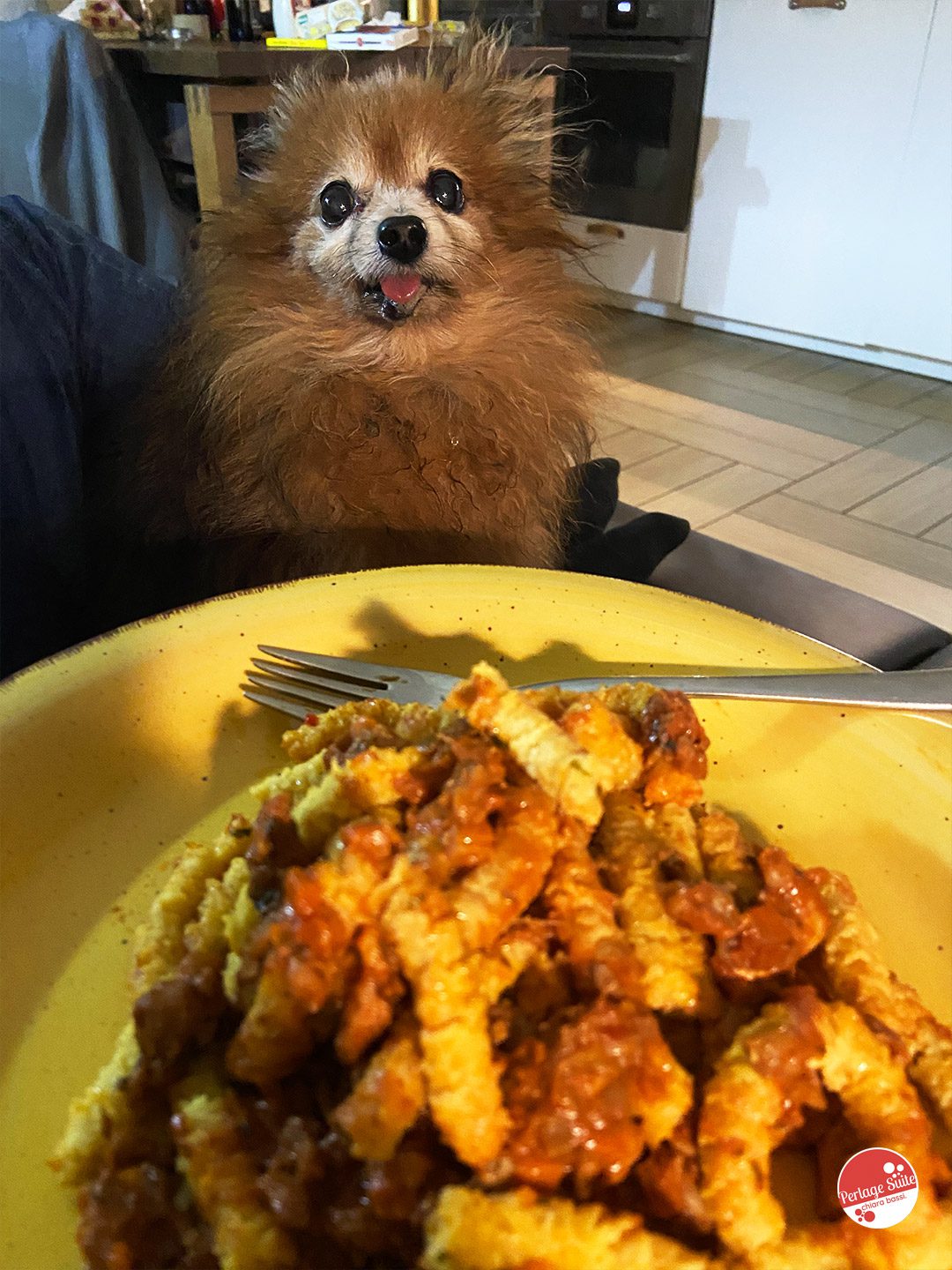 Red wine and fish: how does food and wine pairing work?
Red wine and fish is a food-wine combination that is becoming more and more commonplace day by day. Until a few years ago, it was unthinkable, but I am very happy to see how we are learning more and more to stretch our limits. Of course talking about red wine and fish in a generic way is anything but correct: there are too many foods and too many wines with different characteristics. Moreover, there is another factor that has a decisive influence on the pairing: the temperature of the wine. A terrible cultural heritage wants red wine served at room temperature even in summer at 40 degrees. In reality, red wine should be served at a temperature between 12 and 18 degrees, and with 18 we are already at the limit in summer because it heats up very quickly in the glass. This is why I always recommend storing the bottles in the coolest place available (but not in the fridge) and, once the wine has been uncorked, maintain the temperature with a glacette.
We must now analyse fish. So often under the term 'fish' we mean everything from shellfish to molluscs, from sea fish to lake fish. In reality, as I analysed in detail in my book 'How to become a Sommelier', there are several macro-groups of pairings that start with the ingredients:
Barbed fish (sea fish, lake fish)
Caviar and other eggs
Crustaceans
Molluscs
and are based on cooking:
Bain-marie cooking

Steaming

Boiling

Baking
Vacuum cooking
Stewing
Brazing
Cooking in a non-stick pan
Sauté cooking
Frying
Cooking in a microwave oven
Traditional oven cooking
Barbecue cooking
Grilling
Griddle cooking
In the case of our mackerel sauce, the preparation of the sauce is part of stewing which is characterised by (p. 316 of my book How to Become a Sommelier):
It consists of cooking the food in a little flavoured liquid for a long time over a low heat;

Stewed food is very tasty, tender, succulent and aromatic, although the flavours of the seasonings are more defined than the food itself;
The ideal combination is a wine that takes into account the dish as a whole, but tends to be a rosé or a full-bodied red.
So, as you can read in this excerpt from my book, it is clear that our Pergolaia 2018 is absolutely perfect! The Pergolaia 2015, while also being a full-bodied red wine, is really too much on the ripe and jammy fruit side, which is why I still urge you to try it with a good malga or blue cheese!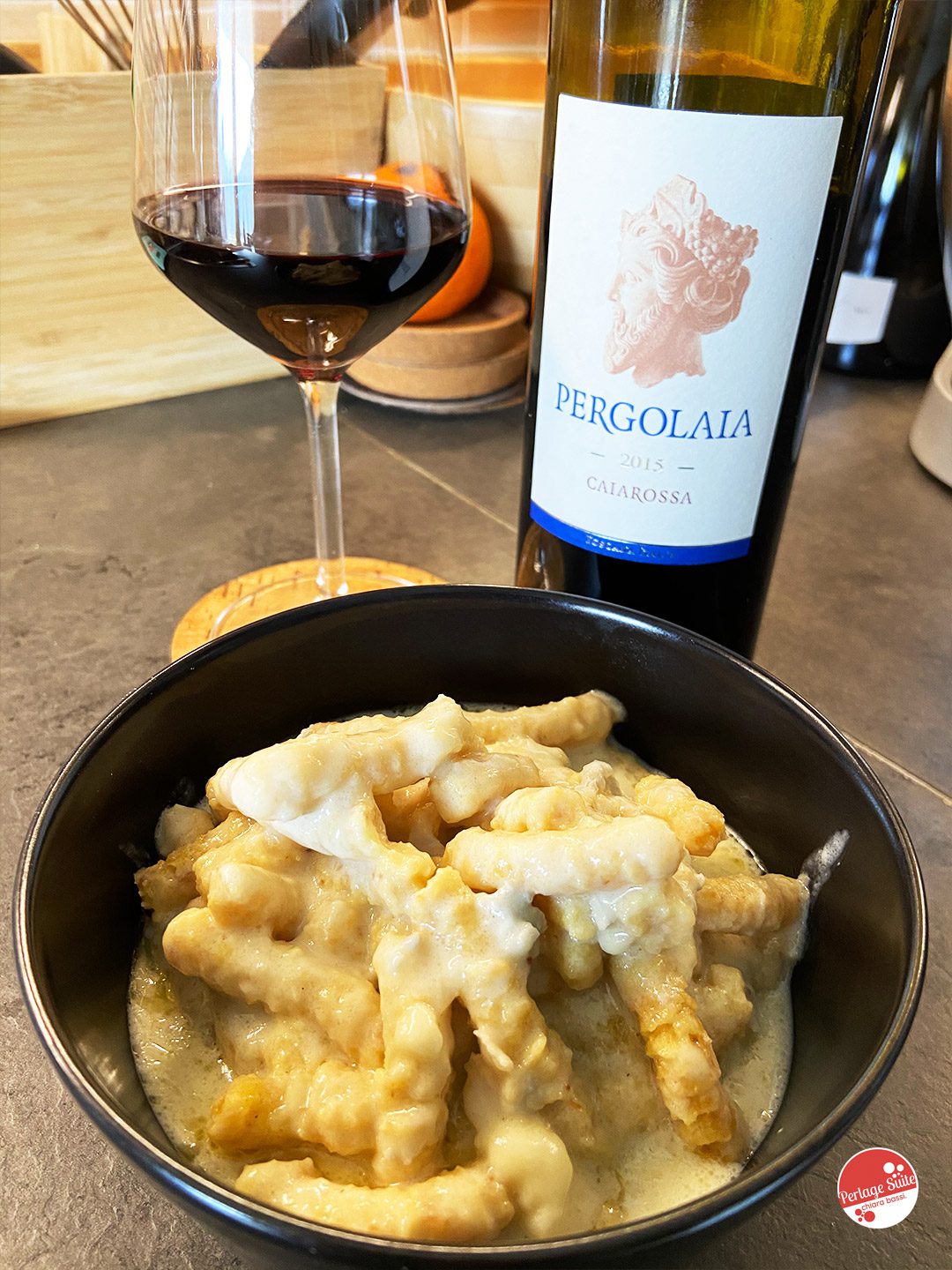 In this regard, I would like to point out the passatelli with gorgonzola cheese the day after, which with Pergolaia 2015 were simply incredible!
And do you love the combination of red wine and fish?
Cheers 🍷
Chiara
P.S. The Caiarossa wine I liked best is the Aria di Caiarossa 2016, but that's a story I'll tell you another time! ❤️