The first piece of jewellery I bought as a young girl was an orange cameo depicting a young woman. I was in Romeon an 'outing' with some of my comrades from the Art School of Ravenna and it was almost twenty years ago, but I was so fascinated by it that I remember it as if it were yesterday. It was not particularly beautiful or valuable, but that cameo exerted a unique fascination on me. That is why when I first saw the GrandTour Collection I immediately fell in love with the quality of materials and workmanship combined with fresh design to suit any age and any style. I have read the history of the Borrazzi d'Eramo family, Roman craftsmen and antiquarians who for three generations have brought art to the world from their gallery in Via dei Coronari, in the historic centre of the Eternal City.
Via dei Coronari, what could have been a more perfect place to create this collection? Imagine pilgrims on their way to St. Peter's buying precious here wreaths of roses as they pass by the house that Pope Sixtus VI gave - along with a vineyard in the Vatican belvedere - to Fiammetta Michaelis, a courtesan and mistress of Cesare Borgia. Imagine its glimpses in films that have made the history of Italian cinema - the director Michelangelo Antonioni comes to mind -, the rustication of the palace of the Viterbo princes Del Drago, the numerous junk shops later transformed into splendid antique shopsdisappeared one after the other by virtue of the hegemony of Ikea and 'disposable' furniture, actually more disposable than disposable. Imagine a shop capable of withstanding the passing of generations, where the passage of time was seen as an opportunity to renew, to grow, to be, to cherish.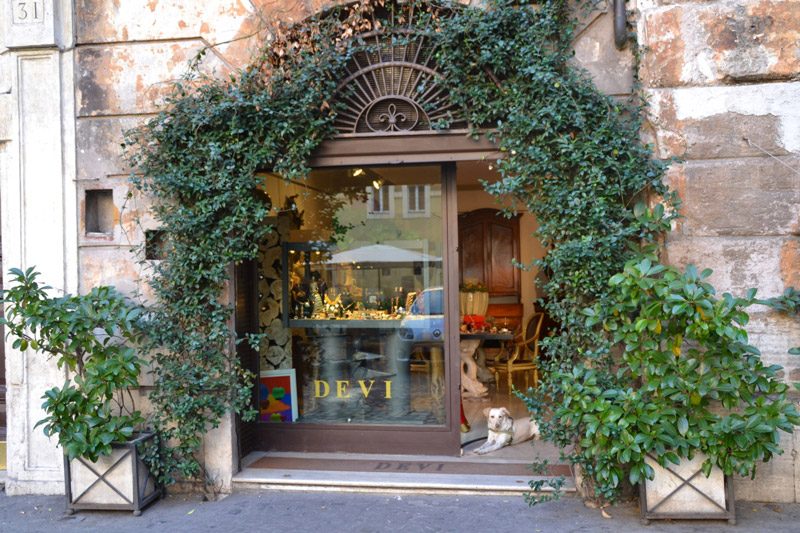 Have you ever heard someone say to you 'I leave for the Grand Tour"? There was a time when aristocrats went on a journey that was considered more of a mission than just tourism. The objective of the Grand Tour was get to know. Learn about history, art, politics by studying the language, buying works of art, visiting ruins and enjoying the local 'dolce vita'.. Favourite destinations? Obviously Italy and France. The most important stages were Venice, Rome, Naples and Taormina. One got 'lost' from Palladian villas to Roman ruins, from Neoclassical Neapolitan to Sicilian Baroque. Sicily then offered the possibility of studying Greek art without travelling further... and at the time there were no planes or low-cost airlines. Even today, Italy is one of the most popular destinations for everyone except Italians. I am so proud to be Italian that when I hear someone say 'we live in a shitty country and I would like to leave' my heart cries. I will never leave Italy. I could divide myself between France and Italy, that's for sure. I love France as if it were my own country. And Italy? Italy is imperfect, but who isn't? Italy is genius and madness and that is enough for me.
One of the highlights of the Grand Tour was having a portrait taken by an important painter and engraver of the time as Canaletto. It comes naturally to me that having a portrait done on an object as small as a cameo was much more convenient than having a larger canvas. Likewise - when buying works of art was not possible – a cameo depicting them was the perfect souvenir!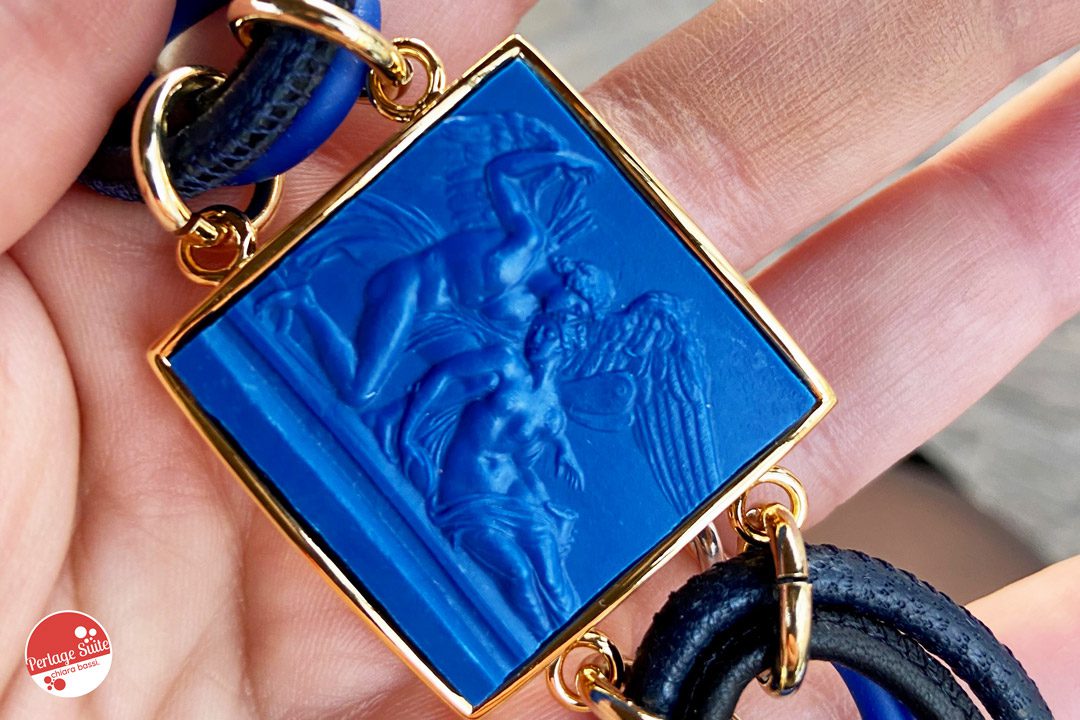 The first piece of jewellery I chose was the bracelet from the Square line depicting a large square cameo with Cupid and Psyche in bluemy parents' favourite. Cupid and Psyche is a fable by Apuleius that tells the love story between the god Cupid and the princess Psyche. The goddess Venus, jealous of Psyche's incredible beauty, asked her son, the beautiful god of love Cupid to shoot an arrow at her and make her fall in love with the ugliest man on earth. He agreed, but when he saw her he was so enchanted by her beauty that one of her arrows hit him and made him fall madly in love with Psyche. The young god went to the young maiden every night, secretly from his mother, and consumed nights of great passion. The saying 'curiosity is woman' comes from this fable because Psyche twice risked losing her beloved because of her curiosity. However, after passing a series of trials and failing the last one, Love managed to have Psyche transformed into a goddess and marry her. From their union a beautiful child was born. Since my mother experienced such a great love with my recently deceased (also a little bit opposed) father, I decided to give her this bracelet with the hope that, every time her eyes rest on this beautiful cameo, she will remember the love she experienced and its fruit: me (if you want to read the fable of Cupid and Psyche I recommend this book on Amazon).
I find this bracelet perfect for my mother, a beautiful Art History enthusiast who looks much younger and has a young and dynamic look. In person it is even more beautiful and I can't wait for it to acquire that patina over time that makes it even more precious. In general, the Square Line is very elegant and important, perfect to enhance any outfit. There are 4 subjects you can choose from: the Capitoline she-wolf, Phaeton, Pliny's doves and, of course, Cupid and Psyche. The leather bracelet can be black, blue, or white... I really like blue for its versatility.
GrandTour Collection is the 2.0 version of those cultured souvenirs that the rich of Europe used to bring from Italy depicting the most beautiful works of art of neoclassicism kept in Rome. Roberto and Michela Borrazzi have innovated the cameo by choosing materials - valuable but accessible - and unpublished such as plexiglass and modern resins created exclusively for them, and ancient come l'oro e il bronzo con la tecnica di fusione a cera persa.  L'uso del colore, dalle tinte classiche a quelle forti, ha reso i loro gioielli contemporanei. Per i viaggiatori colti di oggi che vogliono portare con sé un angolo di Roma o per chi a Roma sogna di andare, e coltiva il suo sogno ammirando e portando un gioiello GrandTour.
Ho scelto per me il bracciale filodoro che raffigura Dioniso, il dio dell'estasi, della fertilità, del vino, dell'ebbrezza e della liberazione dei sensi. Dioniso è l'essenza del creato nel suo perenne e selvaggio fluire, lo spirito divino di una realtà smisurata, l'elemento primigenio del cosmo, la frenetica corrente di vita che tutto pervade. Mi riconosco tantissimo nella figura di Dioniso e non solo per il suo legame col vino, ma per questa sua natura errante che racchiude in sé la gioia e la rabbia, fallimento e successo, fino al traguardo finale – l'immortalità – e il ritorno in patria finalmente riscattato. Di Dioniso condivido anche l'istinto, il forte senso di giustizia che talvolta può accecare come un'inutile sete di vendetta. La raffigurazione è una testa di Dioniso giovane, con una corona di edera, conservata nei Musei Capitolini.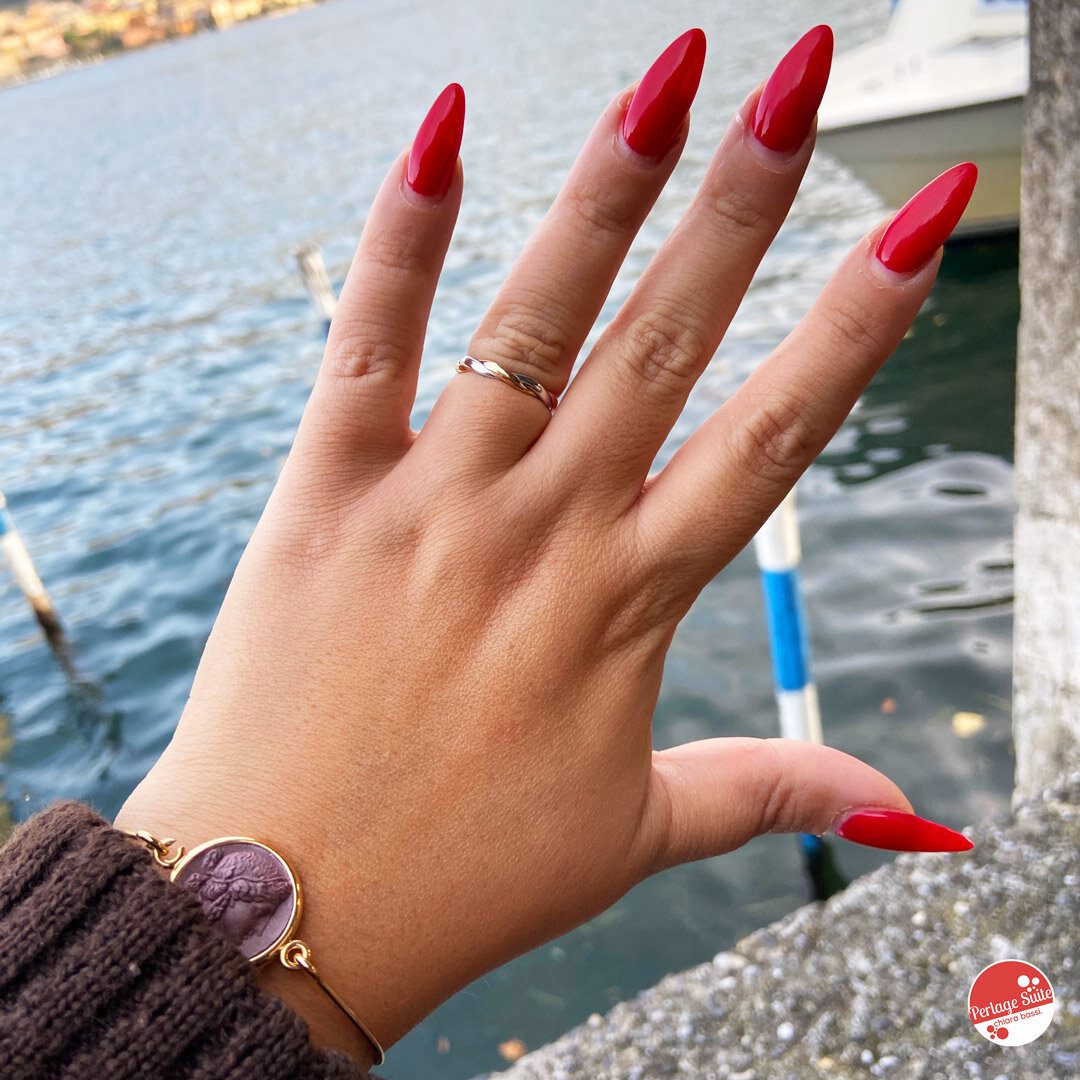 Ho deciso di abbinarci degli orecchini stupendi Hore Amo, il pezzo di cui mi sono davvero innamorata. Semplici ed eleganti, raffigurano Dioniso e la Baccante. Menade, Tiade o Baccante sono i nomi delle sacerdotesse di Bacco che celebravano il dio cantando, danzando ed errando per monti e boschi agitando il tirso, una picca avviluppata dall'edera soprattutto sulla sommità. Più propriamente le Menadi sono le figure mitologiche seguaci del Dio, mentre le Baccanti sono le donne umane che lo veneravano. Nella mitologia classica sono l'oggetto del desiderio dei satiri.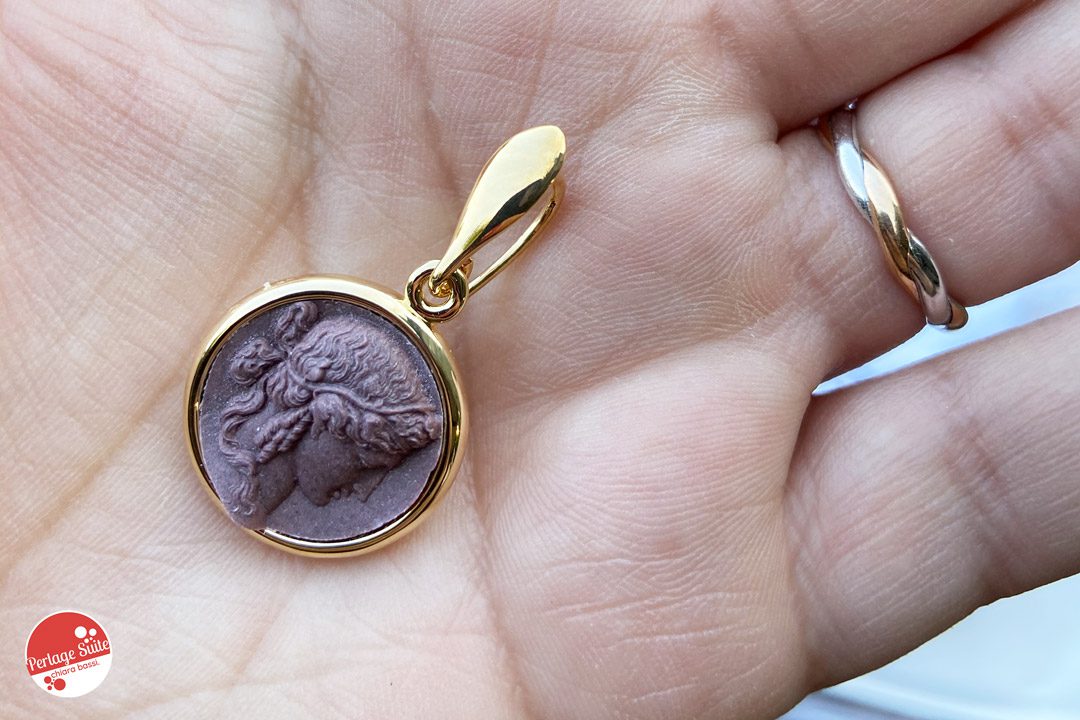 La bellezza degli orecchini Hore Amo è che sono completamente personalizzabili! Questo modello semplice e raffinato, leggerissimo e per questo portabile tutta la giornata anche da una winelover con i lobi sensibili come i miei, illumina e impreziosisce il mio viso. Puoi scegliere tra tantissimi soggetti mitologici e tra ben 14 colori, impossibile resistere! 😍 Poi ci sono tante altre collezioni da scoprire sul sito web www.grandtourcollection.com ❤️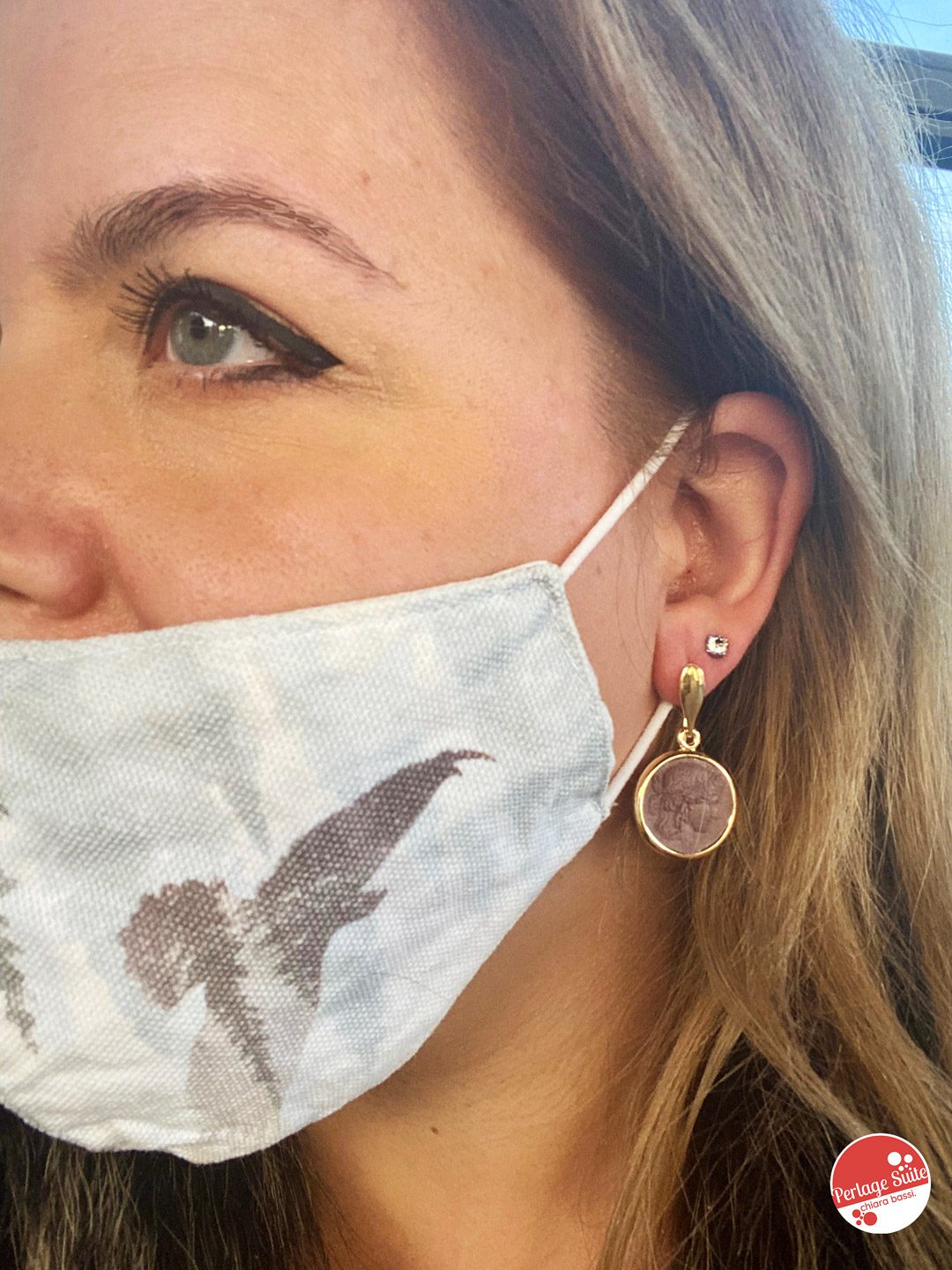 In questo giorno buio, in cui l'Italia sta per chiudersi ancora, un regalo da portare è ancora più prezioso perchè ci fa sentire più vicini. Se siamo vicini siamo distanti e se siamo lontani possiamo solo sentirci o vederci al di là di uno schermo. Però possiamo donare o donarci qualcosa di prezioso, made in Italy, che racconti una storia, un ricordo o, semplicemente, rappresenti il nostro affetto. Io abito in Lombardia, zona rossa nuovamente in lockdown totale a causa del Coronavirus e la mia mamma abita in Romagna. Sicuramente fino almeno al 3 dicembre non potremo vederci, ma l'idea di sapere che indossa questo bracciale che le ho regalato domenica scorsa mi riempie il cuore.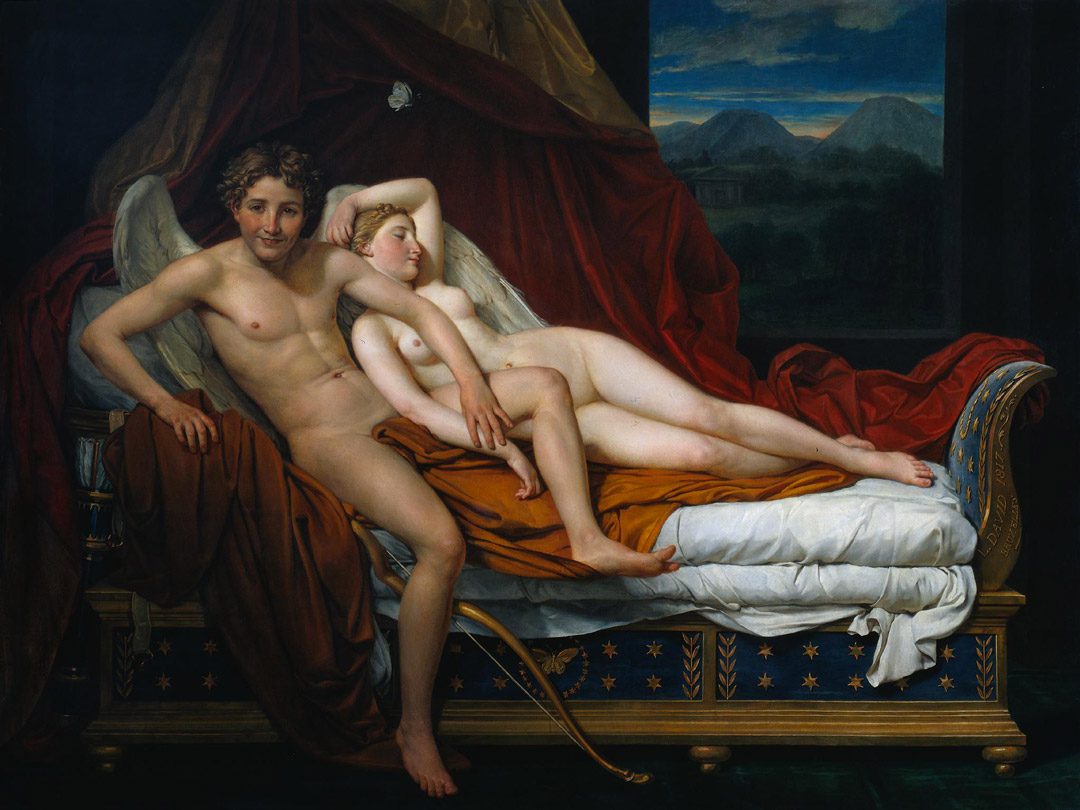 Dioniso, Baccante, Amore e Psiche (qui sopra lo splendido quadro di David), Minerva, Ercole e il Toro, Cupido, Medusa, Pegaso, Minerva… ci sono tantissimi miti e altrettante storie, favole, vicende tra cui scegliere. E poi c'è Roma e la lupa capitolina perchè  -seppur stuprata negli anni – la città eterna sarà sempre la più bella del mondo. Una cartolina da Roma, un piccolo souvenir di un viaggio fatto o sognato, un'eccellenza artigiana da indossare. Un gioiello capace di raccontare chi lo regala e chi lo riceve.
E la volontà che tutto finisca per spostarci senza pensieri, viaggiare, conoscere. Non vedo l'ora di riscoprire la gioia vera di fare un nuovo Gran Tour con mio marito Francesco. Attraverseremo l'Italia in macchina fino a raggiungere Taormina, come due giovani dell'ottocento. Cammineremo tra vie incantate, assaggeremo piatti e vini capaci di rubarci emozioni, baci e sorrisi. Al ritorno ci fermeremo sicuramente a Roma, in via dei Coronari, e sceglieremo due braccialetti identici GrandTour linea Easy Hore con la venditrice di amorini color perla e il caucciù blu per lui e bordeaux per me. E poi li porteremo ogni giorno, per ricordarci del nostro bellissimo viaggio in cui siamo cresciuti come coppia e abbiamo conosciuto tante cose nuove della terra in cui abbiamo avuto la fortuna di nascere.
Cheers 🍷
Chiara
GrandTour Collection | Via dei Coronari, 32 – 00186 Roma | info@grandtourcollection.com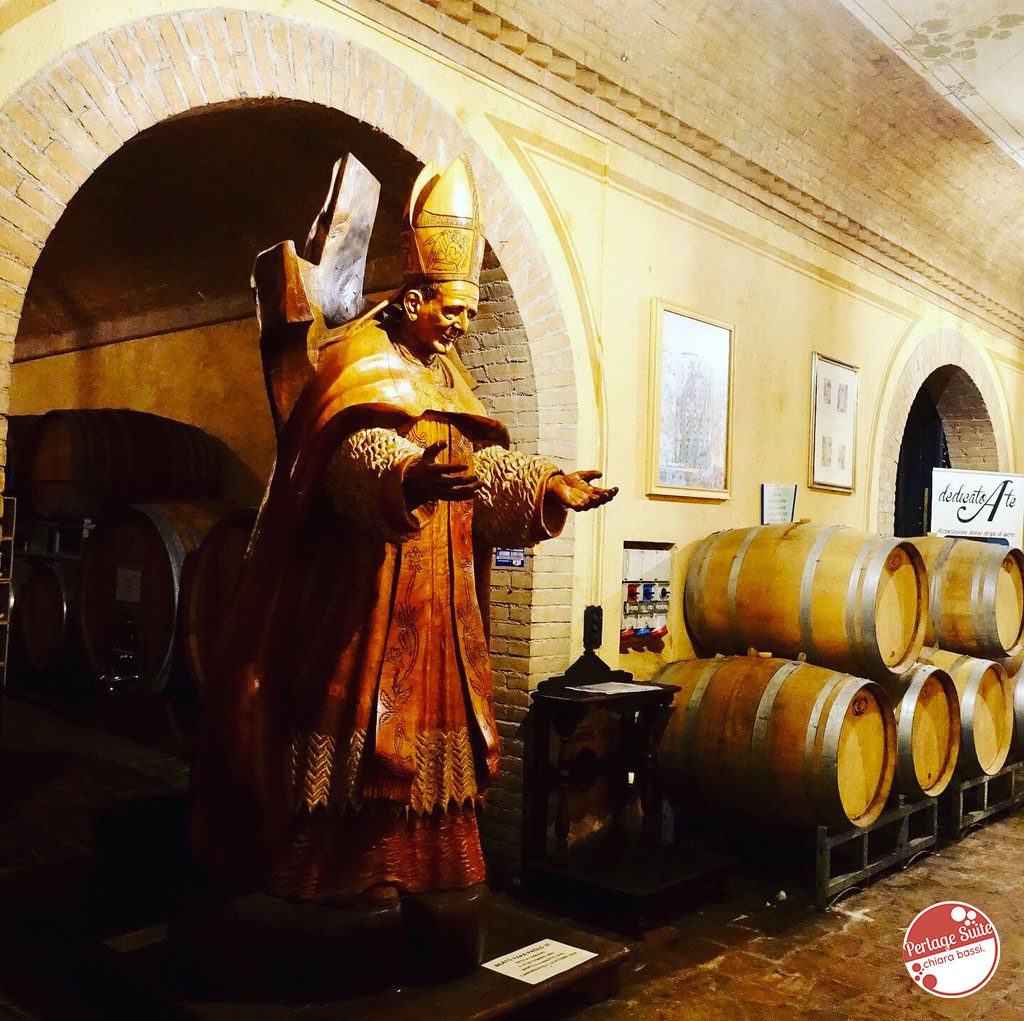 P.S. Per questa foto di copertina ho scelto come modella per il bracciale la bellissima bottiglia di Franciacorta Satén La Montina che ho intenzione di stappare questa domenica per il nostro 2 mese di Matrimonio. Questa cantina è perfetta perchè deve il suo nome a Giovanni Battista Montini, poi diventato Paolo VI, un Papa a volte criticato altre dimenticato a cui si deve invece il primo dialogo della Chiesa con la modernità. Di origine bresciane, il suo avo Benedetto Montini – propretario della casa padronale – ha originato il toponimo Montina su cui oggi sorge l'azienda franciacortina proprietaria della Famiglia Bozza.
Se vuoi saperne di più su questa meravigliosa azienda della Franciacorta ti invito a leggere questi articoli: