In this beautiful photo, Giovanni, my neighbours' son, is filleting my marinated trout. It is thanks to him that our August bank holiday table overlooking the lake is so beautiful! I love eating marinated or raw fish, in fact, if I could I confess I would only eat that! So this recipe is perfect for my palate, but not only for mine! My aunt for example, who refuses to even taste raw fish, has been salivating since I completed the preparation! Gravlax is a typical preparation from Scandinavian countries that have always needed to preserve salmon for long periods. In Swedish it is called gravad lax, in Danish it is called gravad laks and in Norwegian it is called gravlaks... three similar names for the same recipe with salmon, dill, salt and sugar (gravlax literally means 'cured salmon'). However, what I am going to propose to you today is my reinterpretation of this delicious recipe, which is nothing more than a 'dry' marinated trout and I consider it to be my absolute best creation!
Personally I prefer to prepare trout gravlax style because its fillets are thinner and less 'bulky' than those of salmon e the aromas penetrate more, giving it an even more pronounced flavour. Moreover, I live on Lake Iseo and here trout is among the most delicious lake fish! So I'll leave the salmon (which I love anyway) to the Swedes while I tell you my recipe for trout 'gravlax style'!  Since every recipe has a name... how about we call it 'trout in the Perlage Suite"?😇😁
Before I show you my photo-recipe I just want to make a small note about the salt to be used for marinating: choose a high quality wholemeal salt! Not all salts are the same: the flavour changes and the intensity of their 'salty' taste changes (and consequently so do the marinating hours, e.g. with common coarse salt you keep 32 hours).
For my gravlax trout I only use grey salt of Guérande. This integral sea salt is mined in the Pays de La Loire region, in a bay of around 2000 hectares rich in salt pans. Its grey colour is given by theclay, which also gives it a delicious floral taste and a much less salty flavour compared to ordinary salt. The consistency is also different: its large grains crumble in my hands with great ease.
Then I really tried making it with all kinds of salt and realised that, as always, it's all a matter of taste! So even here I advise you to find the salt that 'suits your palate' and take good measure with the timing! Note that if you use common coarse salt it mixes worse with sugar and the % changes: instead of doing half and half as you do with whole sea salt, out of 3 kg total you do 1.8 kg of salt and 1.2 kg of caster sugar.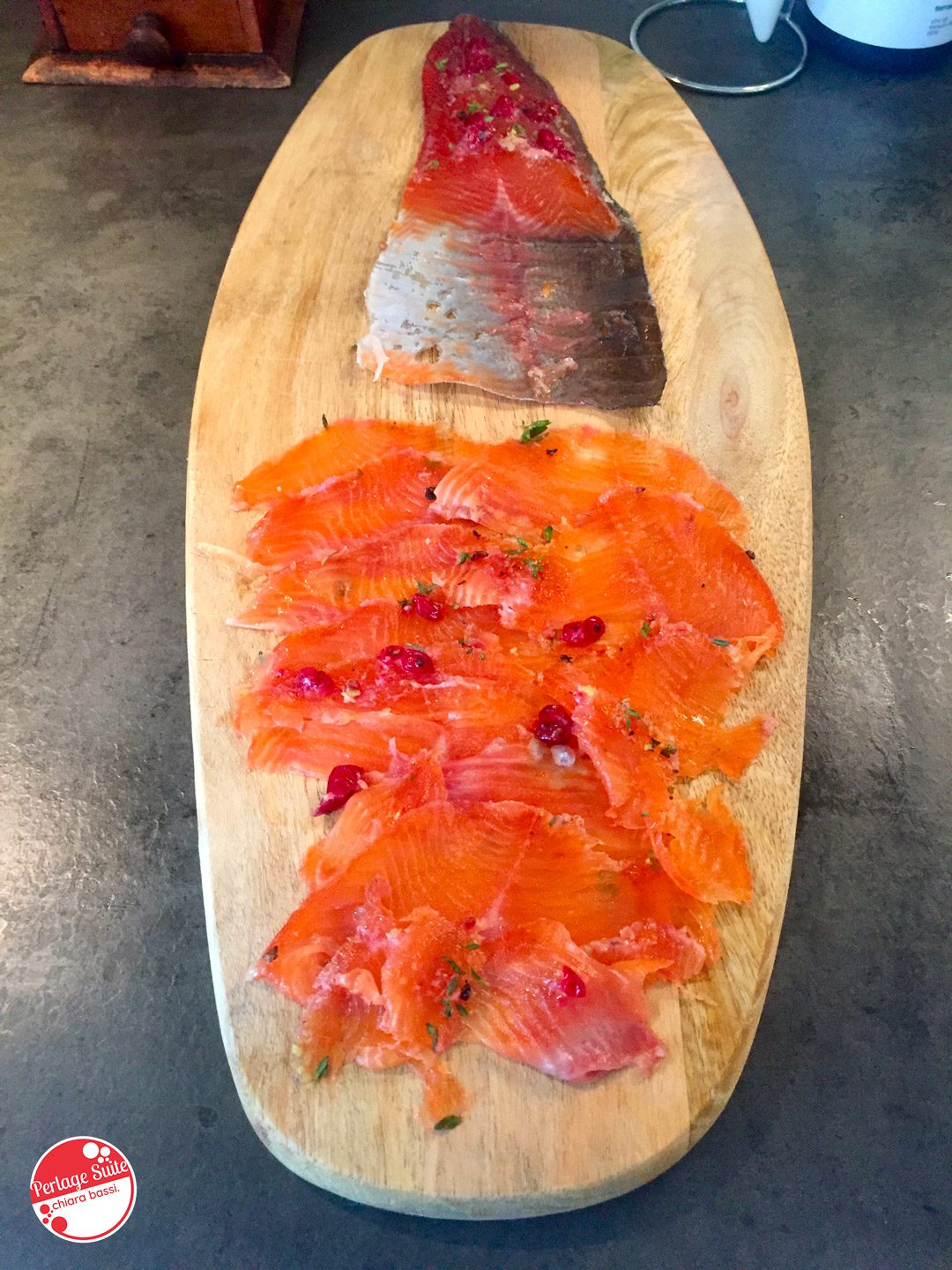 The principle of this type of marinade is that the salt 'dries' the fish by extracting an amount of water proportional to the amount of time the fillet has been in the marinade. I have tried leaving it from 8 to 72 hours with very different results: 8 hours is too little because the taste and texture are still a little concentrated and more meaty, 72 hours is too much because it dries out too much and becomes a little dry. The ideal marinating time for troutfor my taste, is 36 hours. However, I advise you to do a few tests by leaving it longer and longer to find your ideal consistency.
This recipe requires few ingredients and is also relatively cheap, but these must be very fresh and of high quality. If you are not sure where fresh trout comes from or you don't have a blast chiller, I recommend putting it in your freezer (not in the ice box) for at least 96 hours to kill bacteria. I am very certain of my trout so I take it fresh and marinate it directly (after carefully inspecting it), but to skip this step, you have to have a very trained eye and trust your fishmonger! My trout always and only come 'from Montisola with flavour' because Danilo and Maciste's fish is super!
my gravlax: Ingredients for 6/8 persons
1.2 kg salmon or marbled trout;
1.5 kg of grey salt from Guérande;
1.5 kg caster sugar;
1 large lemon;
5 black peppercorns from Jamaica;

a few sprigs of lemon thyme (or dill seeds and leaves);

currants.
You can make a little more because it keeps well in the fridge in a closed bag for up to 5 days.
my gravlax: what equipment do you need to prepare it?
The recipe for gravlax trout does not ask you to use any cooking source: all you need is a large bowl (for marinating the salt and sugar) and a small one (for scooping out and chopping up the herbs), a glass baking dish with high sides, a grater (preferably with large holes), a spoon (preferably large) and some cling film. To serve I recommend a round slate plate or wood, the slate especially creates a beautiful contrast with the pink of the trout!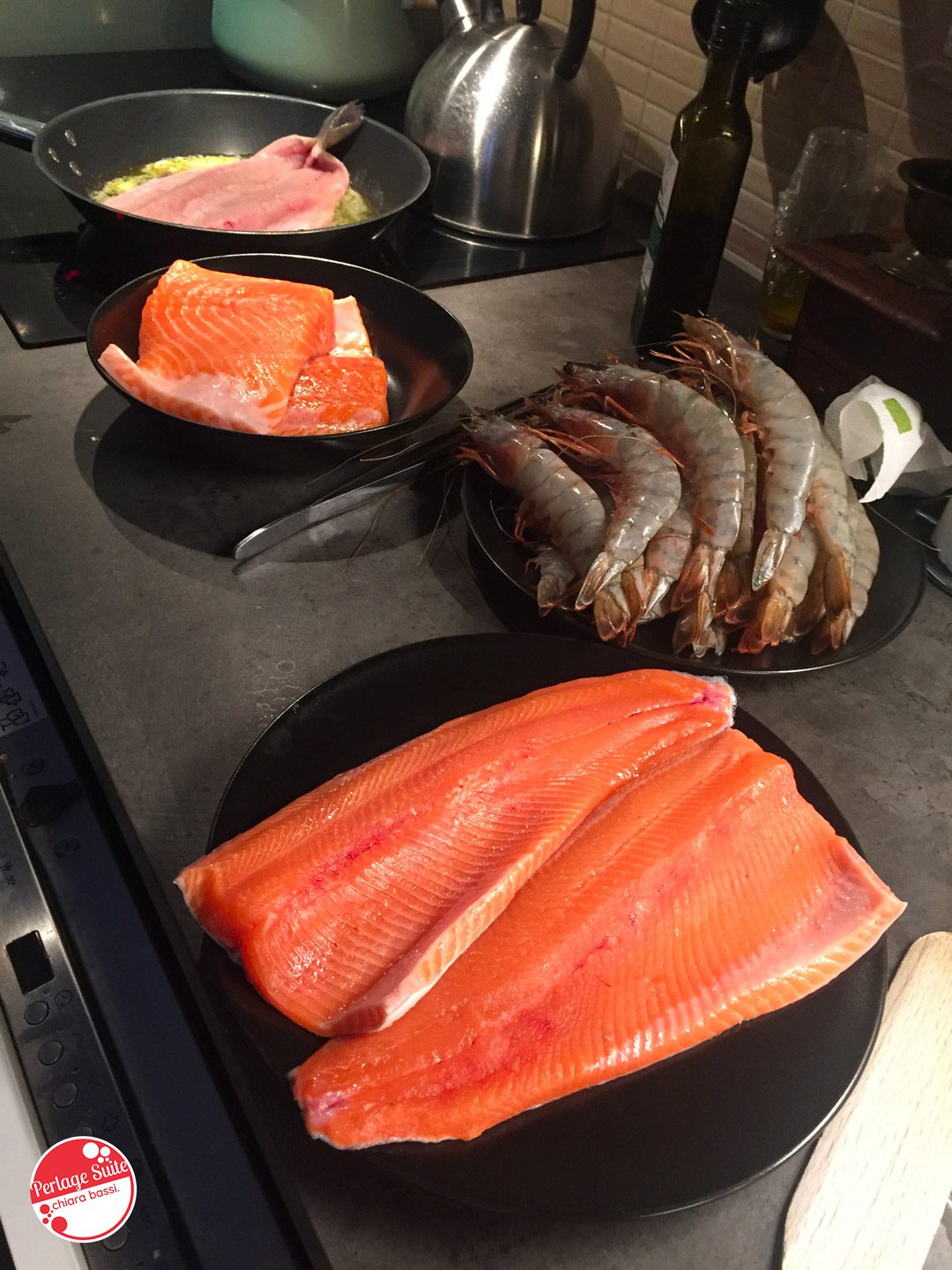 Step 1: Wash the trout fillets
In the photo you see more fish we caught... because I prepared the trout on Monday night for Wednesday night! Unlike tartare which you can prepare an hour before serving, marinated trout requires at least a day and a half in advance, adjust!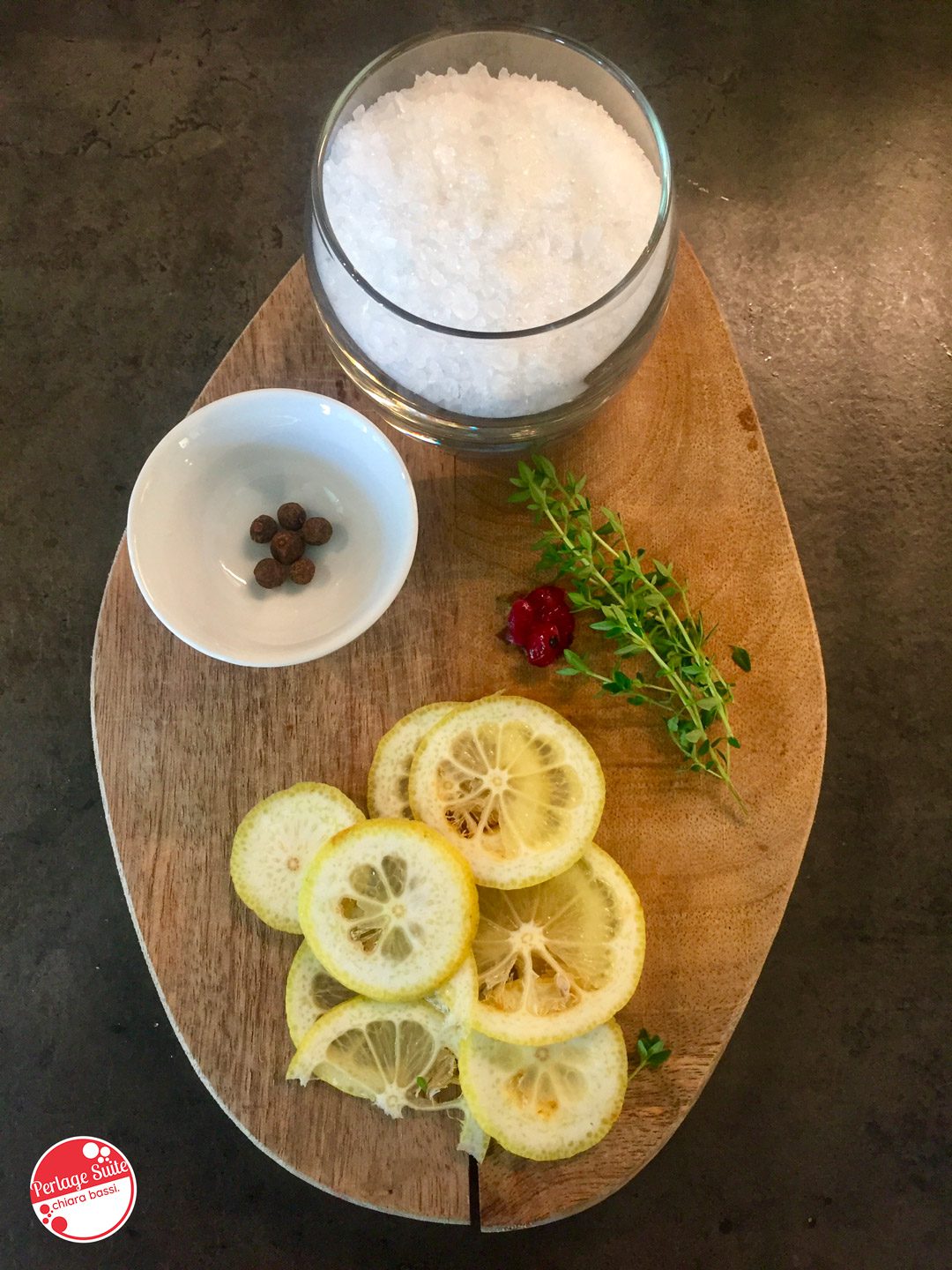 Step 2: Weigh and prepare all ingredients
Ideally, you should prepare all the salt and sugar mixture and the ingredients with which you will flavour the trout in advance. Then wash the lemon, grate the zest and cut it into thin slices. Pull off the lemon thyme leaves, wash the currants and coarsely grind the pepper.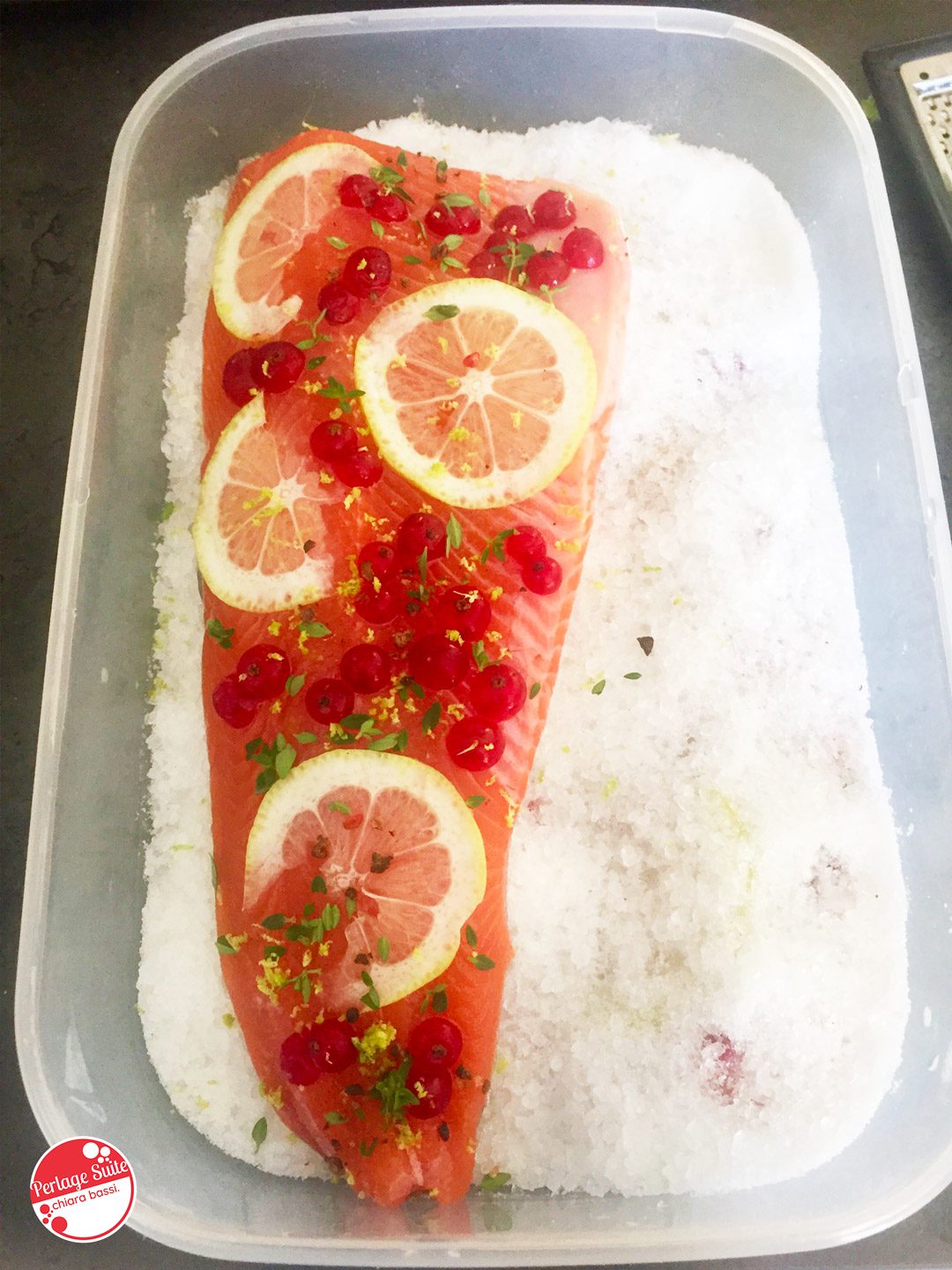 Step 3: Arrange the fillets and seasonings
Lay the first trout fillet on top and grate the lemon zest. Arrange the lemon thyme, currants and Jamaica pepper. If you wish, you can place a few whole lemon slices. Remember that under the lemon the trout will be 'cooked' and you will have to remove the slices to fillet better.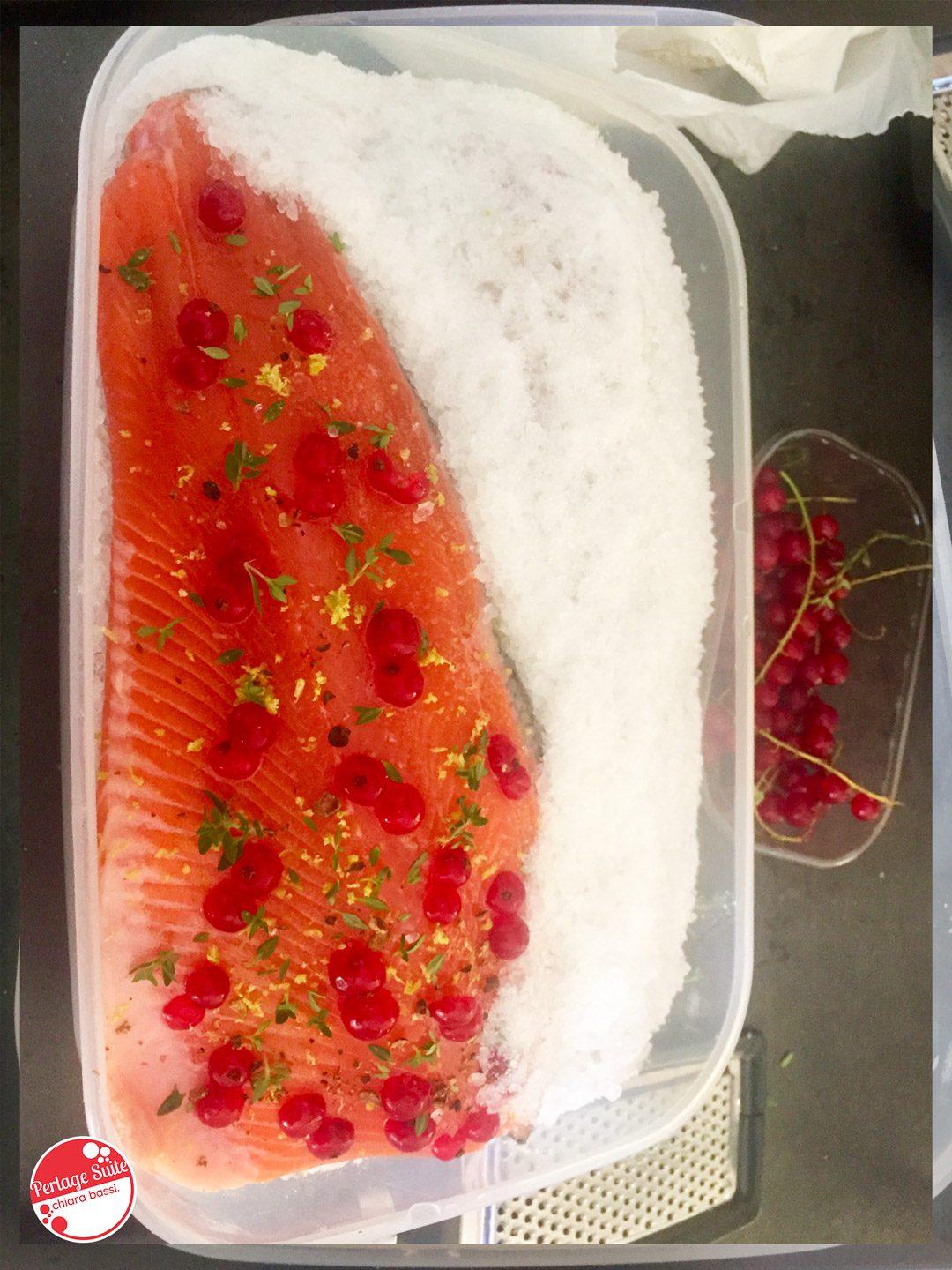 Step 4: Repeat
Repeat step 6 until you have used up your fillets. Then lay the fillet on top, place the seasonings on top and cover with the salt and sugar mixture. Cover with lots of cling film and place in the lowest shelf of the fridge to rest.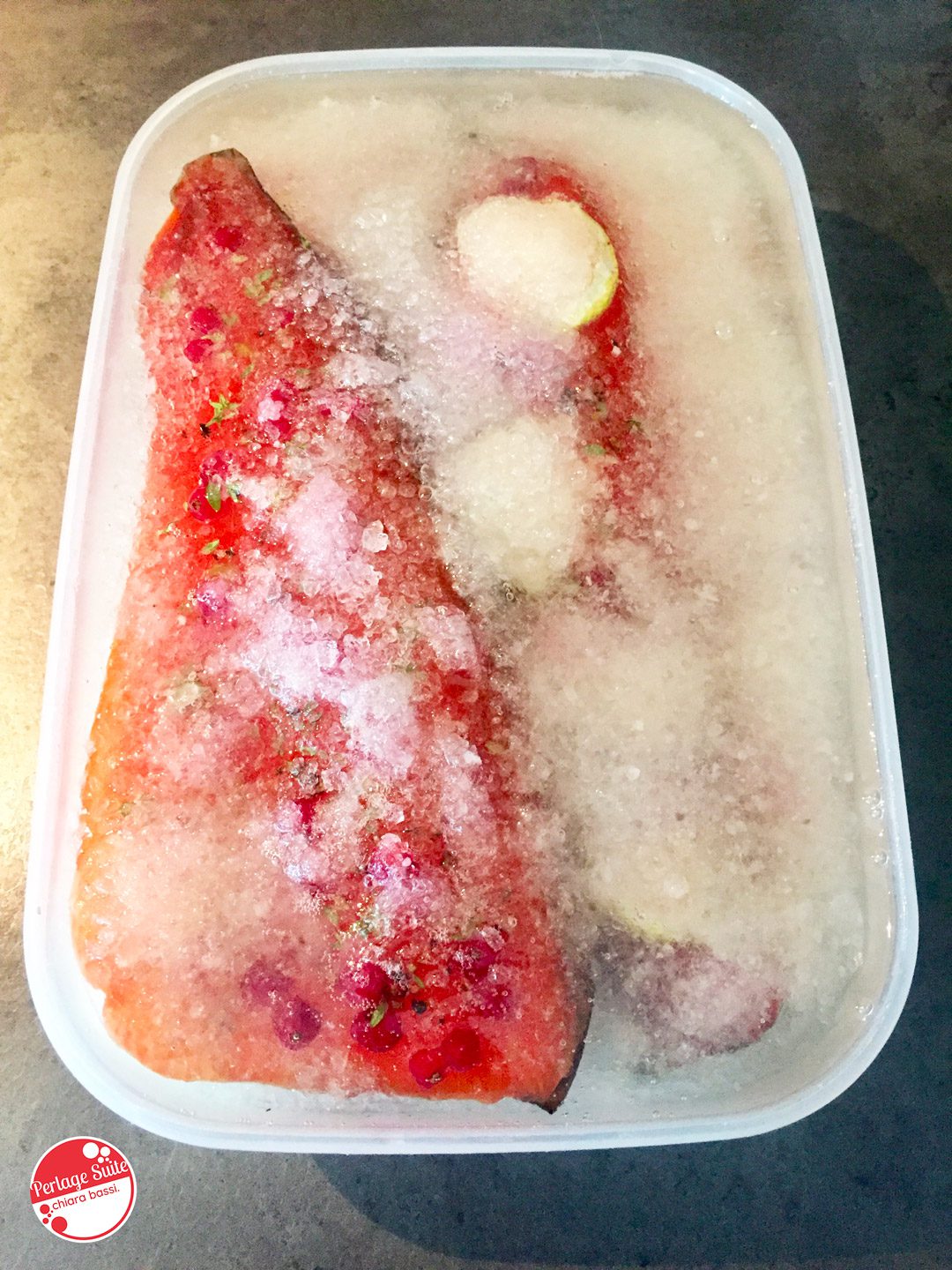 Step 5: Take the trout out of the fridge
Has it been 36 hours? Your trout fillets are ready to be enjoyed, you just have to finish preparing them! You will see that your container is full of water leaking from the trout fillets. If you weigh the individual fillets, they have dropped about 50 to 60 g.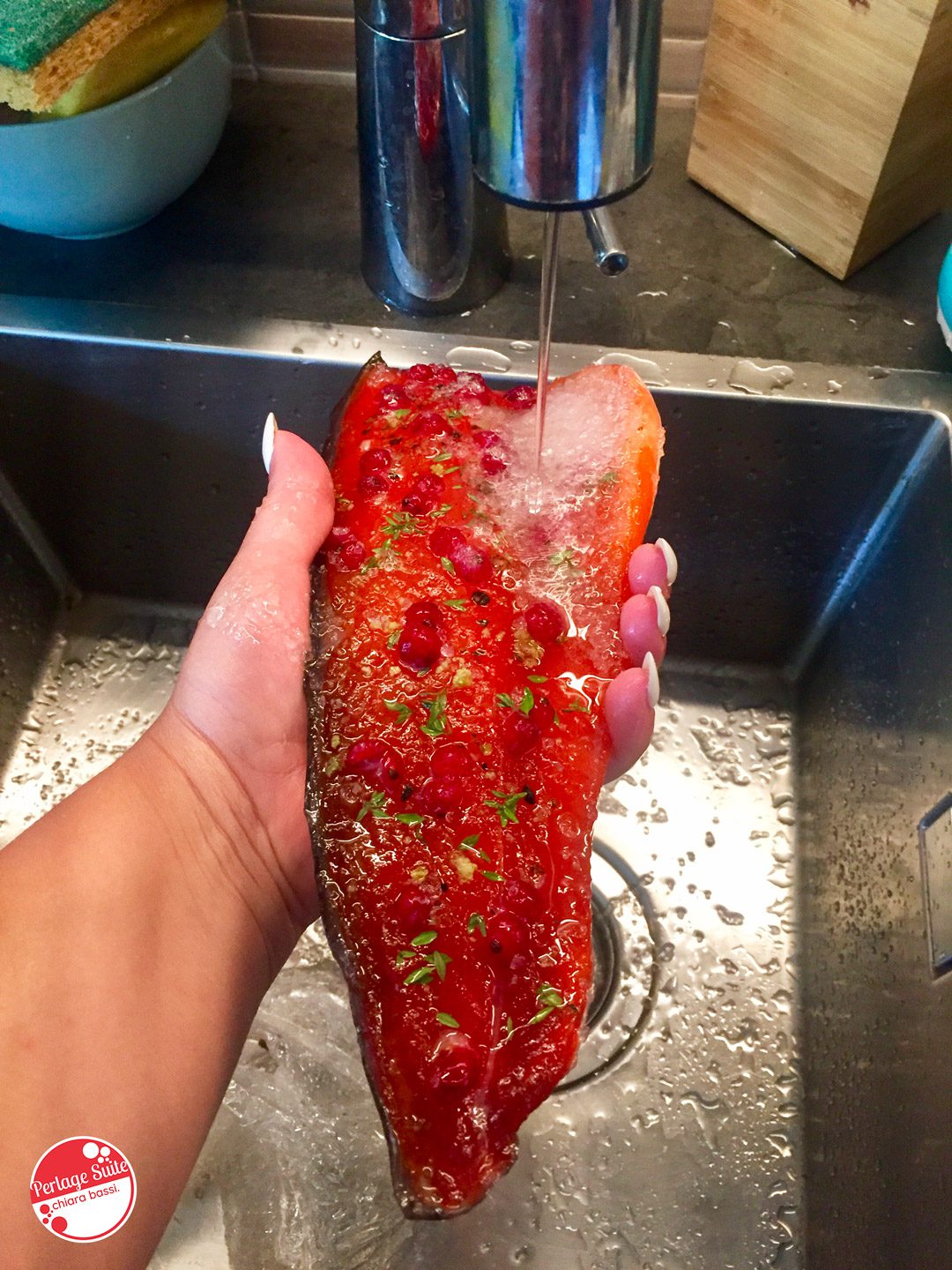 Step 6: Wash the fillets carefully
Hold the fillet horizontally, i.e. perpendicular to the water jet, which should be very gentle. Take a few extra minutes to do this crucial operation so as not to compromise the end result!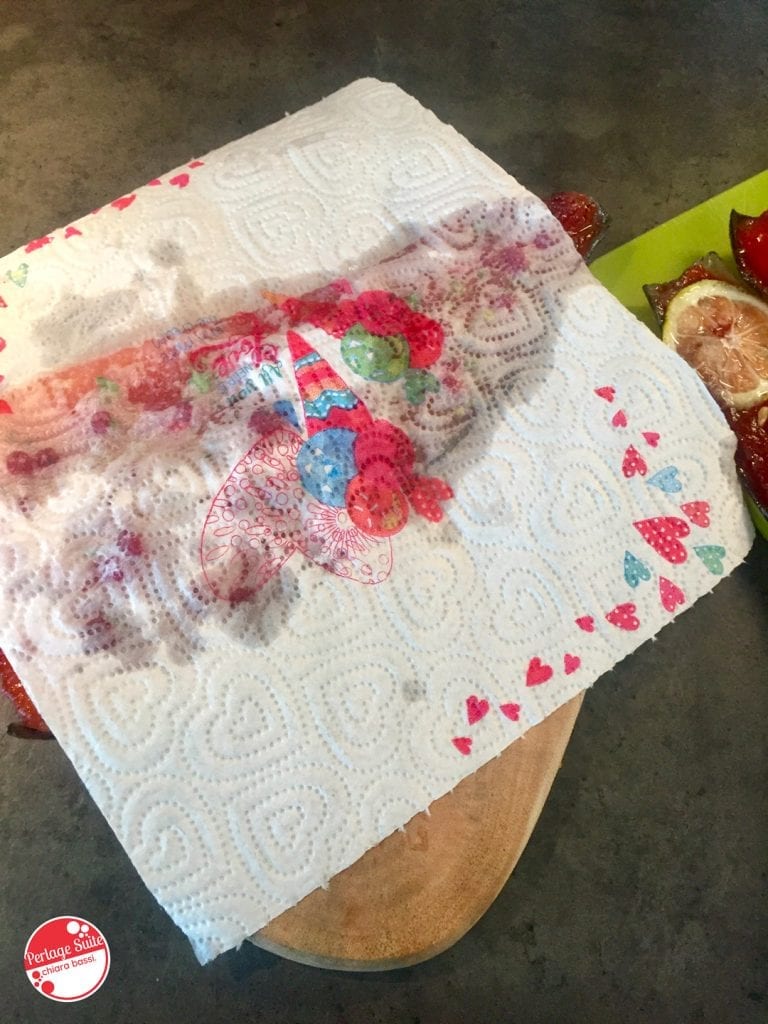 Step 7: Gently blot the fillets
Before cutting them, carefully blot your fillets with super-absorbent paper, taking care not to 'carry away' the marinade aromas.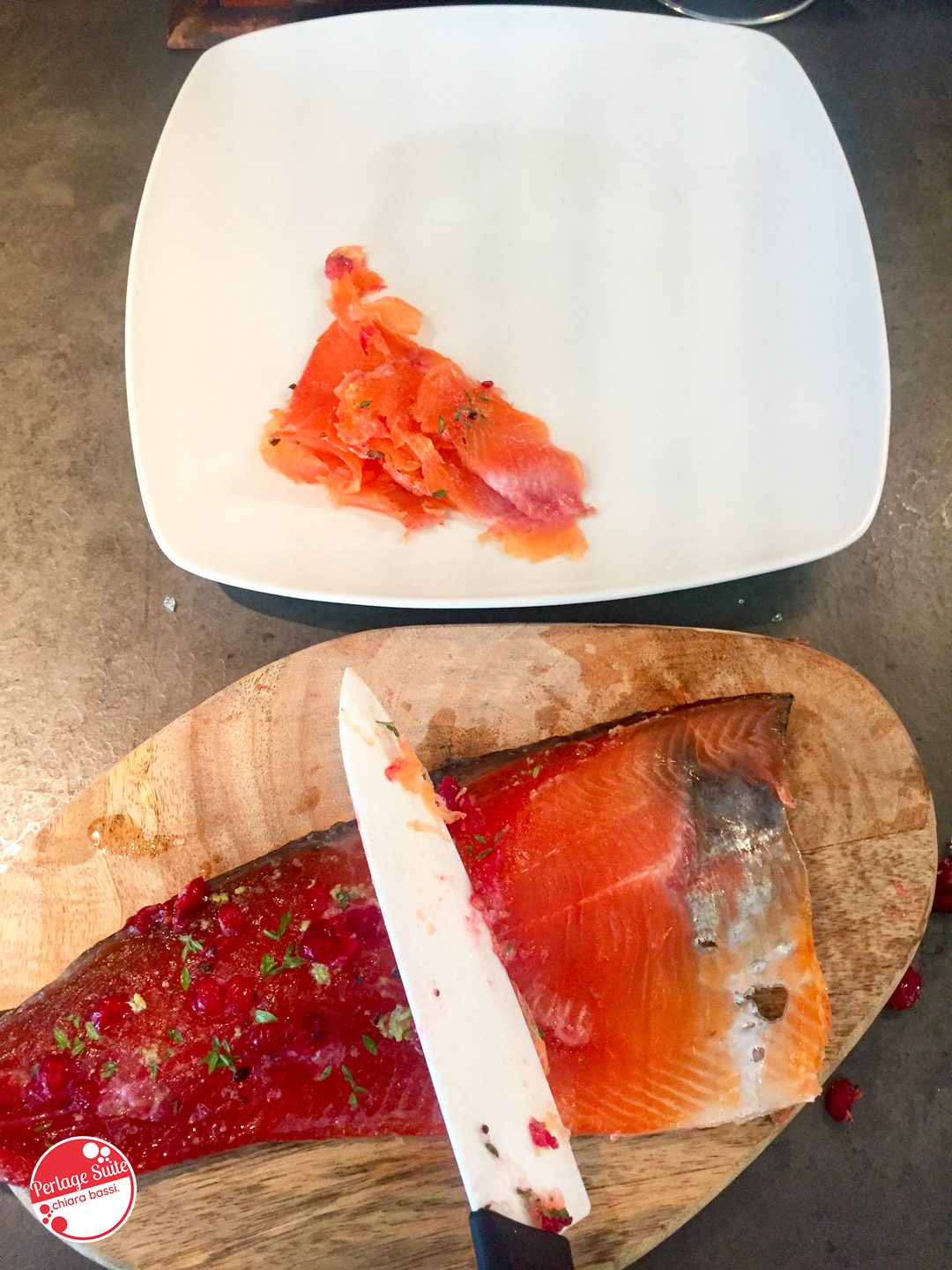 Step 8: Cut into carpaccio-like slices
To cut very thin slices, hold the knife at 45°C to the fillet. The only really important thing is to have the right knife, for the rest it's just a matter of getting the hang of it! Remember, once cut, the trout must be eaten immediately because it dries out.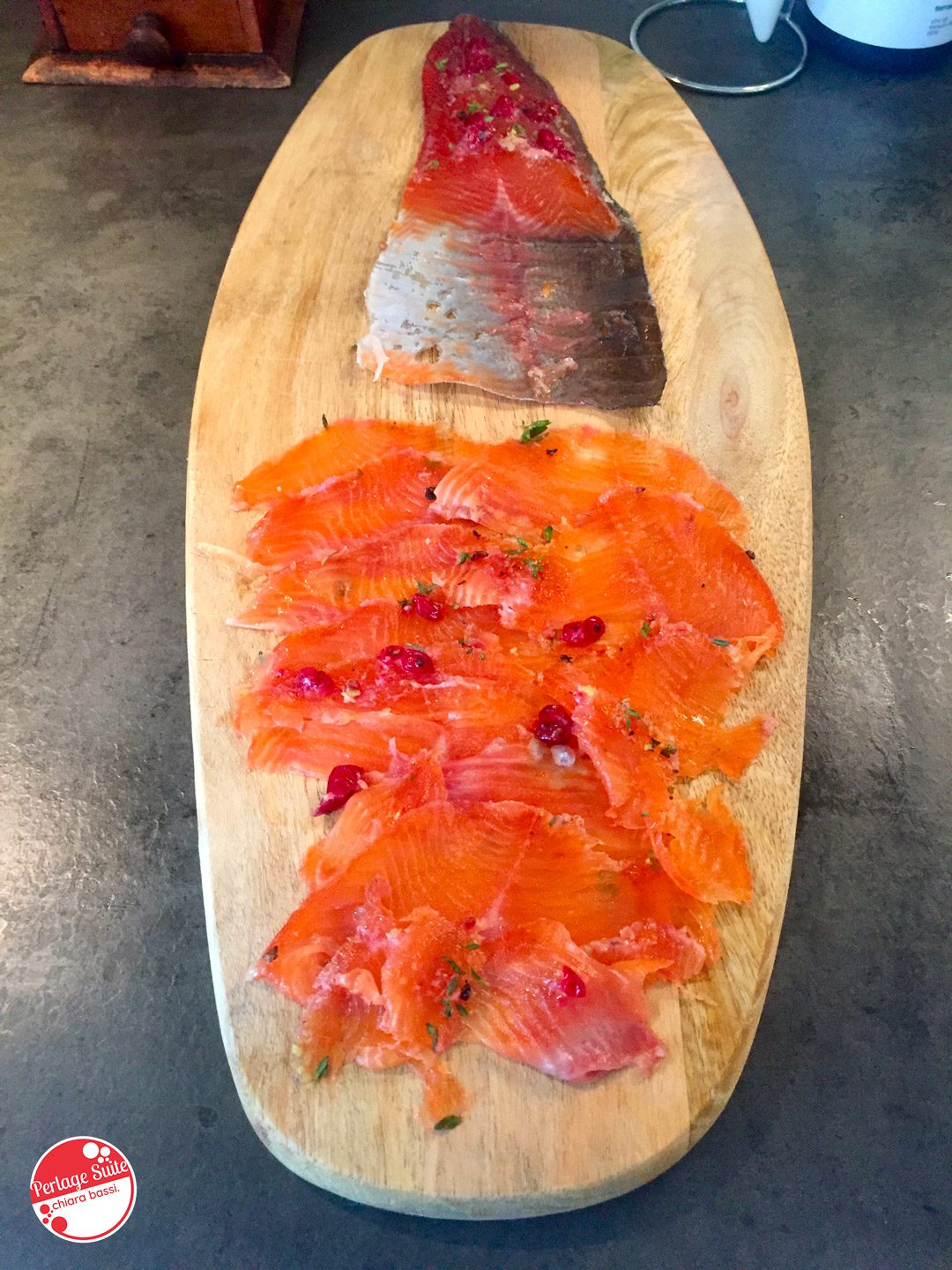 Step 9: Present the dish
Never, and I stress never, use coloured or decorated plates. Always use white or black plates, wooden cutting boards and slate trays to enhance the food. Coloured plates are nice, but leave them to those who do not cook with care! Finish off with a splash of delicate oil, lake oil is perfect!
Gravlax trout: what wine to go with it?
For once, I really have no doubts about what wine to propose as a pairing: I have already chilled the Malvasia of Lupinc! Do you remember that I was recently in the Karst on the occasion of theSea and Vitovska event 2019? If you like read the article on cellar of Benjamin Zidarich!
"The first traces of Malvasia d'Istria wine plantations date back to around the 14th century. The growing areas went up from Rovinj, Poreč, Novigrad, to the Trieste and Gorizia Karst. Slowly they then moved on to the Friulian lowlands, the Treviso area and Trentino. Even today, Malvasia has a certain diffusion in Friuli Venezia Giulia, finding it as a grape variety recommended by the EEC in the provinces of Gorizia, Trieste, Udine and Pordenone. Throughout the region, in short. Unlike other Malvasias (there are white, yellow, pink and black Malvasias), Malvasia d'Istria does not have a marked Muscat flavour. The fruit is almost neutral or only slightly aromatic. [...]

.

We can say that every soil is suitable for this grape variety. However, we must equally categorically state that every soil gives a different Malvasia. Certainly, the hills from Tarcento to the 'Collio', with the Eocene marl or the rocky, dry Karst, are the ideal womb for this vine, which must be contained in production to give superior quality. In these areas, production is low, but in inverse proportion the quality of the wine. On the plains, the wine succeeds in lower quality, due to the great vigour and high production.

.

With the same grape variety, cultivated in the hills or on the plains, we find two completely different wines. Malvasia di pianura, especially that produced in sandy or in any case fairly fertile soils, is a wine of a pale straw-yellow colour, with greenish reflections, slightly perfumed with a bouquet reminiscent of lemongrass. It has a dry, citrine, slightly warm flavour. It is a drinkable, undemanding wine, light in body and alcohol, easily digestible even if drunk in large quantities. The discourse changes considerably when the altitude increases. No longer discreet, but with bursting personality, it stands out among the best Friulian wines. Straw-yellow in colour tending to golden yellow, alcoholic, fatty due to abundant glycerine while retaining a certain amount of citrine aggressiveness innately, slightly aromatic and personalised bouquet, Malvasia del Collio or del Carso is a special wine."

.

Pietro Pittaro, Article 'La Malvasia Istriana'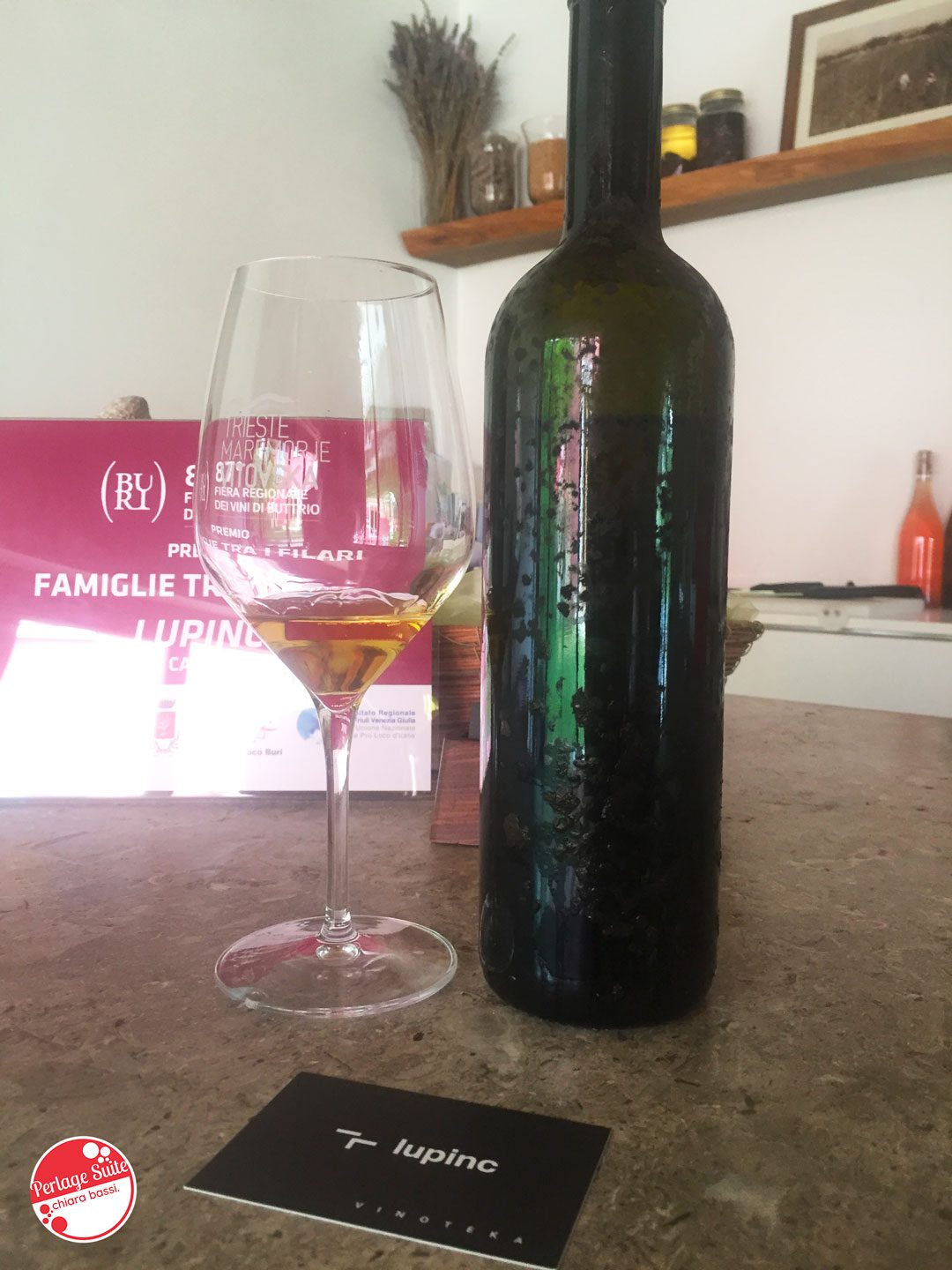 Lupinc, Venezia Giulia IGT Malvasia 2017 - 13 %vol
The choice of this wine, as always, is not random: you only need to read Pittaro's lines to realise the beauty of this pairing! The trout has a very intense, aromatic, fresh and concentrated flavour, slightly savoury. Lupinc malvasia is fat, citrine and with notes of chamomile, saltiness, honey, candied orange and blood orange juice. In the mouth, it has a fairly intense pseudo-caloricity but is supported by exceptional freshness.
Lupinc, Venezia Giulia IGT Malvasia 2008 - 13 %vol
Even more perfect would have been the pairing with its 2008 version, which we had the pleasure of tasting at Matej's cellar. It is a beautiful, bright, intense golden yellow with amber highlights. The nose is interwoven with delicious notes of chamomile, lime honey, candied apricot, cinnamon, Greek yoghurt, toasted almond and caramel. In the mouth, it is very fresh with an acid shoulder that is nothing short of crazy. Soft, structured and long on the finish.
Farm Matej Lupinc, Locality Prepotto (Trieste) www.lupinc.it
I sincerely hope you like this recipe... I have prepared it for this evening, when my neighbours and I are having the customary mid-August fish barbecue! As the 'raw fish cook' I also prepare two tartares:
tuna tartare, Tuscan 'Carpineto' extra virgin olive oil, curry, Tropea onion, fresh chilli pepper and wild fennel
prawn tartare, 'Brisighello' Romagna extra virgin olive oil, fresh chilli pepper, grated lemon and fresh thyme

 
And my delicious berry cheese cake freshly picked right here in Monte Isola! 
Of course, if you prefer salmon, you can try this same recipe by replacing the chives and Greek basil with dill. In this case I recommend increasing the marinating time to 40 hours.  
Well, since Anna and Caesar brought me the cream for the 'wrong' cheesecake, I also made a delicious sauce to go with it! The recipe is very simple, just whisk these ingredients together:
4 tablespoons of cooking cream

4 tablespoons mustard

2 tablespoons of red pepper cream

2 tablespoons of oil (I used the one in which I keep the dried trout, very fragrant)
fresh basil
wine vinegar

 
Happy August to all!
Cheers 😍🍷
Chiara