I am writing to you live from Restaurant Charlemagne of Collebeato (Brescia). The Dr Lorenzo Palazzoli, Physician, Researcher and Oleologist is guest of Lions Valtrompia for a short course on Extra Virgin Olive Oil. The aim of the evening is to explain the close link between Oil and Health, followed by a dinner performed by the Chef Beppe Maffioli which will have Extra Virgin Olive Oil as its protagonist. Finally I will be proud to present my beloved Sparkling Wine Guide 500 Bubbles in 500 to the entire Valtrompia Lions Club!
I arrived at the Ristorante Carlo Magno shortly before 6 p.m. and, even before appreciating the beautiful 16th-century mansion, I enjoyed the splendid view over the valley as the sun went down. The building inside is very beautiful and well-kept, and the room reserved for Lions Valtrompia is really splendid.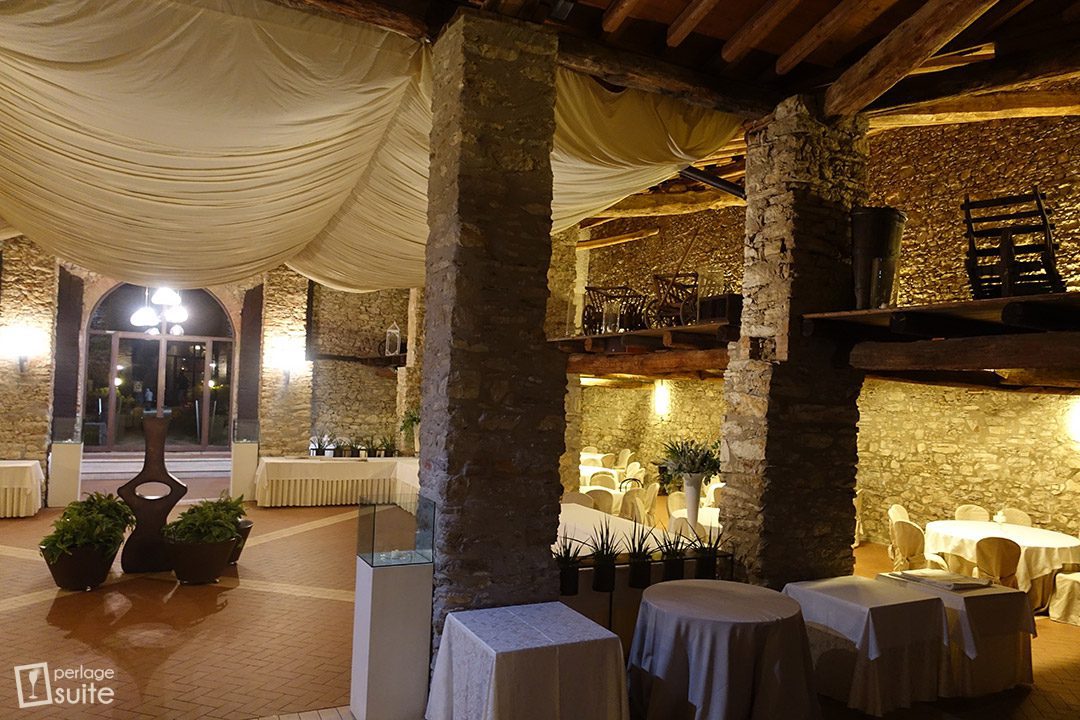 I had the pleasure of personally meeting Dr Lorenzo Palazzoli, with whom I am collaborating on the Tenuta Tre Gemme blog. First of all, he is wonderfully elegant, and a pleasure to listen to! The course would deserve a longer treatment, first of all because Lorenzo is so good, and then because Extra Virgin Olive Oil is a functional food for our health. Indeed, we must always remember that we are what we eat, and it is unthinkable to pay more for a litre of oil for the car engine and then pay a few euros for a litre of oil for our body.
[tweetshare tweet="Your food will be your medicine. Hippocrates" username="HavanaVanille"]
I feel very strongly about this, because I have been fighting on this issue for as long as I can remember: we are what we eat. Why do we need a diet rich in antioxidants (polyphenols)? Because free radicals are formed in our bodies. Put simply, a free radical is a cell that has lost an electron. Antioxidants have more electrons and can give the free radical the electron it lacks to be a healthy atom. Every day our bodies form free radicals that kill us more or less quickly. These are due to stress, smoking, pollution... we can fight this with a healthy diet. Extra virgin olive oil is a Smart Food, i.e. it is one of the 30 foods that talk to our DNA to prolong our life. So nutrition plays a predominant role in our health and in extending our lives. You have to pay attention to what you eat and what you buy, you can save on a dress or a handbag, but not on food! One third of cancers we eat at the table, it is unthinkable to shop at discount stores or, just to stay on the subject, buy a 3-4€ bottle of fake extra virgin oil! Personally, I always hope that wine and good food lovers avoid smoking like the plague! Just a few evenings ago I was at the birthday of Cascina Lorenzo and there was a journalist who commented on the nose of one of the wines after smoking two cigarettes. All I can tell you is that when he came back I could smell nothing but the stench of smoke from his clothes (and I was far away), so how could he assess a faint whiff of wine?
After the theoretical part we moved on to practice and tasted several samples of extra virgin olive oil to understand the various organoleptic and qualitative differences. After the tasting, we moved to the dining room for dinner prepared with great care by Chef Beppe Maffioli.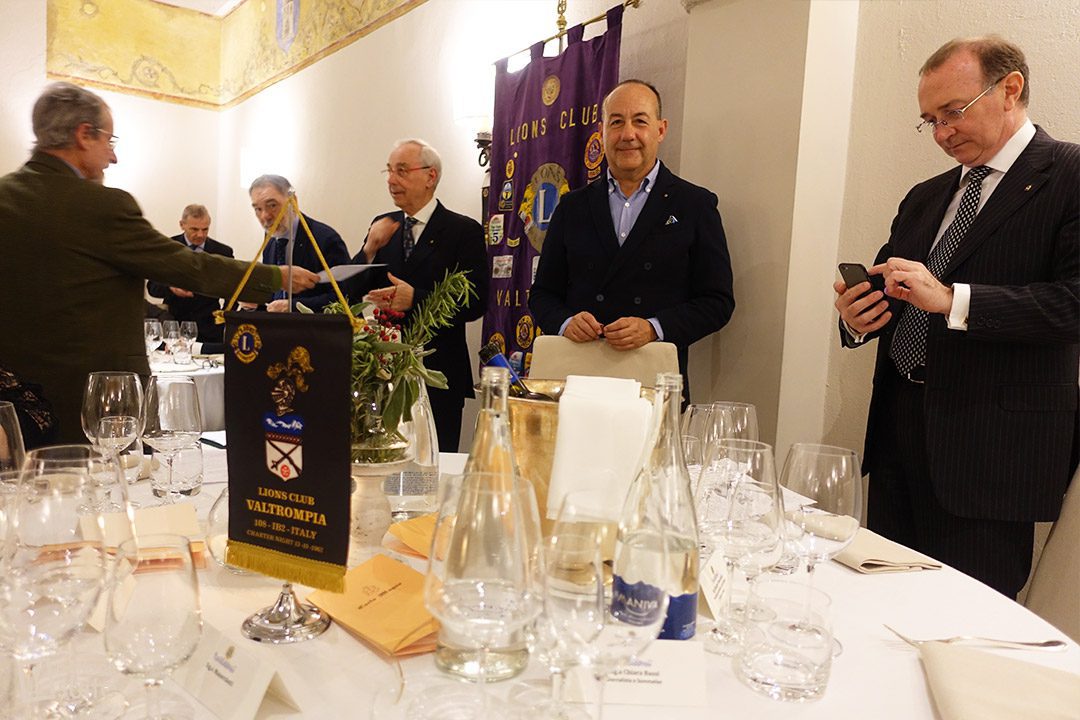 Among the Extra Virgin Olive Oils tasted, all very good, without doubt is theIron Man that stole my heart! Very intense, with a beautiful deep green colour and a medium strong fruitiness on the very clean nose where you can recognise rocket, walnut husk, thistle, artichoke, almond. In the mouth it is bitter and spicy. Definitely an oil to be paired with succulent meats (to stay on the subject precisely with the Abruzzi arrosticini, but also with a nice Fiorentina steak) or enjoyed on its own. As Lorenzo said, we have a fifth receptor inside our mouth capable of making us recognise the umami, that is, the tasty/flavourful, which is present in extra virgin olive oil.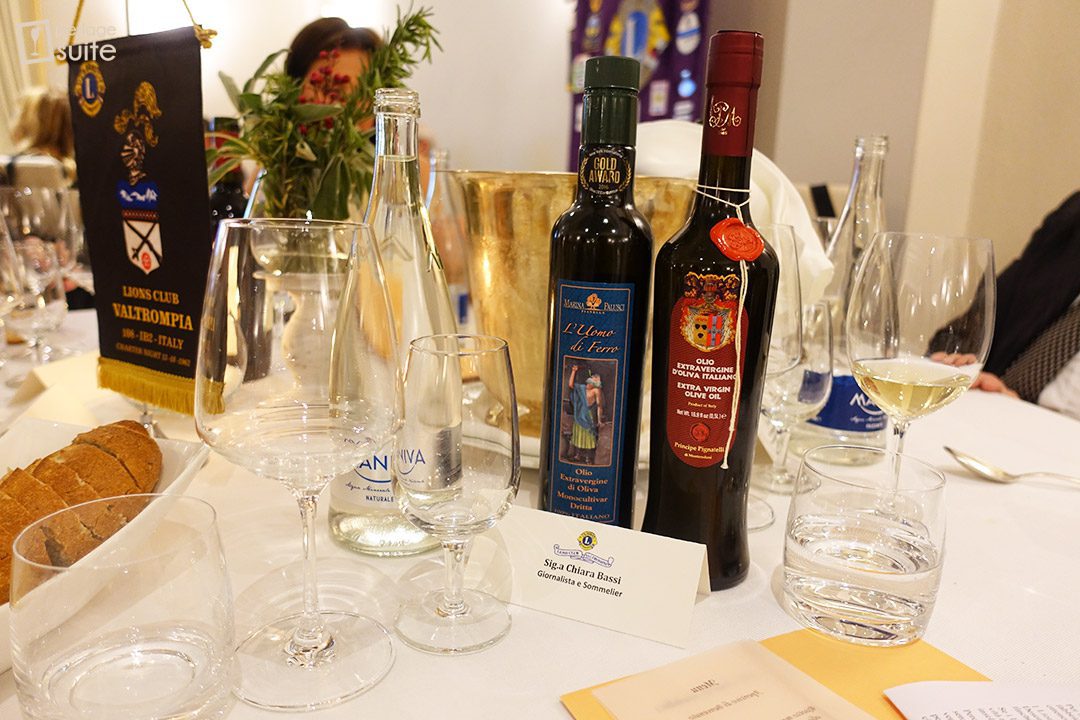 We started with a welcome aperitif of an artichoke and hazelnut salad. As a sommelier I have learnt to be wary of artichokes because of their difficulty in pairing, but I must say that I found it tasty and well executed. Perhaps I would have liked an even crispier note. Paired with a very delicate Garda olive oil, rather citrusy and vanilla-like.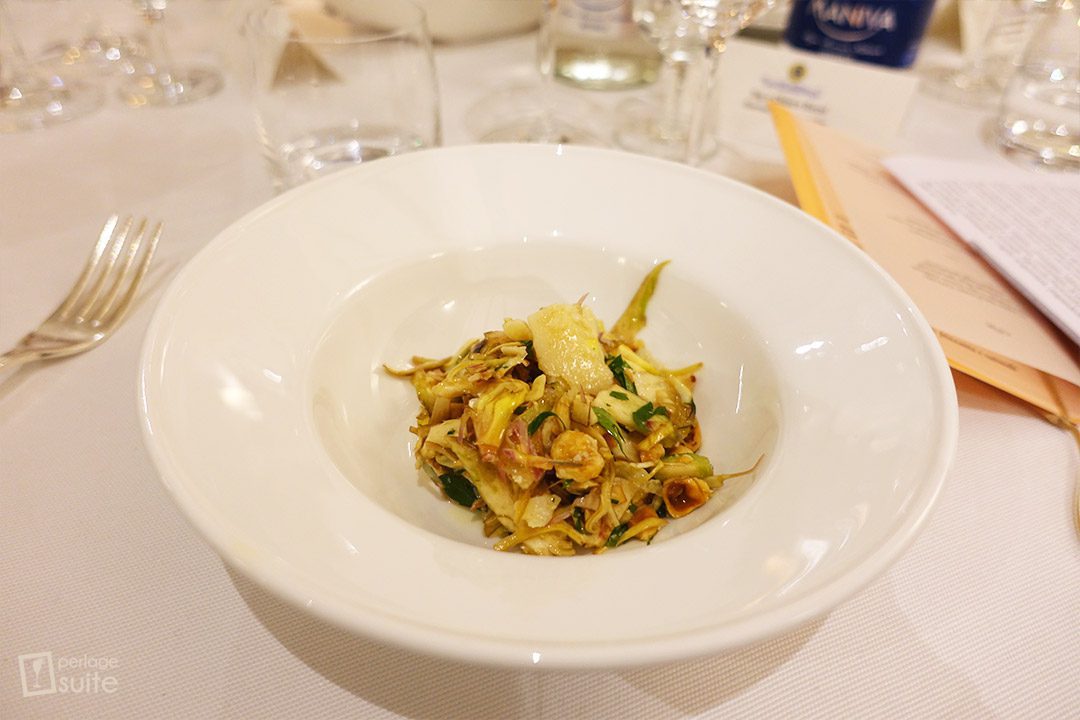 Risotto mantecato al limone, cipollotto, extra virgin olive oil del Garda with red prawn tartare. A winning combination and great balance of lemon and spring onion, which was by no means simple and obvious. The red prawn tartare was exquisite and very pleasant to eat together with the risotto with its citrine note. As for the risotto itself, for my own personal taste, I would have preferred it a little creamier and more amalgamated... in short, "all'onda"... however, I think this is a result of the mantecatura ingredients which, even if emulsified, break apart easily (I'm thinking of the butter and lemon).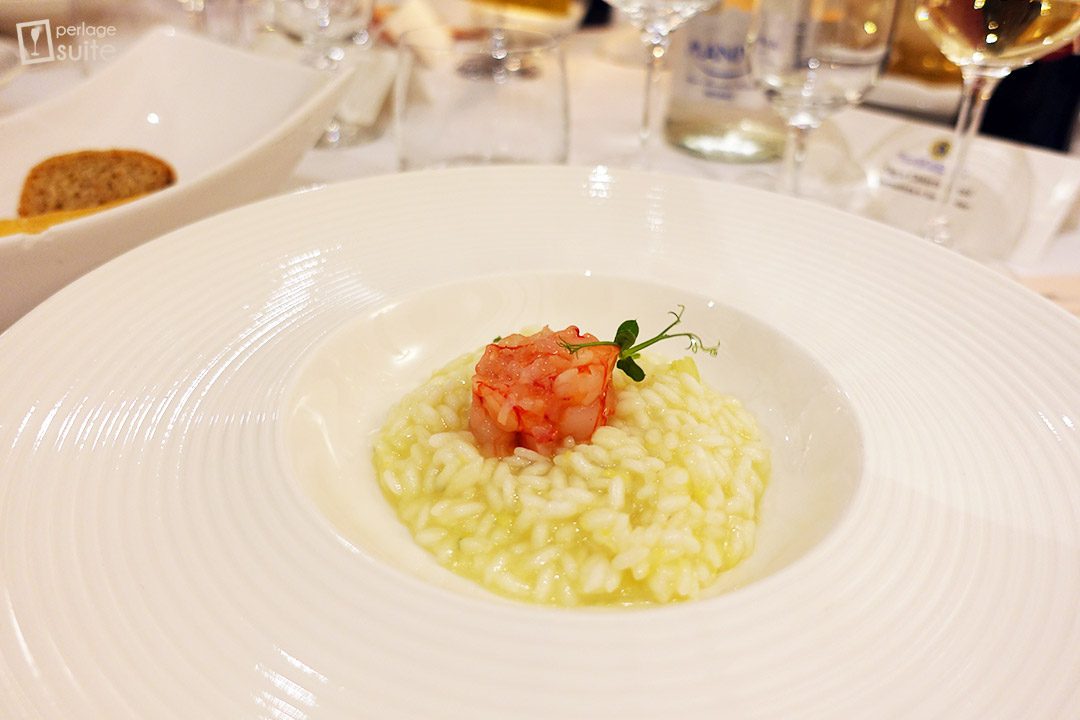 Aromas of the sea with Casaliva Garda Extra Virgin Olive Oil. Vacuum cooking in a jar at 65°C for 12 minutes for this sensational second course. When each ingredient manages to retain its taste so clearly and, at the same time, smells uniquely of the sea... well, it's a real success. I also commend the quality of the raw material: the fish was all amazing! Particularly in this dish, it maintained the freshness of the raw ingredients with a very delicate 'uncooking'. The scallops and red prawns were special.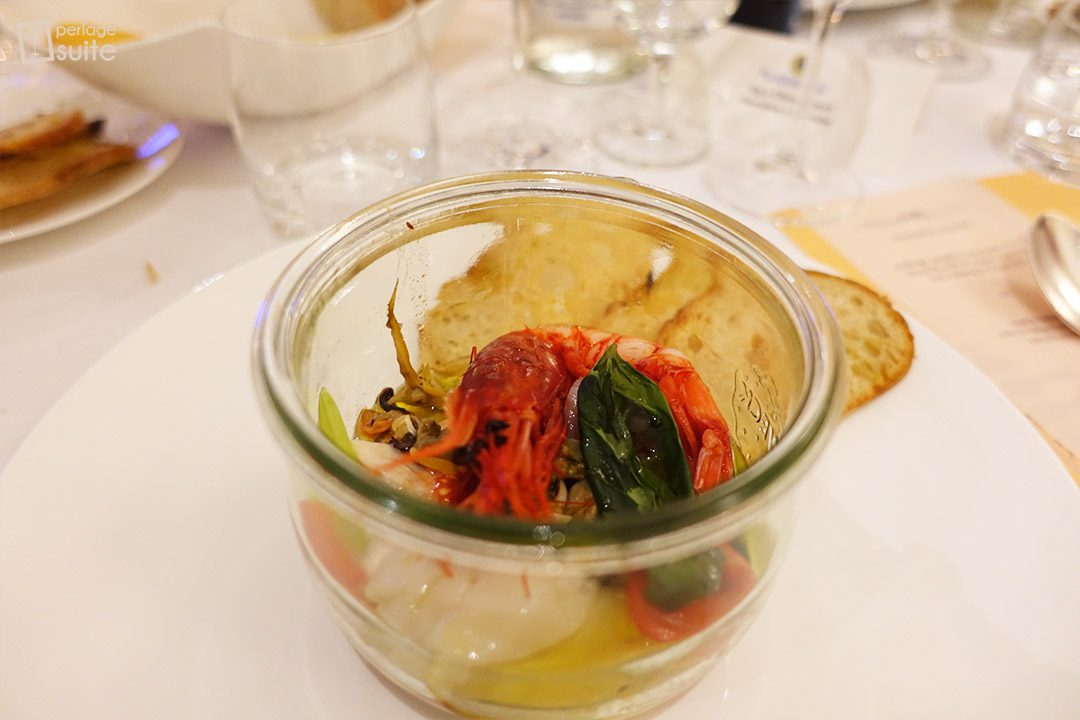 Almond ice cream with almond crumble, confit olives and Garda Extra Virgin Olive Oil. One word: AMAZING. A non-sweet dessert balanced to perfection, with almond water ice cream of a unique creaminess and lightness. I am normally a fan of creamy ice creams, but if you can achieve this creaminess with an ice cream that remains so light thanks to the use of water... so much the better! I found the confit olives to be special... and the Garda Extra Virgin Olive Oil on top (the same citrusy and vanilla-like) also married perfectly. An experience to be absolutely repeated!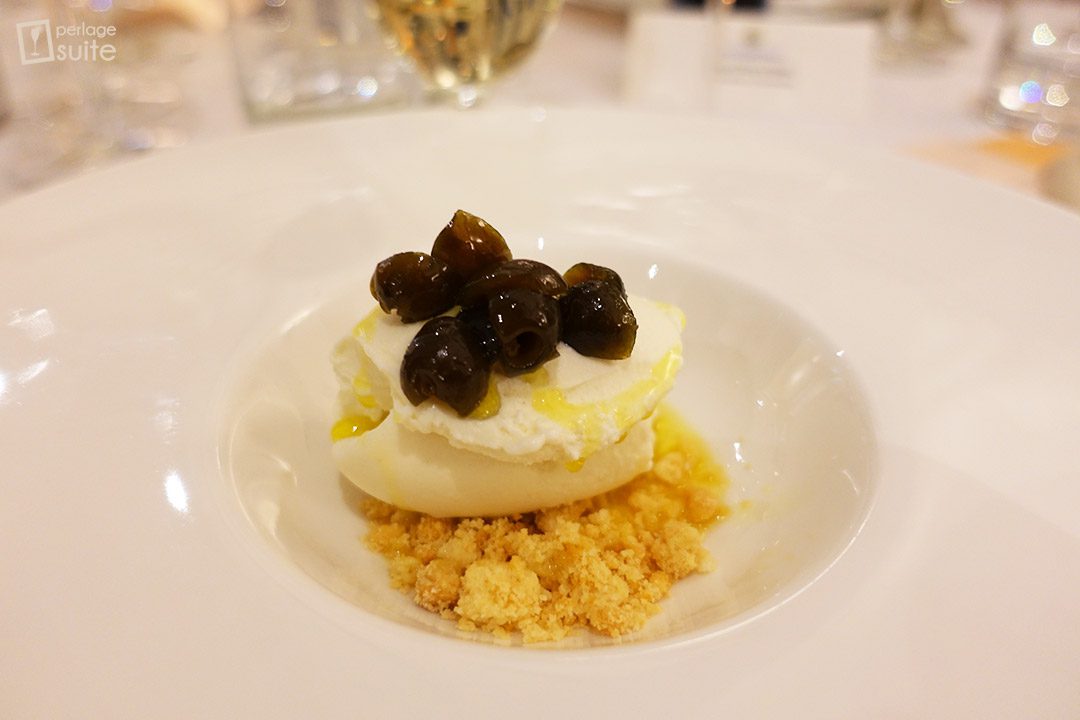 After dinner, Chef Beppe Maffioli told us all about his cooking philosophy and the importance for him of the 'human factor' (it reminded me so much of Identità Golose 2018)! He told us about his extraordinary experiences in London and it was a real pleasure to listen to him, especially when he talked about how they build the menu in his restaurant. Beppe Maffioli is an extraordinary chef: talent is followed by humanity, professionalism and balance. What can we say except that he fully deserves to be in the firmament of Michelin stars too?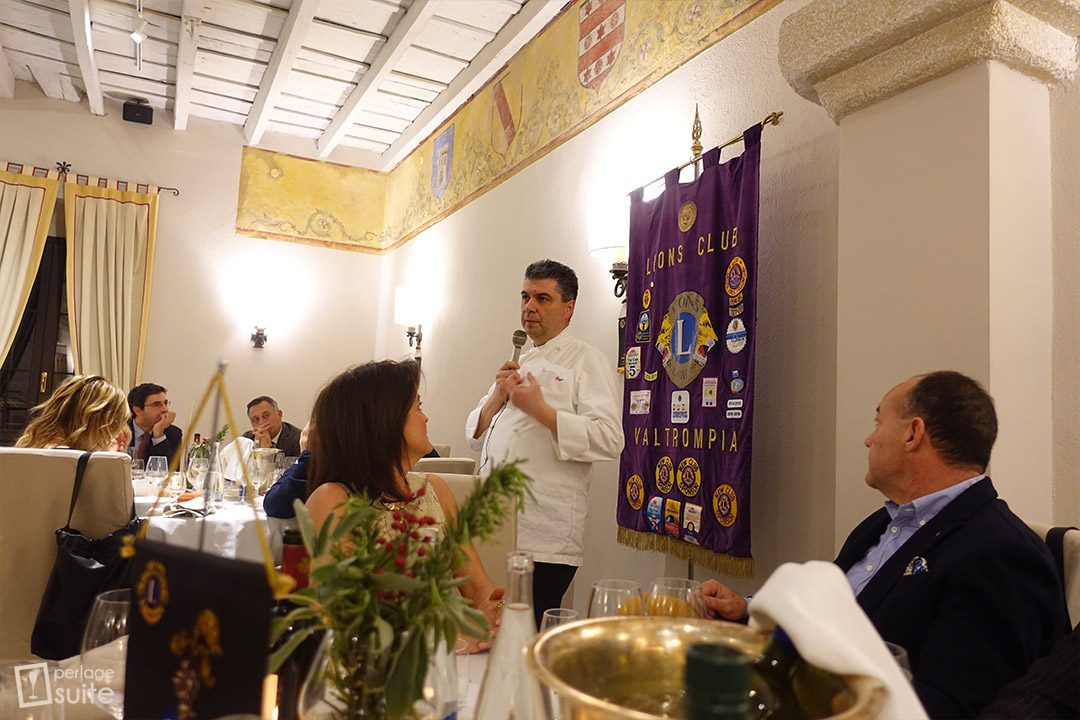 After Chef Beppe Maffioli it was my turn: I was delighted to present my Guide to Sparkling Wines 500 Bubbles in 500 to the whole of Lions Valtrompia! I talked about the curiosities of the world of sparkling wines, but above all I dwelt on theimportance of opening one's mind to wineries and lesser-known places... not to always drink the same 4 or 5 bubbly producers! I really enjoyed having such an interested and interactive audience who asked me many questions that were a pleasure to answer. And a thank you all very much for the compliments you gave me when you 'touched' my beloved guide! 😍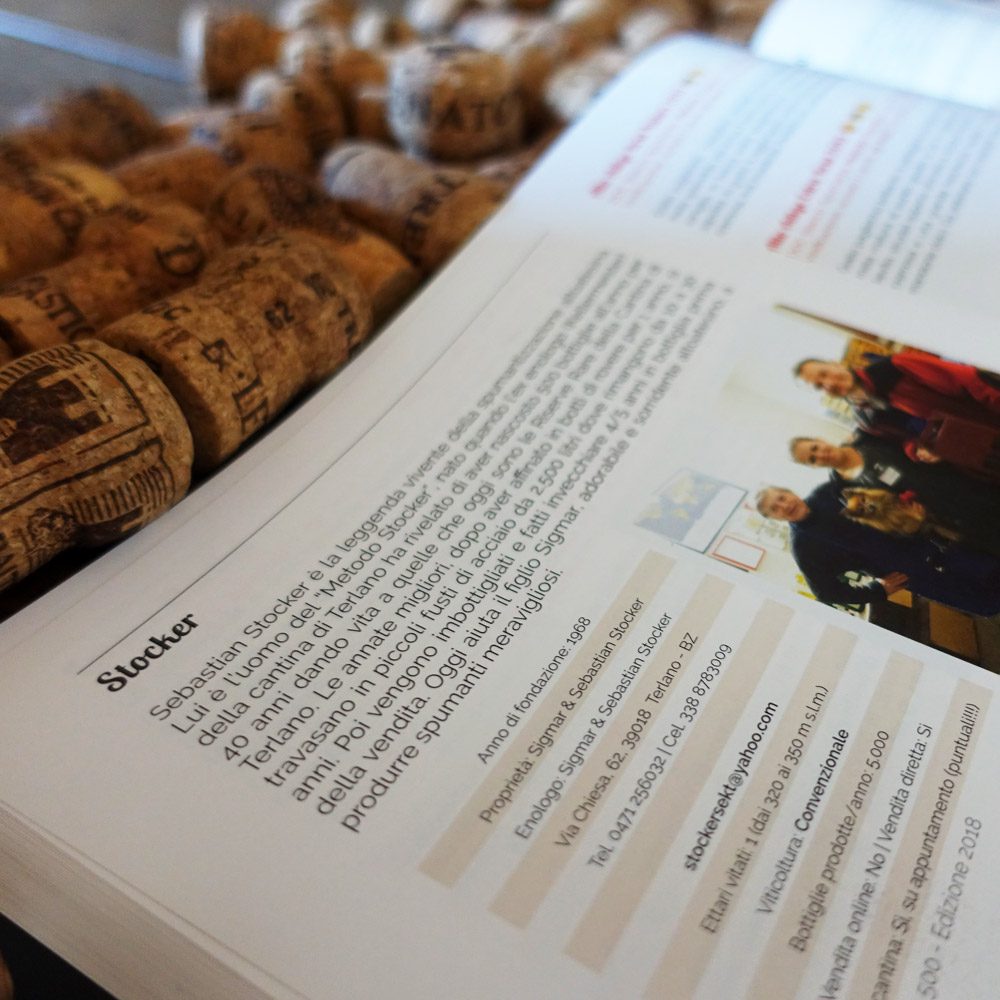 Finally, one last thanks to Lions Club Valtrompia, at President Lion Roberto Ferrata, to Nicoletta who shares my passion for orchids (to be bought strictly on www.iloveorchid.com), to the Chef Beppe Maffioli e to all the staff of the Ristorante Carlo Magno for hospitality, professionalism and an exquisite dinner.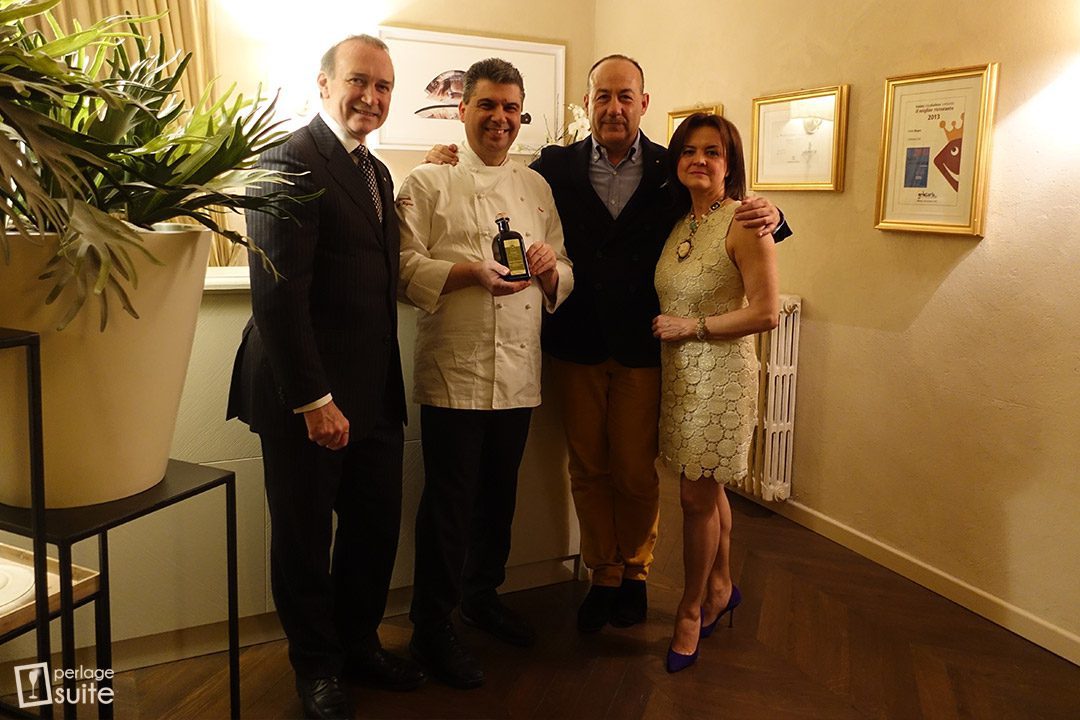 A big thank you also to Carla Perrucci of Tenuta Tre Gemme for introducing me to Lorenzo... and because she is one of the most wonderful women I have ever met. Finally the greatest thanks go to dear Dr Lorenzo Palazzoli for the beautiful lecture, the great charm and the very pleasant company! I was happy to host him the next day at my home in Monte Isola, where we had a beautiful walk on the lake before his return to Abruzzo! Apart from making tagliatelle with a white migole sauce, I gave him a taste of the delicious Monte Isola salami that Mazzucchelli makes in the piazza in combination with one of the excellent sparkling wines of my Sparkling Wine Guide 500 Bubbles in 500: Dorigo Blanc de Noirs. And then the oil tastings continued at home, tasting both varieties of Maurizio Ribolamy neighbour, who makes a very interesting Extra Virgin Olive Oil completely produced in Monte Isola of monocultivar Sbresa and a more traditional Leccino. Of course they are both 'lake oils', thus characterised by an overall delicate fruity scent, but the Sbresa reserves pleasant surprises. And then they present themselves really well, kudos to my neighbour for the labels and the choice of bottles! 😄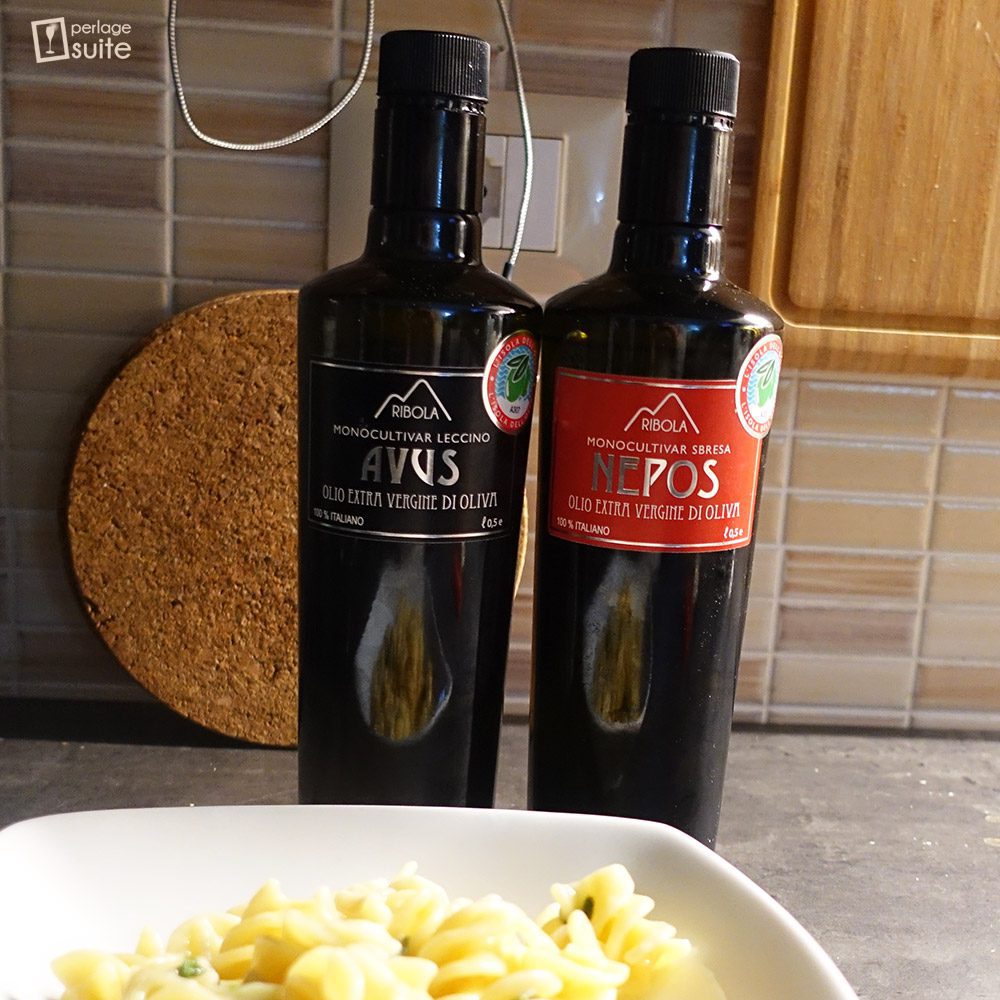 Having said that it is 8.30 pm on a Sunday evening... I am going to cook. Tonight, in the wake of this article, I will prepare a tasty fusillo with extra virgin olive oil and herbs. 😄A hug and remember to be happy!
Chiara
P.S. As always, a big thank you to my sponsor: Photo Universe for Sony with my beautiful RX100M4 professional compact camera which I love! If you are looking for a super camera, I recommend you take advantage of this one promotion on Amazon by clicking HEREfrom €1,050 list price to €698.00! Better hurry because I don't know how long such an offer will last! 😎