La Roman-style cacio e pepe pasta is one of my most addictive foods. Just yesterday I was listening to a Human Nutrition lecture by Prof. Giovannangelo Oriani explaining the difference between hunger and appetite... in my case I think it is the absolute manifestation of gluttonous perdition! 😄 There are plenty of cacio e pepe pastas: from tonnarelli to maccheroni, from spaghetti to pici... but today I propose strangozzi, an Umbrian tradition produced by flavours of Norcia. This is because I received with great pleasure a beautiful Christmas parcel by Fabio Lantieri and I decided to create a mouth-watering food and wine pairing with its Sebino Red 'The Enio'.
The parcel, as always, is well cared for, which I have learned is far from trivial with what I usually receive at home. A beautifully packaged box containing every good thing and with a greeting card. There, I care about these details and appreciate them at least as much as the contents! Of all things, I chose to make a combination with the Sebino IGT Rosso from Lantieri de Paratico, the strangozzi Horo di Norcia and the cacio e pepe sauce from Brezzo because I like the idea of looking at Franciacorta and its neighbouring territories from a different side. And then, now adopted by the Lake IseoI am very happy to introduce you to this denomination.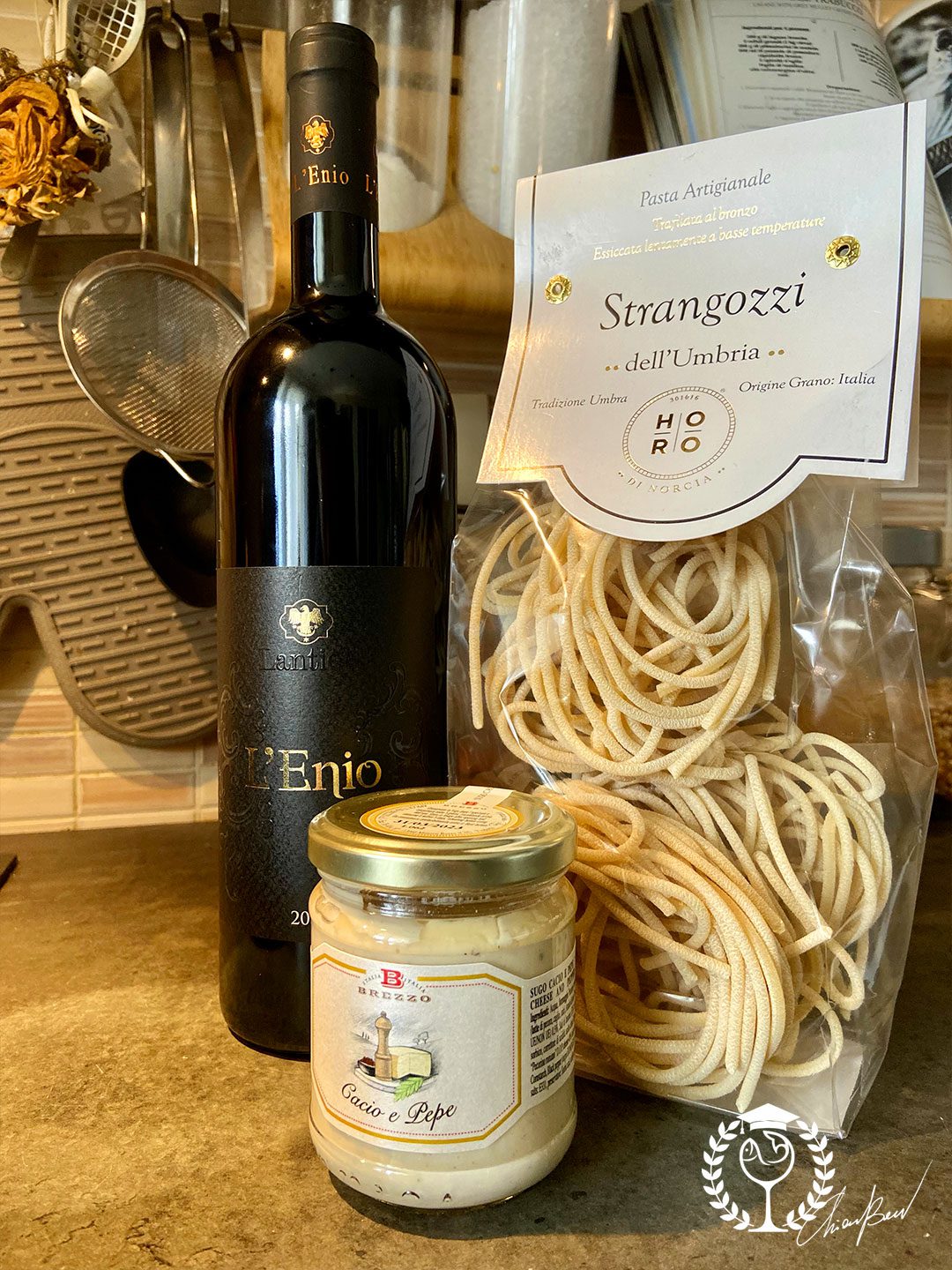 Sebino IGT
The Typical Geographical Indication Sebino is reserved for musts and wines made from chardonnay, pinot blanc, pinot noir, cabernet sauvignon, cabernet franc, merlot, carmenere, nebbiolo and barbera grapes in the form of white wine, red wine, vino novello and vino passito versions that comply with the specifications. In particular, the grapes must come from the municipalities of Adro, Brione, Capriolo, Cazzago San Martino, Coccaglio, Cologne, Corte Franca, Erbusco, Gussago, Iseo, Monticelli Brusati, Ome, Palazzolo sull'Oglio, Paratico, Passirano, Provaglio d'Iseo, Rodengo Saiano and Rovato. The area of the S. Anna hill in the municipality of Brescia is also included.
The maximum grape production per hectare must not exceed 13 tonnes. The minimum natural alcoholic strength by volume must be 10 %vol, 10.5 %vol if the grape variety used to make Sebino IGT wine is also indicated.
Sebino IGT red wine: Expected characteristics and tasting
I expect a more or less intense ruby red wine with an intense fruity or herbaceous bouquet and a dry, harmonious taste.
L'Enio 2018 Sebino IGT by Lantieri is a beautiful transparent ruby red colour. On swirling the goblet, it forms regular and rather close bows that denote a certain consistency. The nose is delicate, complex and fine with very spicy notes. Black pepper, cloves, wet bark and black cherry liqueur chocolate alternate elegantly. In the mouth it is consistent, fresh, savoury, rather tannic and quite soft, structured. Pleasant to drink and long spicy finish.
Subscribe to my newsletter or scroll down the page to continue reading the article.
Pasta cacio e pepe: why it is a perfect food and wine pairing
Actually, it is the name that already reveals it all: 'pasta cacio e pepe', meaning pasta, pecorino cheese and black pepper. Just three ingredients, two of which have a rather 'savoury' taste and a similar organoleptic profile. Pecorino Romano is a cheese made from fresh sheep's milk and coagulated with lamb rennet, with a hard, cooked paste. It has a very light-coloured thin rind and a compact paste. Its intense, rather savoury and slightly piquant taste and its succulence induced calls for a tannic and alcoholic wine, very aromatic and with an organoleptic profile shifted towards spices. Black pepper confirms the cheese. As tasted, this red wine is absolutely perfect, perfection assisted by the fruit, by that perfume of black cherry under spirits that matches and enchants.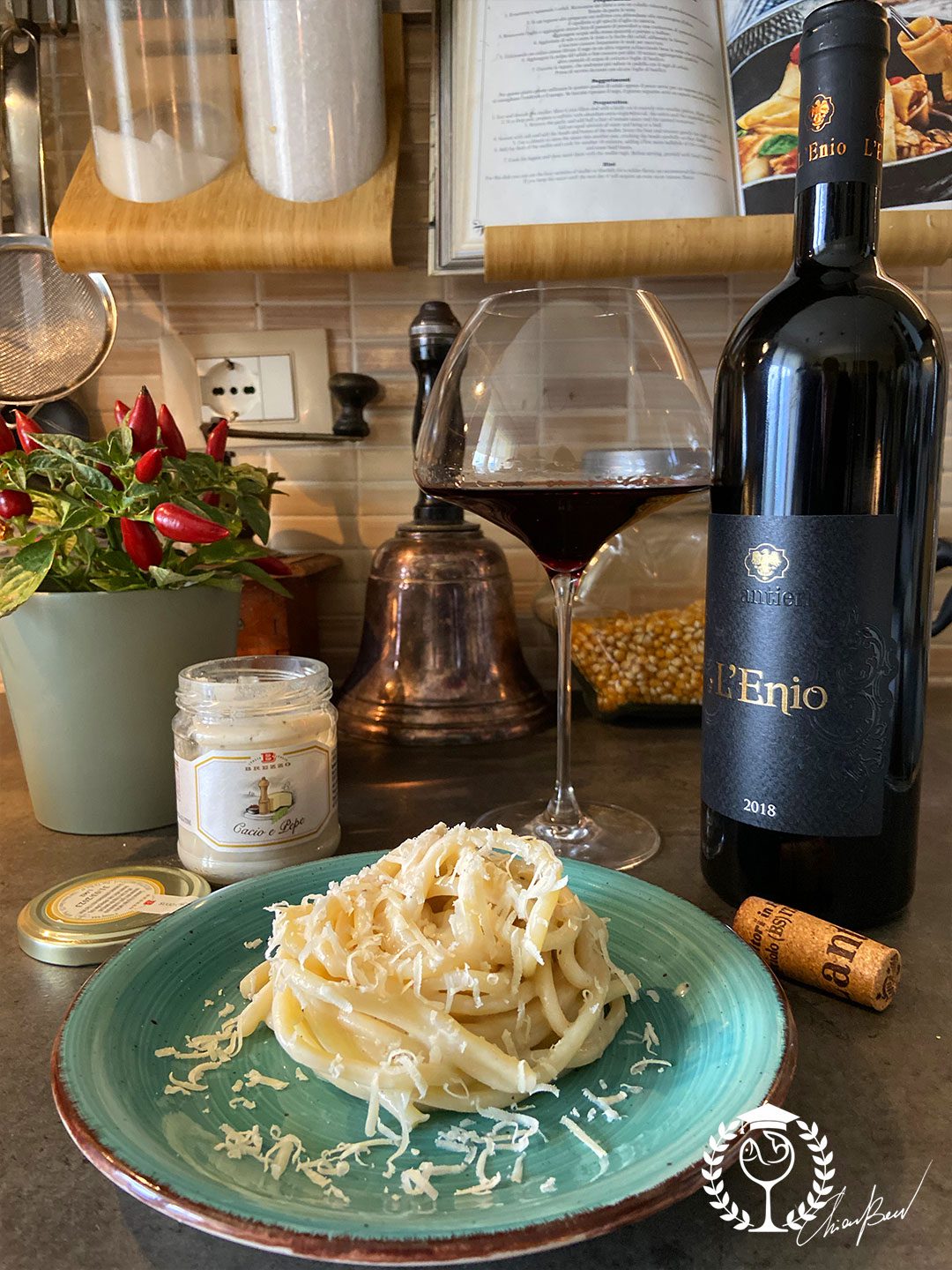 Pasta cacio e pepe: how it was born
When I went to Fabrizio's in Rome last time I ate some tonnarelli cacio e pepe which were delicious in a place I can't remember the name of. Maybe I was in a hurry... but I didn't mark it down. A pity because the place was really nice too! The strangozzi are very similar to tonnarelli, in fact I would say they are almost the same thing... so I was delighted to find them in the package with the Brezzo Food jar.
Pasta cacio e pepe is typical of Lazio and is made with three poor ingredients. It originated with the shepherds, who always had pecorino cheese on hand to season dried pasta. Pepper was added not only for a matter of taste. Harvested unripe, cooked and dried pepper becomes what is commercially known as black pepper. It contains piperine, an alkaloid that stimulates two receptors connected to the trigeminal nerve which desensitise and at the same time warm, a very welcome reaction for tired and cold shepherds during transhumance. In fact, it was during these migrations from the mountains/hills to the plains that a dish was born that is cooked throughout the Apennines and has become a symbol of Rome throughout the world.
A curiosity? When it first arrived in the first taverns, people exaggerated with cheese and created a savoury, mouth watering paste to sell more wine.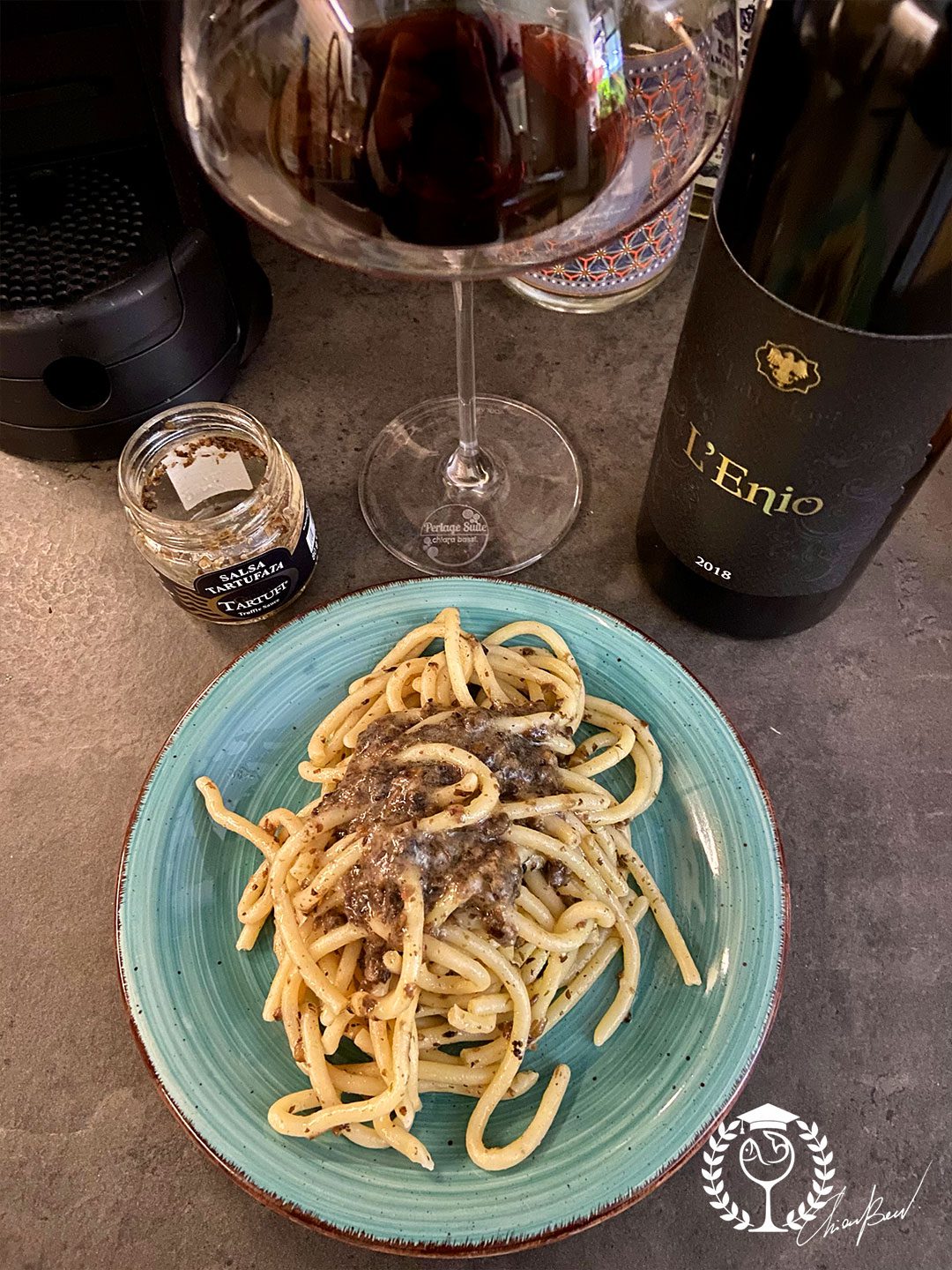 In this article I will not give you the cacio e pepe recipe because I used a ready-made sauce to prepare it and I admit I never thought it would turn out so good. I almost never use jars that I have not prepared myself and I am always surprised when I find an excellent one. Ah! The next day, I used the jar with the truffle sauce to finish off the packet of strangozzi and I must say that this combination was also quite successful, although pasta cacio e pepe is written for this wine that you really should try.
Lantieri also makes some very good Franciacorta and I can't wait to try the one he sent me... but given the very recent disgorgement I want to wait a few more months to enjoy it as it deserves! I also recommend reading "Lantieri: How to make the perfect risotto with Franciacorta?' and discover the history of Lantieri de Paratico on their website.
Thank you Fabio and Merry Christmas to you too!
Cheers 🍷
Chiara