In my article "Women of wine and criticism: you really broke my... breadsticks!" (which had nearly 5,000 visitors in a single day) I told you how I was so excited to wait until the next day to taste the delicious savoury pie I had just baked. So many of you complimented me on Instagram and asked me for the recipe... so today I decided to share with you the recipe for "That pie there"as my husband Francesco and I call him at home. Actually, the more correct name would be: potato and bacon pie (with cheese)our favourite! The great thing about this recipe is that it requires few ingredients, you can use homemade brisé pastry (as I explain in the recipe) or replace it with ready-made brisé pastry that you can find rolled up in the supermarket and is really easy and tasty! Moreover, although it is quite tasty, this savoury pie is perfect for your home-made red-zone aperitifs as it lends itself to a multitude of combinations. Since a few days before Christmas I received the Lugana Cheers Box (as I showed you in my Instagram stories) I decided to try it with the two sparkling wines inside: a very good choice!
First of all... break out the equipment!
I like to have a tidy and efficient kitchen so the first thing I always do is take out everything I need! To prepare this savoury potato and bacon pie, I used:
2 aluminium bowls
1 cutting board
1 universal knife
1 pan for boiling potatoes
1 22 cm diameter hinged mould
1 hand whisk
1 silicone brush
1 skimmer
1 fork
1 tablespoon
1 small spatula or 1 knife
1 kitchen scale
1 rolling pin
Then to knead I used the planetary mixer, but it is also easily done by hand or with the mixer! I recommend the Wilton hard plastic rolling pinIt will change your life! Not only is it perfectly non-stick but it is very hygienic... I have had it for many years and it is still perfect! You can buy it on Amazon HERE. It is normally used for Cake Design which requires more precision, but I use it for everything and I love it! 😉
Potato and bacon pie: my foolproof recipe in 8 steps
I recommend you try making your own brisé dough at home with this quick and easy recipe. Not only will the savoury potato and bacon pie be more genuine, but the satisfaction will be enormous... and how much more will you be able to strut your stuff with those you share it with? It will all be made with your own wonderful hands!
.
Ingredients (for a baking tin about 22 cm in diameter)
For the brisé pastry:
200g of 00 flour
100g butter from chilled centrifuged cream
50g cold water
5g fine salt
For the filling:
500g of potatoes (about 4 medium-sized potatoes, I use Sila potatoes)
250g ricotta
150g of robiola
150 g bacon rolled into a thick slice that we are going to cut into large cubes (please, I beg you, I implore you: don't use those obscenities from the fridge already cut into cubes! To have a good savoury pie you need a good raw material)
1 medium egg
Grating cheese (with Tara's cheese is really special)
Salt and nutmeg QB
Procedure:
Step 1: the brisé dough
If you use the planetary. In the bowl of the planetary mixer pour the flour, butter cut into cubes, water and salt. Knead with the dough hook at medium speed until a smooth dough is obtained (about 5 minutes). Check that the ingredients are actually mixing, if not stop the machine and help it with a fork, then switch it back on. Whether you use the blender or by hand. Put the butter and flour in the bowl and knead with your hands until you get a crumbly dough. Add the water and salt and knead until a smooth dough is obtained. If you weigh the ingredients well, the dough will be perfect and not sticky.
Make a smooth ball and put it in a freezer bag and seal it, then put it in the highest shelf for at least 30 minutes (1 hour is better). Note: of course you can use foil to wrap it, but I find it much more practical to put it in a nice bag and close it with a clothes peg!
Brisé pastry is a really simple and versatile dough that can be prepared in 5 minutes and you can store it in the fridge until you use it (max 24 hours). So, for example, you can prepare it the day before and use it the next day, you can roll it out beforehand and wrap it in a sheet of baking paper, or you can put it in a freezer bag sealed with a string in the top shelf until it is time to roll it out (I do it this way, I find it more practical also because it rolls out in exactly 1 minute).
Step 2: Potatoes
Wash the potatoes, peel them and cut them into large pieces. Boil them in unsalted boiling water until they are ready. Drain them on a cutting board (I help myself with a skimmer) and then mash them with a fork and place them in a bowl. Use them when they are at room temperature (or not too hot).
Step 3: Cheese, egg and potatoes
In a bowl put the egg and beat it with a hand whisk, then add the ricotta and mix until you have a homogeneous mixture. Add the potatoes a little at a time and continue to mix with the whisk. With a wide-hole grater (like this) grate cheese to taste (I like plenty... about 50g). Add salt and nutmeg. If the egg bothers you or is heavy you can leave it out.
Step 4: Bacon
In a non-stick frying pan, brown the bacon until crispy. Crispy... not burnt! Then add it to the mixture and stir with a spoon.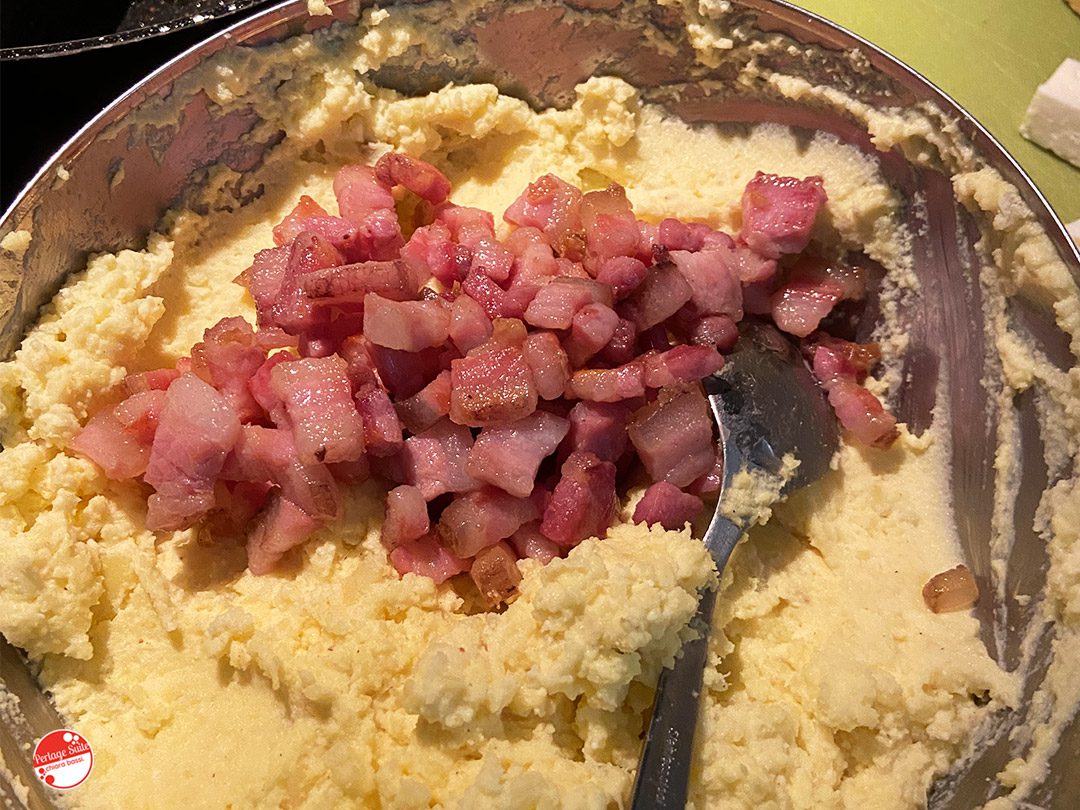 Step 5: the pastry
Take the dough out of the fridge. With a rolling pin (preferably silicone, which is more hygienic) roll out the puff pastry until it is about the thickness of a 2€ coin (or a little more). Grease the hinged mould well. Place the pastry centred on the mould, then shape the edges until you get a result like the one in the photo.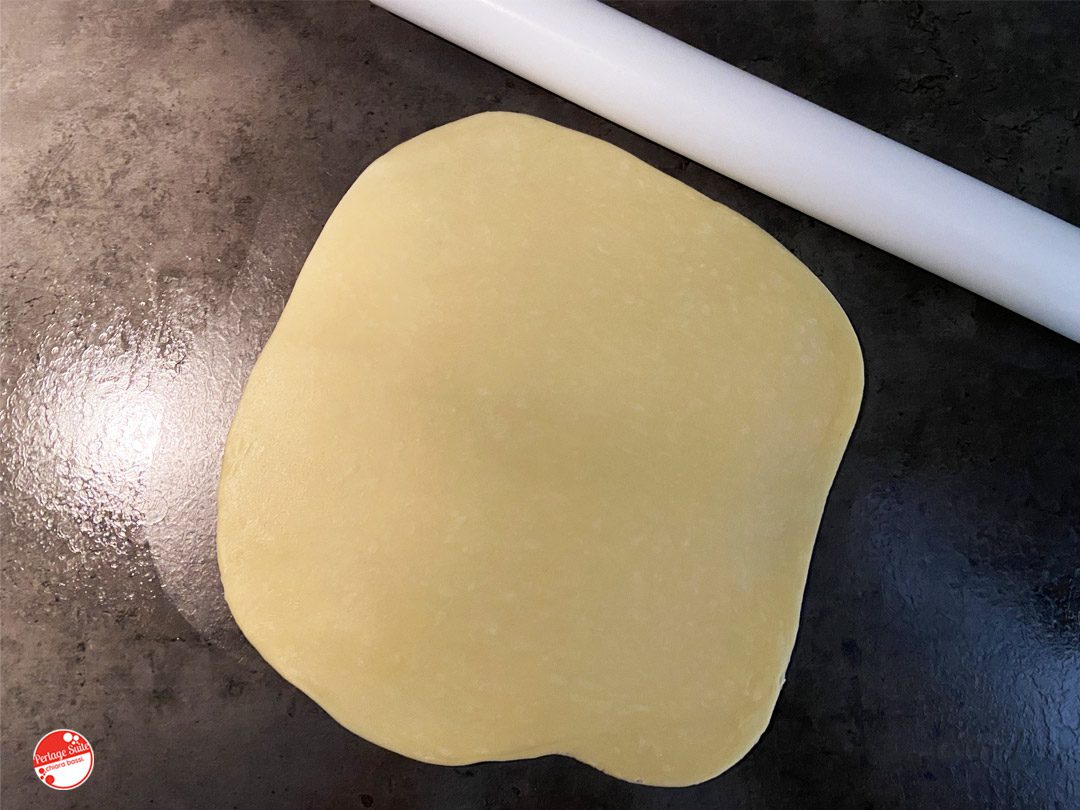 Lay the dough centred on the mould, then shape the edges until you get a result like the one in the photo.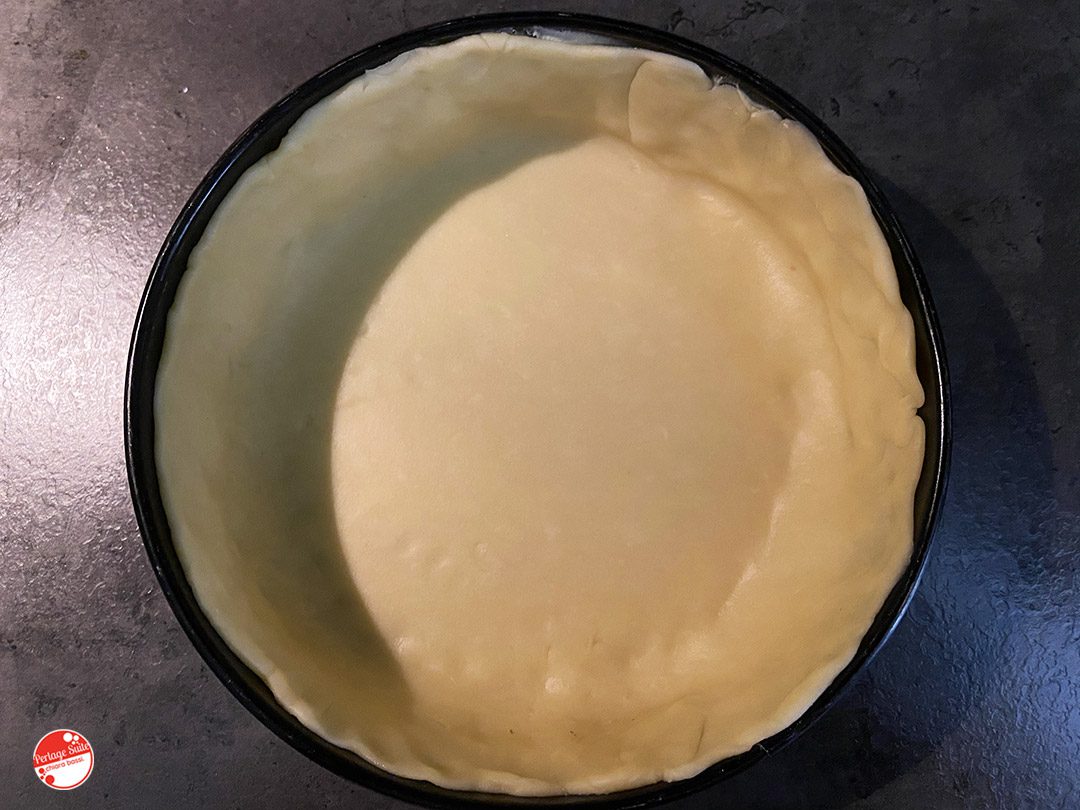 Step 6: Stuff generously
Place the filling you have prepared and carefully level it so that it is all the same height.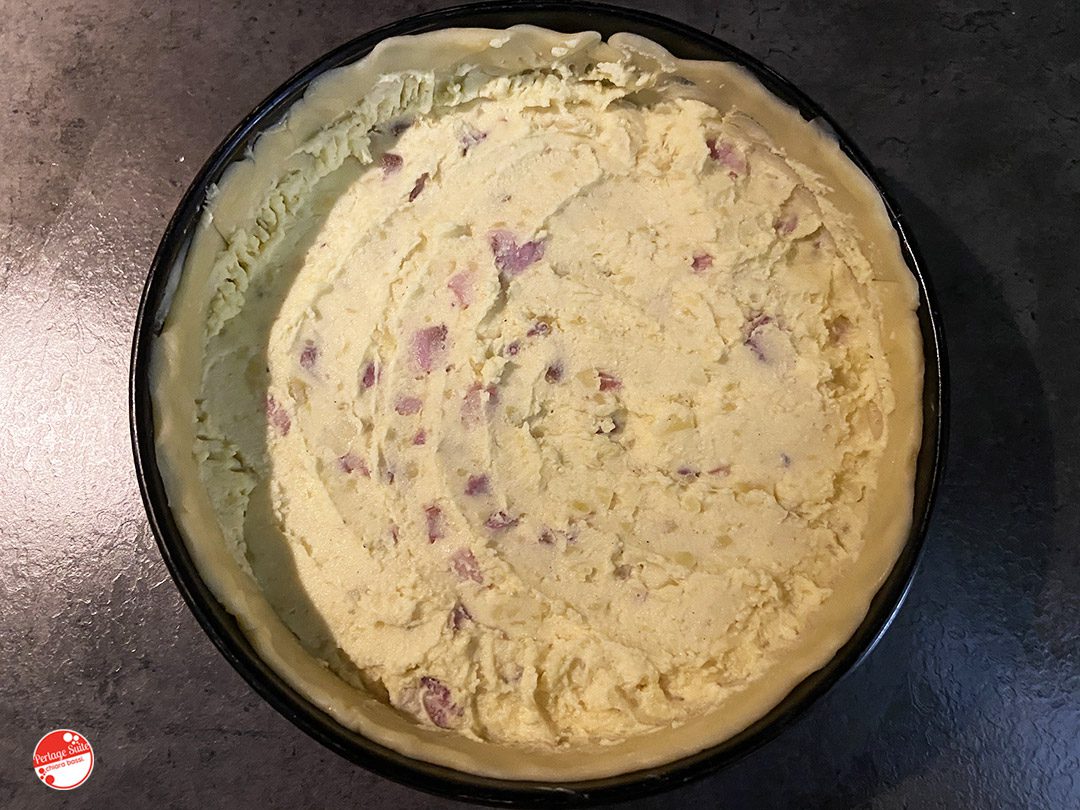 Cut the robiola cheese into cubes and put them in the middle of the dough until you get a result like the one in the picture.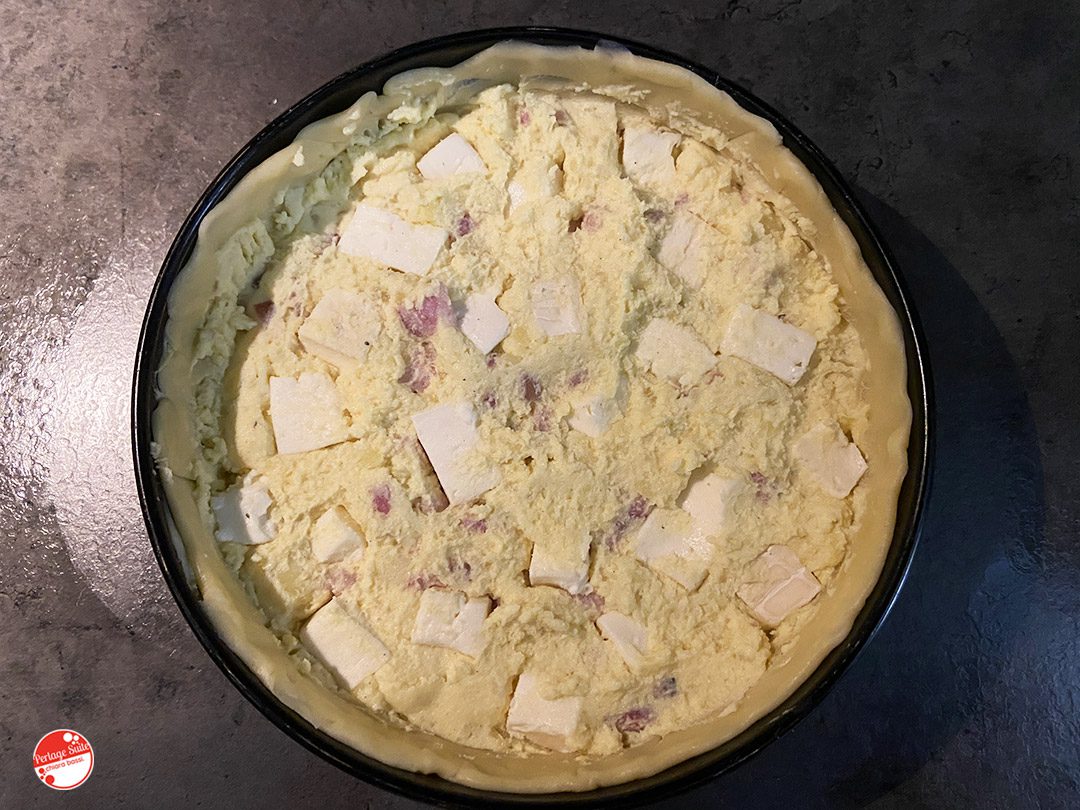 Step 7: Prepare the edge and the future crust
Fold in the edges with the help of a small spatula or knife until the result looks like in the picture.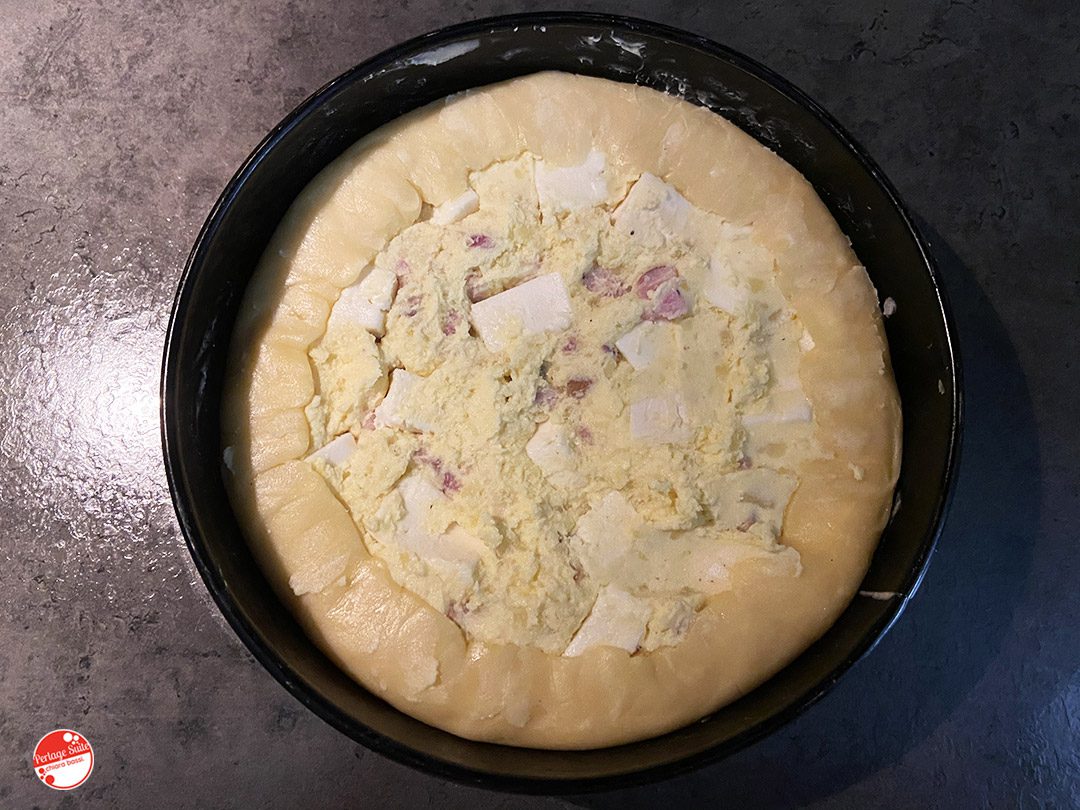 Again with the big-hole grater, grate lots of cheese over the cake. The more you grate the better it will taste! Then with a silicone brush brush the edge of the cake with extra virgin olive oil. You should get a result like in the picture below.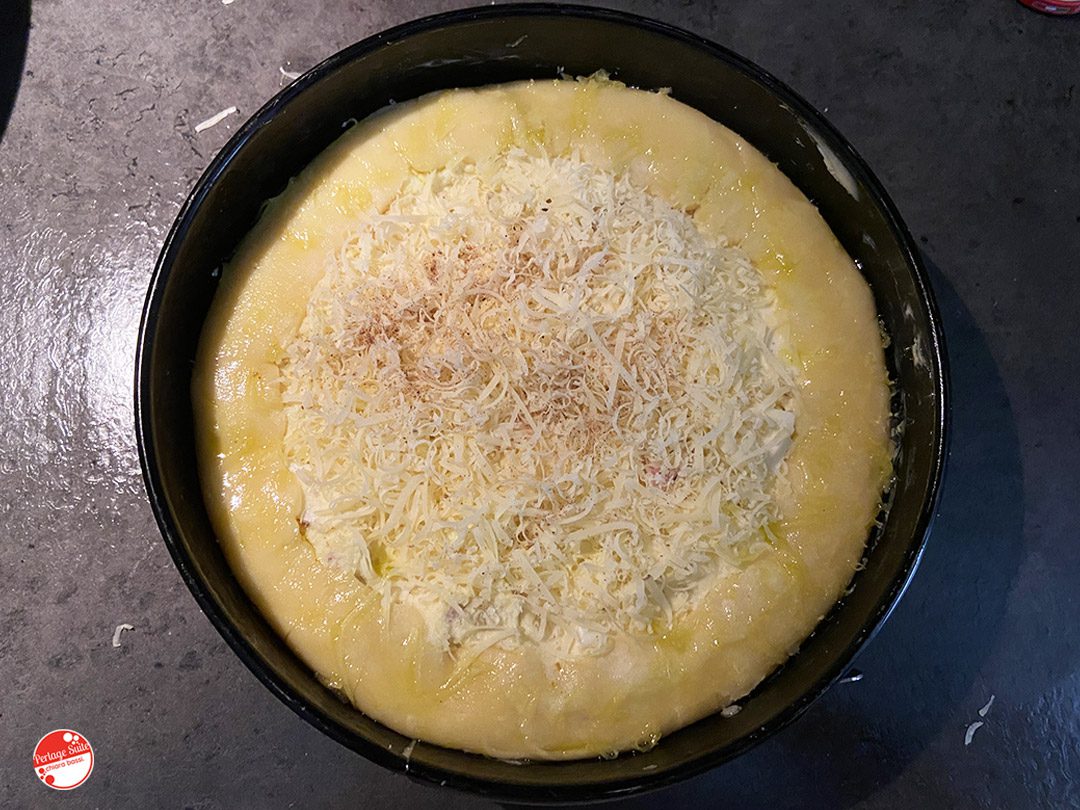 Step 8: Baking and demoulding
Bake in a static oven preheated to 190°C for 35-40 minutes in the middle rack. Take the oven out of the oven and run a spatula or knife around the entire edge to check that it is well-detached, then open the hinge of the mould.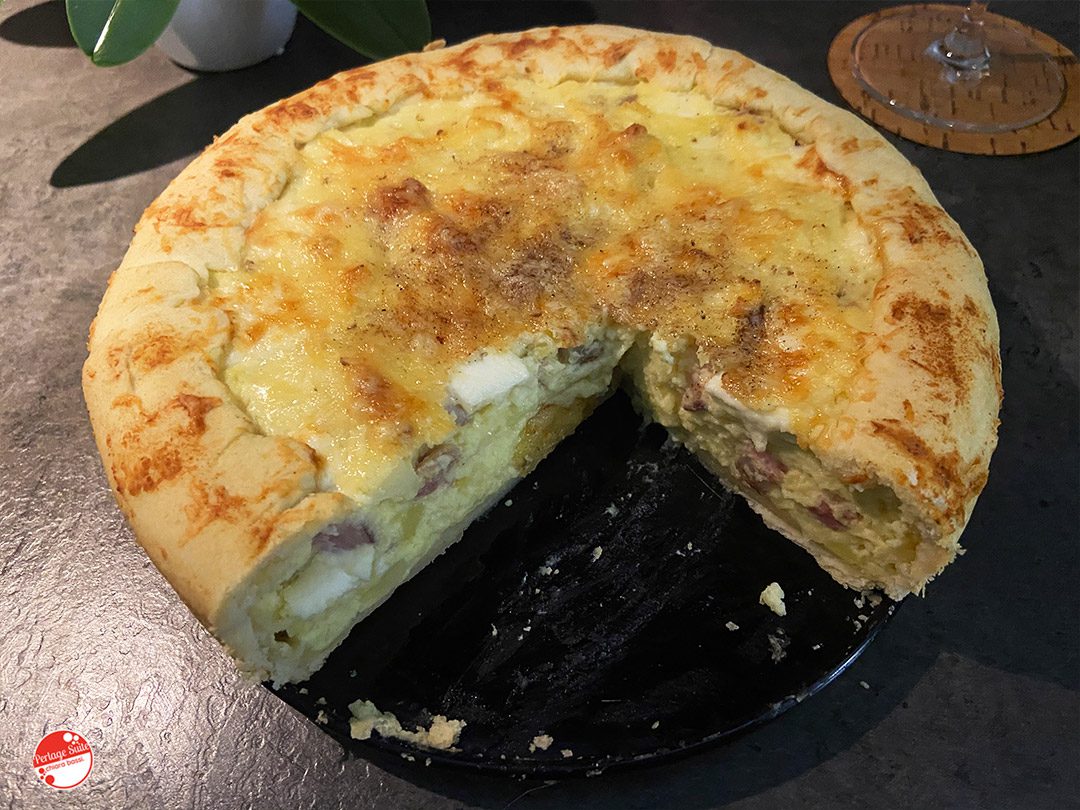 Advice and conservation
To make this cake with these doses, use a 22 cm hinged mould (I have this for many years with which I have been very happy). If you really don't have one and don't want to buy it, a 20 cm mould will do, but I would advise against using larger diameters without changing the doses.
This cake will keep in the fridge for 2/3 days (not at home). You can reheat it in a static oven preheated to 180°C (or ventilated to 150°C) for about 10 minutes before serving.
Potato and bacon pie: wine pairings
What I like about this cake is its delicacy, which makes it perfect with a variety of wines. That's why in our house 'Quel tortone lì' has become our aperitif par excellence: one slice goes well with (almost) everything. Not only that: my husband eats out for lunch every day and loves it when I make him a schiscetta with a big slice of cake!
As I anticipated in this article and in my Instagram stories, a few days before Christmas I received the Lugana Cheer Box (you can order your HERE) which gave me the opportunity to discover three wines from this famous territory. Inside I found the Spumante Lugana DOC Metodo Classico Brut 2017 by the Olivini Family, I Spumante Lugana DOC Metodo Classico Brut by Pasini San Giovanni and a Lugana DOC 2019 of Cà Lojera combined with two gastronomic specialities: the delicious organic saffron of Pozzolengo in stigmas from the Al Muràs company e the delicious organic pickled olives from Azienda Agricola Poggio Riotto. Ah, there were also two tasting glasses with the Consorzio Lugana logo! The two sparkling wines lend themselves particularly well to being paired with this cake, even if both were not in my cup of tea. Between the two I preferred the one at Pasini San GiovanniIt has a brilliant pale straw yellow colour with a very numerous, fine and very persistent perlage that forms a froth that stays with you for a long time. It has a citrus and floral nose, delicate and with candied notes that fade into a memory of freshly baked butter biscuits. In the mouth, the bubbles are satiny, elegant, fresh, balanced and very drinkable. It does not enjoy a great structure, which is also why it goes really well with this savoury pie, which is still a very delicate preparation.
La Lugana DOC 2019 of Cà Lojera is a brilliant and consistent straw yellow. Notes of butter, pear, white chocolate and saltiness are discernible on the nose. In the mouth, it is fat, opulent, balanced, and ready to drink. I paired it with these delicious linguine allo Organic saffron of Pozzolengo in stigmas from the Al Muràs company: special!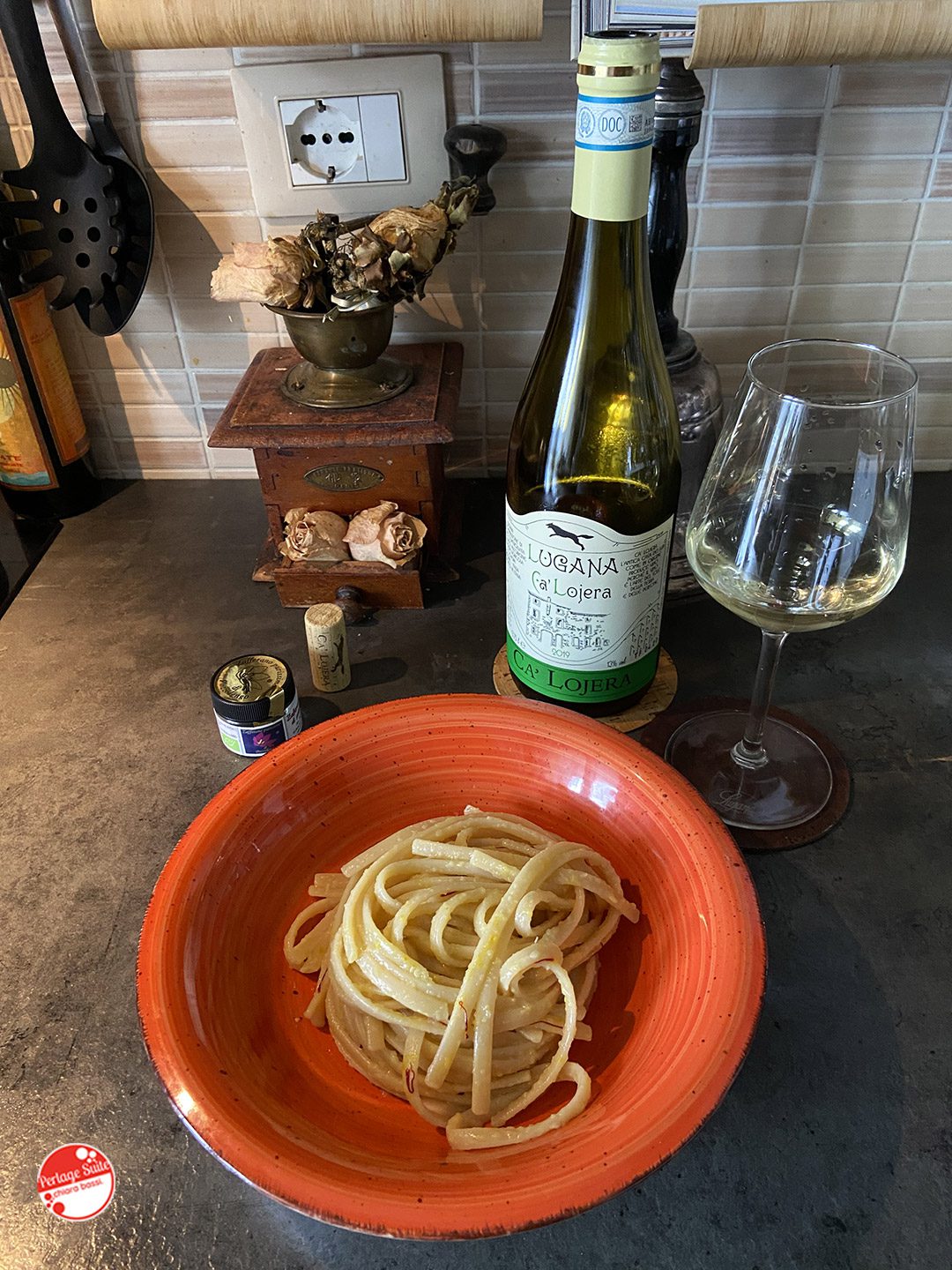 For this reason, among the available Cheer Bo I would like to point out my two favourites:
Cobue Farm: 1 Lugana Doc Monte Lupo 2019 + 1 Lugana Doc CAMP 8 + Saffron Risotto of Pozzolengo from the farm Al Muràs 250 gr. Box price: € 39.00. You can order this box by mail: info@cobue.it
Azienda Agricola Cà Lojera: 1 Lugana Doc 2019 + 1 Lugana Riserva del Lupo 2016 + 1 Grappa di Lugana aged 20 cl. by Distilleria Peroni Maddalena. Price of the box: 49.00 €. You can order this box at info@calojera.com
For advice or doubts leave me a comment by scrolling down the page.
Cheers 🍷
Chiara
P.S. I also point out this article I wrote for the Consorzio Lugana on the occasion of the Masterclass held during Milan Wine Week