One of the greatest pleasures of my life for me is writing, and doing it in bed, wearing only my underwear under a very warm duvet on a beautiful Sunday morning with the sun giving the lake reflections of a thousand colours and penetrating through my French window while I sip a black tea is absolutely what makes me most serene and happy. Today I want to tell you about my day yesterday at the Vivite of Milan (here is the link to the programme)... maybe if you don't know what to do this afternoon and you are in the neighbourhood of this busy city you might decide to stop by: it is definitely worth your visit (until midnight)! I open with a selfie with two fellow sommeliers that I met thanks to this blog, Enza and her companion Giampaolo Priore, who did 'the madness' of coming to Vivite from Puglia!
Beautiful location, that of theThe former stables Le Cavallerizzewhich lends itself perfectly to a tasting counter. In addition, the division into rooms where different regions can be found makes it all very enjoyable and without crowds, which is the thing we winelovers hate the most! Delightful background music in the refreshment area of the Wine in Jazz by the Bomas TrioI am a big fan of jazz and I listen to it practically 24 hours a day (when I am not listening to Franco Battiato...) so I really enjoyed it. Everything was taken care of down to the last detail, the two main Italian sommelier associations coexisted peacefully in the rooms AIS e FISAR and I met, as often happens at these events, wonderful people. Then I had the pleasure of seeing Denis Pantini of Nomisma again... by the way, have you already bought their book on Wine Marketing by clicking HERE?
Luigi Di Maio cut the ribbon at 10.30 a.m.But let it be clear that I say this 'strictly for the record' because I am totally disinterested in politics in any form. And, I admit, I have never understood this particular regard for the authorities at wine events... does anyone really think that their presence will lead to increased wine sales of individual wineries or, at the very least, increase public attendance? One general piece of advice I would give: have influential figures from the wine world cut the ribbon, smart people who know how to attract the 'right' audience of people who are genuinely interested in what's in the goblet and who can make speeches that open up worlds to winelovers! Wine is not politics, even if, when it comes to cooperative wine, politics is somehow involved.
Vivite: cooperative wine yes or cooperative wine no?
Before I tell you about my day, let's talk about cooperative wine and social wine cellars: what do you think? Can an entity where even thousands of members contribute and which produces millions of bottles offer us good, healthy and quality wine? Are you a Taliban of small producers who produce goodies for the few with more or less sustainable prices, or do you also approve of these large producers who produce affordable, everyday wine? The slogan of the event is "Vivite | Where wine speaks everyone's language". But is this really the case? And above all, what exactly does it mean to speak everyone's language? Are we talking about a wine that is economically accessible and therefore potentially purchasable by all, or a wine that is easy to drink and therefore also suitable for those who have not studied the world of wine but who like to drink it, or are we talking about those who just drink without delving into what they drink and only look at the price, better on offer? This is a very important distinction to make, because the answer makes us frame the target audience of these large wine cooperatives. Who chooses wine from cooperatives? Personally, I am a supporter of these realities, often mistreatedmore than by my fellow sommeliers (we were taught to be brand ambassadors of each wine, to understand it, propose it and serve it with humility and with the sole objective of making the people we serve happy by choosing for them the right product, i.e. within reach of their psychophysical state, their skills and their pockets) by certain 'Taliban winelovers' who, among other things, also speak ill of us sommeliers, telling us that we have the stench under our noses and that they don't want to study so as not to tie themselves to one association rather than another. Mamma mia what kind of crap I have to hear sometimes, but can you? So the doctor or the teacher who studied at the University of Bologna did not have to study because maybe at the hospital in Milan or the school in Rome they could not work there because they were somehow linked to Bologna? But come on... Wine cooperatives do an extraordinary job because they give very small wine-growers, but sometimes also large wine-growers who do not have wine as their core business, the opportunity to participate in the creation of a wine that is often also very well made and arrives on the tables of a multitude of people. Their very organisational system allows for the production of good wines at first price, which often also conceal renowned oenologists, sometimes quite clever ones. Oenologists that perhaps the small producer cannot afford economically. And let me be clear that this article of mine is in no way meant to take anything away from small producers, who will always remain my favourites and those I will support as long as I have the chance to write. No, this article just wants you to see social cellars from a different perspective, where unity is strength, provided you sacrifice your name and individuality for the good of the group. Feelings and sensitivity, which are part of our emotional intelligence and which make us more or less empathetic towards others, are what sometimes trap us in ideas that even we have not built up ourselves while others make us win any battle. You will always have the best result when you are able to simultaneously do what is best for you and your group. Man is a social animal, he is sometimes able to take flight alone, and I am well aware that eagles do not fly in flocks. But we are not all eagles, and I would add: "fortunately!". Biodiversity is something extremely valuable. In a world of eagles, would you enjoy the beauty of the robin or the song of the nightingale? In a world of eagles, would eagles be so special? Bring this parallel into wine and you will get the answer of what I think of the cooperative wine promoted by Vivite. I love the small producers, these eagles that rule the sky untamed and give us wines with which to have magical experiences. But I also love the seagulls, who flock across the sea and offer us good wines to put on our table every day. After all, the history of mankind itself teaches us that survival is all about cooperation and that one does not have to exclude the other, quite the contrary! 
The first goblet was a homage to Piacenza Valtidone Wineryhis sparkling Ortrugo from the 50 Vendemmie line, which I recently told you about in this article dedicated to the Picchio Rosso wine festival. I also took the opportunity to say hello to Antonio and Mario, both of whom are in splendid form. I did countless interesting tastings (and even a few terrifying ones) for this Vivite, but I have decided to tell you about just the 3 wines that intrigued me most, with the premise that I 'only' tasted all the sparkling wines + 2 extra French wines (sauvignon and sauternes) and some rather interesting deviations (especially in Romagna) by sommelier Walter. I specify that the 3 wines are not listed here in order of liking because they are not comparable (especially the Nero di Troia spumante Metodo Charmat!).
.
Vivite, Tasting 1: 'Flavio' Trento DOC Riserva 2010, Rotari - Mezzacorona
100% from Chardonnay grapes | 13% vol | Metodo Classico | Disgorgement 2018 | 30 €
It is a beautiful bright straw yellow with a very fine, numerous and persistent perlage. The nose is intense and reminiscent of champagne, with evolved scents and notes of white chocolate and hazelnuts. In the mouth it is consistent, fresh, intense and elegant, very long on the finish. Perfect on its own, it goes well with Parmigiano Reggiano cheese of various ages.
Vivite, Tasting 2: 'La Trinità' Rosé, Casal Trinità
100% from Nero di Troia grapes | 12% vol | Charmat Method | 5 €
It is bright coral pink with orange highlights. The perlage is fine, numerous and persistent. The nose is very pleasant, with evolved hints of red fruits and vanilla. In the mouth it is more fruity than on the nose, with fresh and pleasant fruit. Very fresh and quite savoury. Very smooth and exceptionally drinkable. It goes very well with speck and full-cut savoury cold cuts, perfect for an 'alternative' aperitif, with its ability to accompany without overpowering.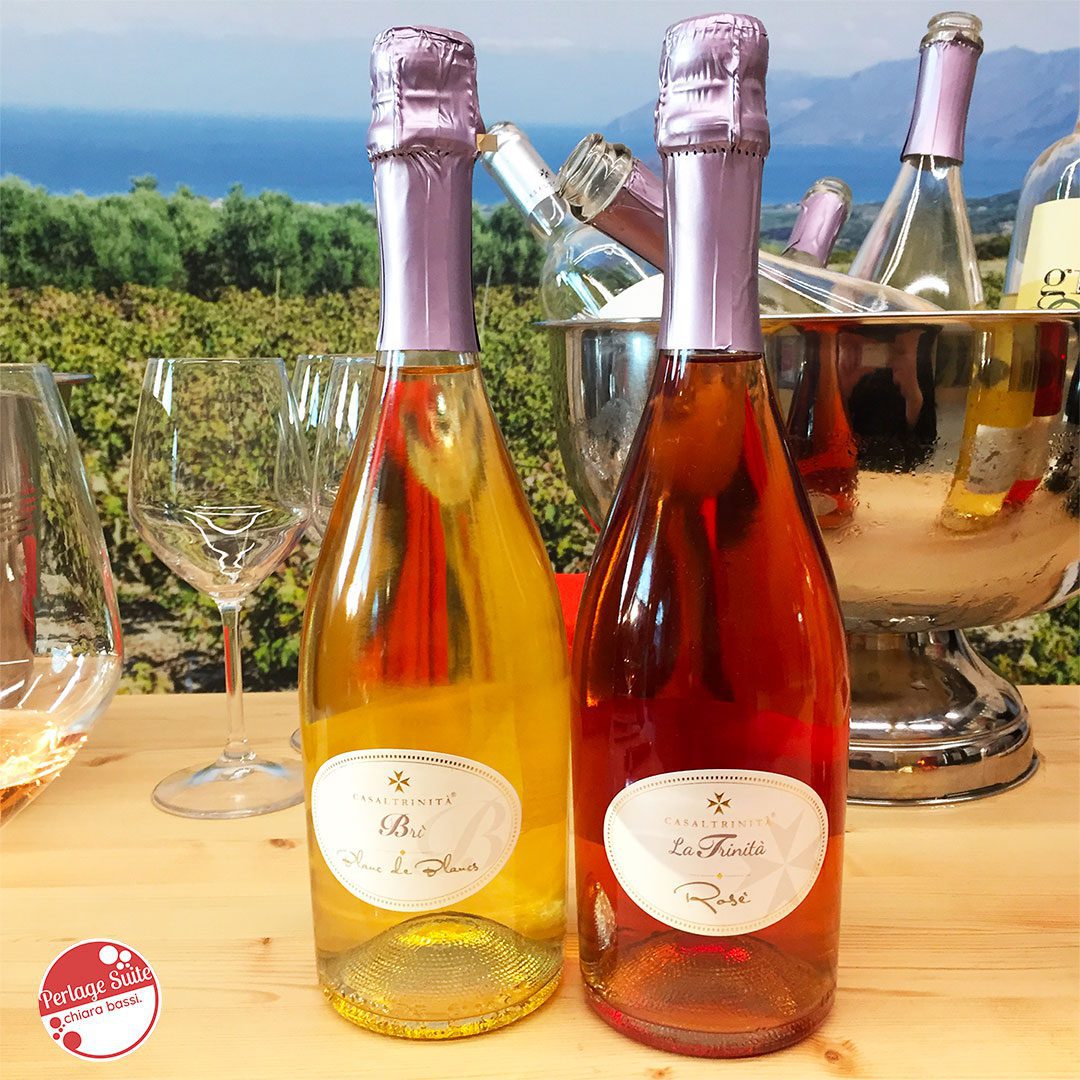 Vivite, Tasting 3: 'Palmes d'Or' Brut Champagne 2006, Nicolas Feuillatte
50% Pinot Noir, 50% Chardonnay | 12.5% vol | Metodo Classico | Disgorgement 2018 | 130 €
It is a beautiful bright straw yellow with a fine, numerous perlage. The nose is extraordinary, with notes of ripe exotic fruit, sweet spices, butter and beeswax. In the mouth it is consistent and creamy, with those evolved hints that I love, a great freshness despite its age. It pairs beautifully with a beef or tuna tartare, but is also perfect on its own.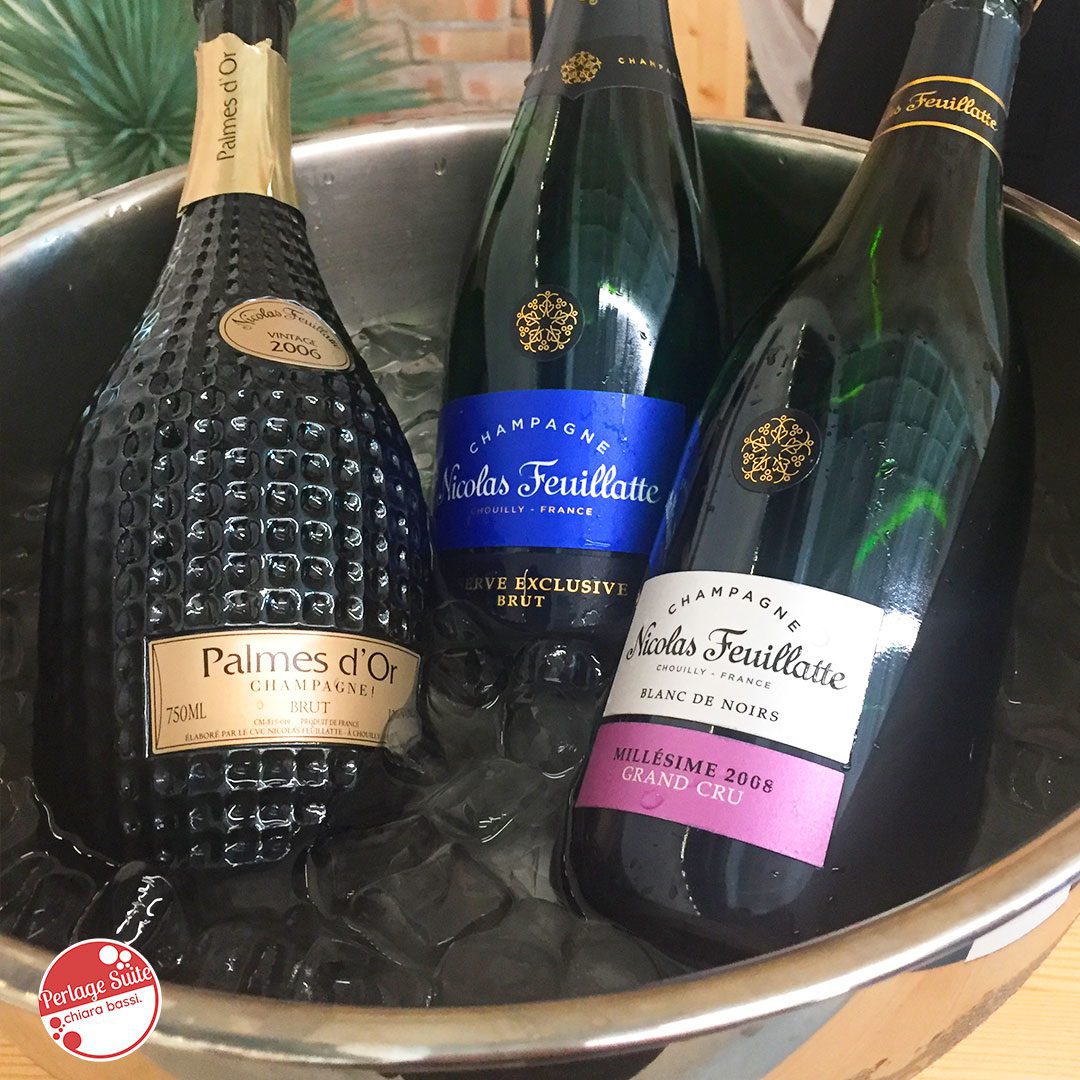 Other musical entertainment I fell in love with: the chalices that play by Stefano Rubino. No, I mean, how gosh darn good is he?
Il dopo Vivite? Come sempre da Jin Sushi, in Via Luca della Robbia a Milano
Chi mi conosce bene e mi legge di frequente sa quanto odio gli All Can You Eat di finto sushi e finti giapponesi, dove la qualità si fa sistematicamente benedire in favore di abbuffate di bassa lega. Del resto è normale che sia così: tu compri il pesce buono? Quanto spendi? Io compro un salmone favoloso che pago 21,90 € al kg e, ok che se ne usa poco nel sushi… ma se uno davvero potesse mangiare illimitatamente, come potrebbe essere sostenibile la cosa? Ed è così che gli All Can You Eat ci offrono pesce ai limiti del mangiabile di tagli di scarto, sushi preparato in modo infame e via dicendo. Gli ambienti poi sono quasi sempre pessimi. Eppure c'è un All Can You Eat che amo e si chiama Jin Sushi, in via Luca della Robbia 10, in un ambiente minimal chic delizioso. Mi piace così tanto che ogni volta che vado a Milano a un evento enologico ci passo, e ogni volta ne esco più soddisfatta della precedente! Il menù costa 21,90 € e sono esclusi coperto, dolci e bevande. Nel menù trovi astice, ventresca di tonno, cappesante, salmone, branzino, gamberi rossi e gamberi classici. Io mi sono innamorata di questo bocconcino di riso avvolto in una fettina di salmone con uovo di quaglia e profumo di tartufo… ne ho mangiati una fila, lo ammetto! Però visto che sono a dieta sono andata al ristorante a piedi e ho fatto ben 7 km durante la giornata, sono stata bravissima! Già non vedo l'ora di tornare da Jin… 😍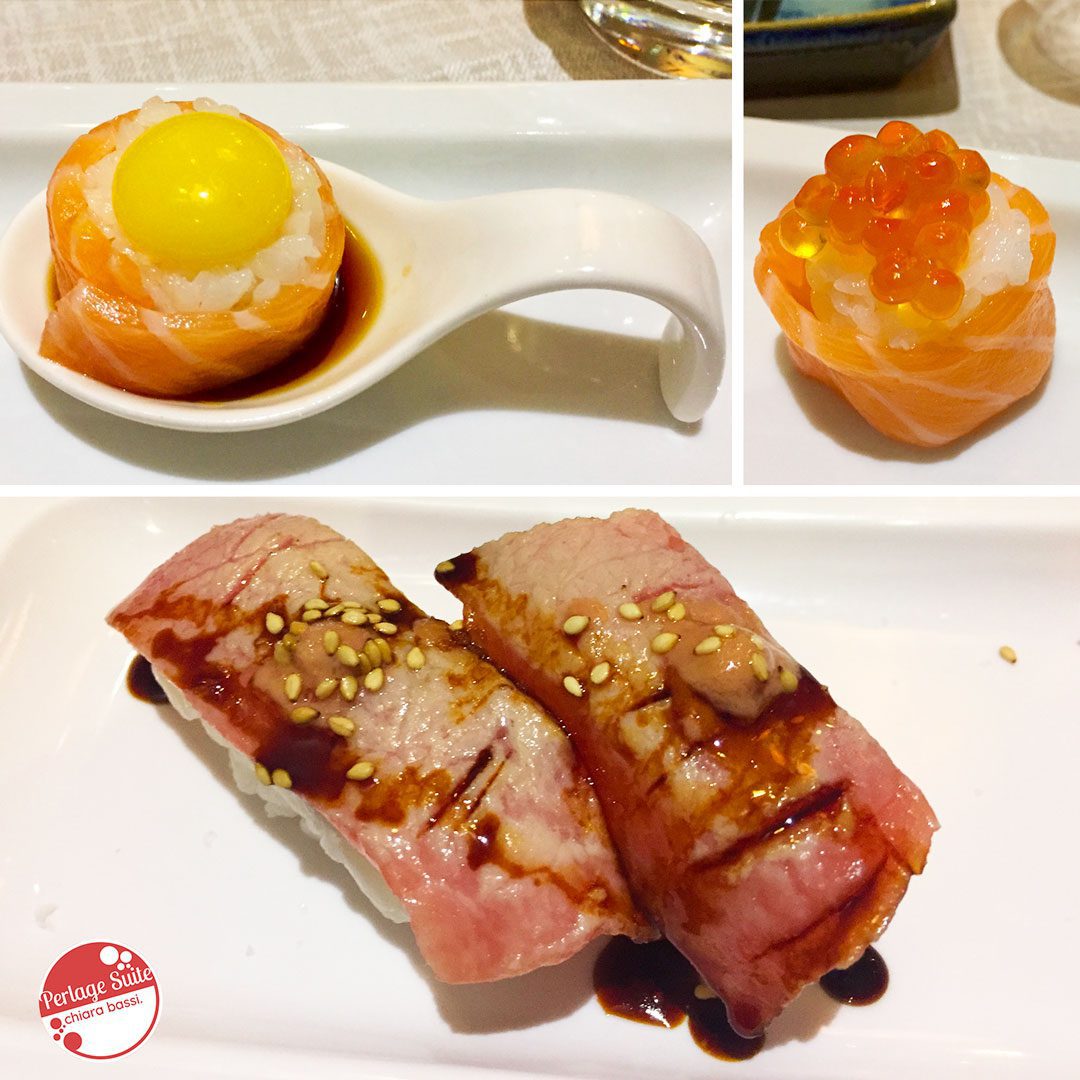 E tu cosa pensi dei piccoli produttori e del vino cooperativo? Scrivimelo in un commento!
Cheers 😍🍷
Chiara
PS Ti ricordo che ho appena scritto un nuovo libro, "How to become a sommelier" (che puoi comprare cliccando QUI), pensato per i già sommelier che vogliono ripassare, per gli aspiranti sommelier che stanno studiando e per tutti i winelover che vogliono approfondire le loro conoscenze sul vino. Come diventare sommelier, tutto quello che c'è da sapere sul vino in meno di 300 pagine è chiaro, ben organizzato e comodissimo da portare sempre con te: è grande come il tuo iPad e pesa esattamente come lui, incredibile vero? In questa foto stavo ripassando i vini liquorosi e i marsala per la serata fatta al Ristorante Le Proposte della cara Danila Ratti (leggi l'articolo cliccando QUI) mentre aspettavo il mio turno da Ikea!