At first light in the morning, I am in my room in the B&B Il Poggio di Gavi to reflect. Thanks to the Consortium for the Protection of GaviI spent a wonderful and inspiring day touring the cellars of Gavi. This reflection on the Piedmontese white wines and, more specifically, on the Gavi DOCG and its ageing potential. Let's start from the beginning: Gavi DOCG, in case you don't know it, is a white wine made from grapes kind and produced around the municipality of Gaviin the province of Alessandria. Gavi is also called White Baroloto underline its value. In my opinion, this term is highly improper since Gavi DOCG can live, serenely, a life of its own.
From what emerged from discussions with both the Brand Ambassador of the Gavi Consortium Sara Repettoand producers, there is a 'problem' with the demand for new vintages that does not allow this white wine with extraordinary potential to bottle ageing to express themselves. That is why today I would like to address wine shops, restaurants and other operators Ho.Re.Ca. to reason together. Finally, I would like to give a little advice to all the wine enthusiasts, maybe many already do (or have another 'method'), but I am sure it will be useful to someone. First, thanks (in order of tasting) to Roberto di Ghio wines, Roberto of Broglia wines, Andrea of La Zerba, Andrea and Nora of Marchese Luca Spinola e Paola, Francesca and Anna from La Mesma for letting me experience three magnificent tasting experiences and having inspired me to write this article.
Piedmontese white wines: structure, warmth, fatness, longevity
When I think of great Piedmontese white wines, the Gavi DOCGthe Timorasso DOCthe Langhe Bianco DOC and theErbaluce di Caluso DOCGalthough recently, thanks to the splendid promotional work carried out by the association dedicated to wine tourism Go WineI also think of certain wines made from muscat grapes and vinified dry like these e this. Although they are wines made from different grape varieties, I can even think of Ellis 2008 by Gabriele Scaglione, a Langhe Bianco DOC made from chardonnay and arneis, they all have in common an important structure, a nice fatness and a longevity that in Italy 'we are not used to' for white wines.
Among all the Gavi DOCG, is for me the one with the most potential for evolution in the bottle and with a higher and more constant average quality within the denomination. Yet, confronting the producers on this trip to Gavi, I realised that...
You can now subscribe to the newsletter or scroll down the page to continue reading the article 😉.
Piedmontese white wines: why do people keep asking for Gavi from the vintage just past?
After a series of tastings and a discussion with the producers, a worrying fact emerged: Gavi cannot be put aside because not only end customers, but also operators in the sector sometimes ask for it even before it is ready.
At this point I would like to open a parenthesis for both of these figures, so different and yet so close. I understand very well that for a restaurant or wine shop to put away wine is not at all easy. Besides the practical aspect of managing a warehouse, there is always the burden of tied-up capital. My suggestion, which I have already seen done in Tuscany, is for you producers: propose to your restaurant and wine shop customers that you keep the bottles aside for them, obviously capitalising on this service. The more your Gavi DOCGs age in your perfect wine storage cellars, the more they gain in value and consequently increase in price. Your customers do not necessarily have to have a dedicated space, and your end customers are guaranteed to drink a wine that is optimally stored. Restaurants and wine shops can thus offer older vintages to their wine-loving customers while making a good impression, and you can promote them by reserving a space for them with a plaque in your cellar, which is also good for you. Obviously this is just an idea... but you have such extraordinary Gavi DOCGs that they MUST be valorisedif not in other ways.
Now a tip for end customers that applies not only to Piedmontese white wines!
I have probably already written this, but now I also want to give some advice to my wine-loving readers, especially the more 'hardened' sommeliers and winelovers. Of every label you buy, always make a carton of 6 bottles to be kept absolutely in the dark and laid down so that the cork always remains moist, swollen and there is limited oxygen passage. Open one immediately, when you buy it, and then one every year to feel its evolution. In this way, from the first one you drink, you will have 5 years of bottle and a small, but important, history of that label. I know it is not easy to wait and one is often tempted by mixed cartons (I understand you all too well! 😄), but this method gives much more satisfaction especially to those who are able to read the differences. And those who are not capable rest assured: that's how you learn!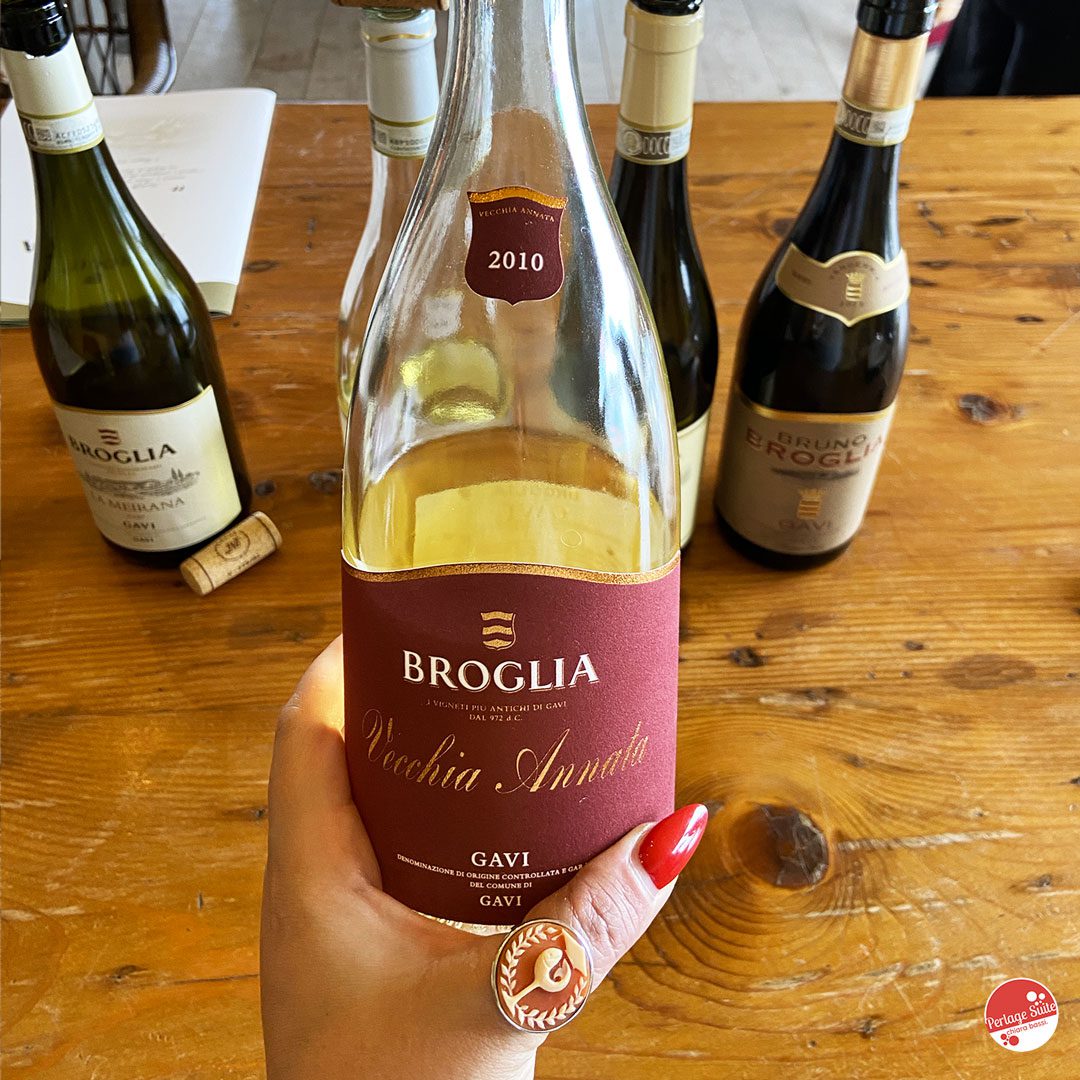 And now, before a final consideration, let me introduce you to the Gavi DOCGs that stole my heart and inspired this article!
Gavi DOCG 'Vecchia Annata' 2010, Broglia
It is bright golden yellow and consistent. The nose is a spectacle, with notes of camphor, raw chocolate, salted caramel, brioche bread, puffed rice. In the mouth it is savoury, fresh, the most balanced of all the tastings with the finest pseudo-caloricity. Very soft and with a nice freshness. Long finish of melted butter. It still has many years in the bottle ahead of it.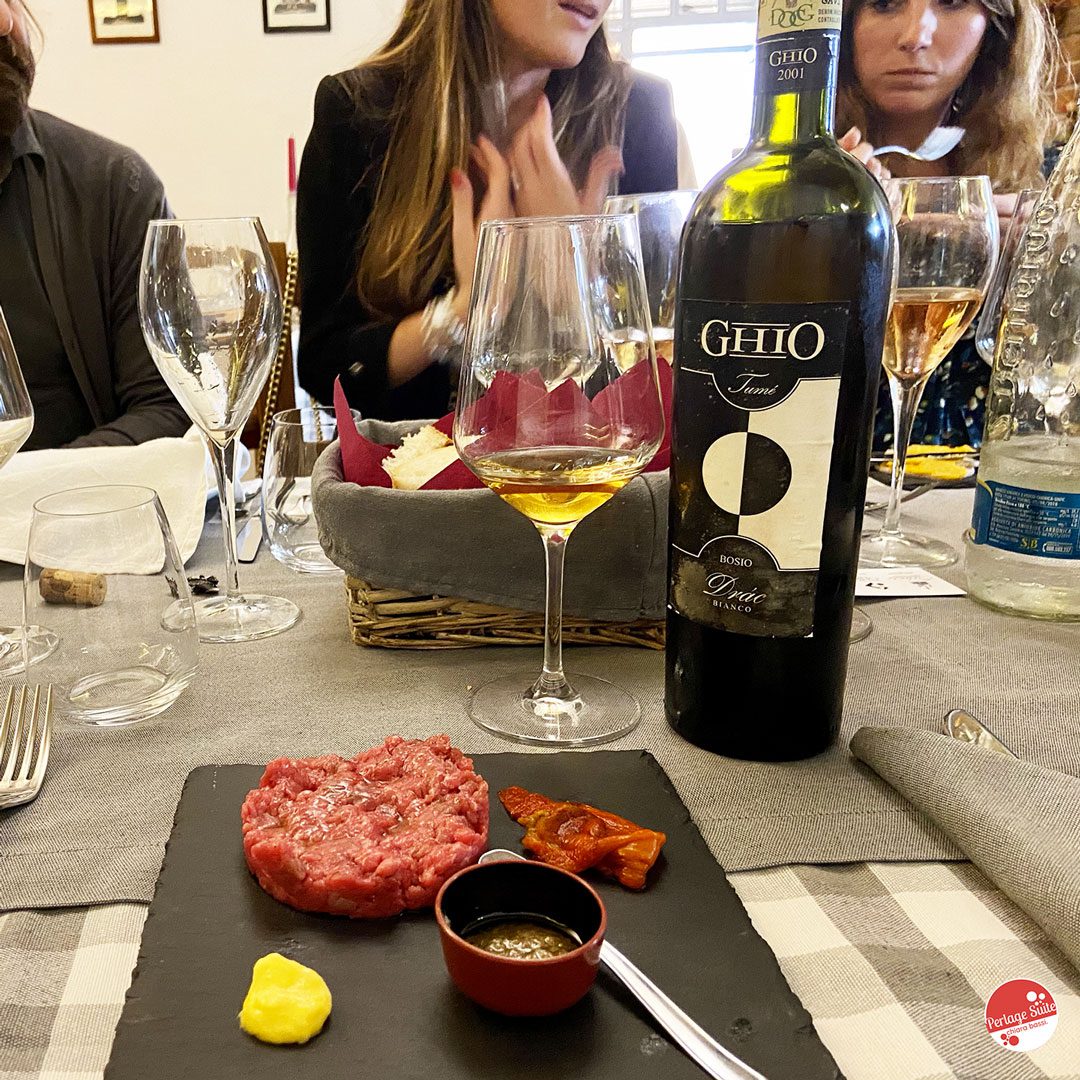 Gavi DOCG 'Dràc' 2001, Ghio
The second tasting of an 'aged' Gavi DOCG is by Roberto Ghio, who really managed to thrill me. I had already written about the tasting of his rosé sparkling wine 'La canna e l'orzo' in the recipe for ironed breadsticksbut with this 2001 he literally won me over. We had lunch at his Osteria Piemontemare, a truly delightful restaurant in Gavi with a sommelier with an important and beautiful name, Porzia (Roman noblewoman, wife of Brutus... did you know I have a little fish named after her?).
It is bright golden yellow with amber hues and consistent. The nose is literally moving: intense, with light oxidation, and very elegant. Notes of butter, rum, macadamia nuts and milk chocolate fade into a light hint of brine and meaty Amadori compounds. In the mouth it is a spectacle, fine, elegant, long and very soft. Incredibly, given that it is already 20 years old, it has not yet reached the end of its ageing potential.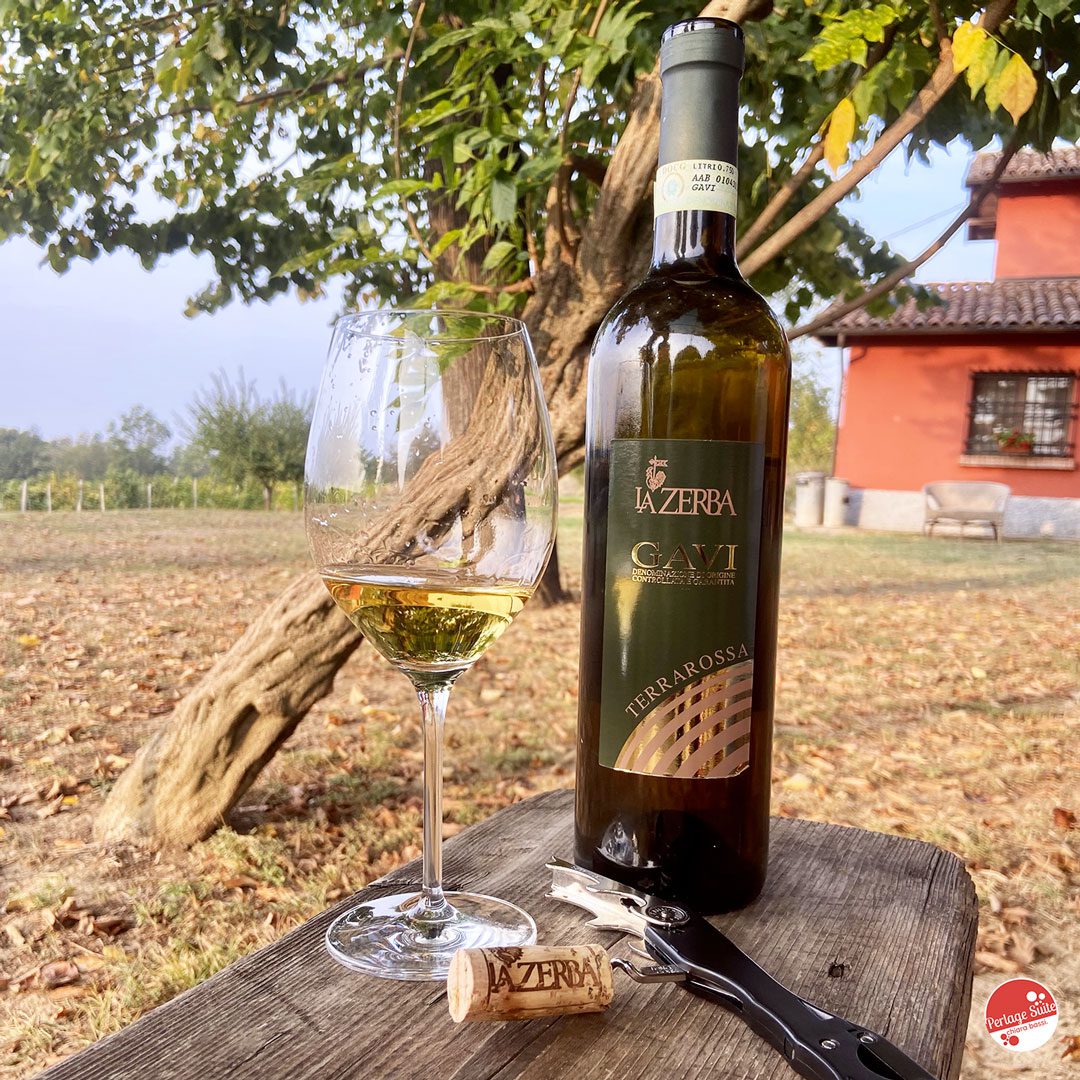 Gavi DOCG 'Terra Rossa' 2006, La Zerba
At La Zerba you find Andrea walking on that blood-red soil that betrays an iron-rich clay and asks his wines for more time to express themselves, on pain of an over-pronounced pseudo-caloricity. Wines that if you know how to wait, surprise like this 2006.
It is an intense straw yellow with golden reflections and is consistent. The nose is extraordinary, intense and elegant with those evolved notes that Cortese acquires with a few years on its shoulders. The bouquet is broad, with hints of fresh dates, white chocolate and custard. In the mouth, it is soft, fresh, savoury, consistent and with nice balance. Long finish of fresh dates. This Gavi DOCG can also age in the bottle for a long time yet.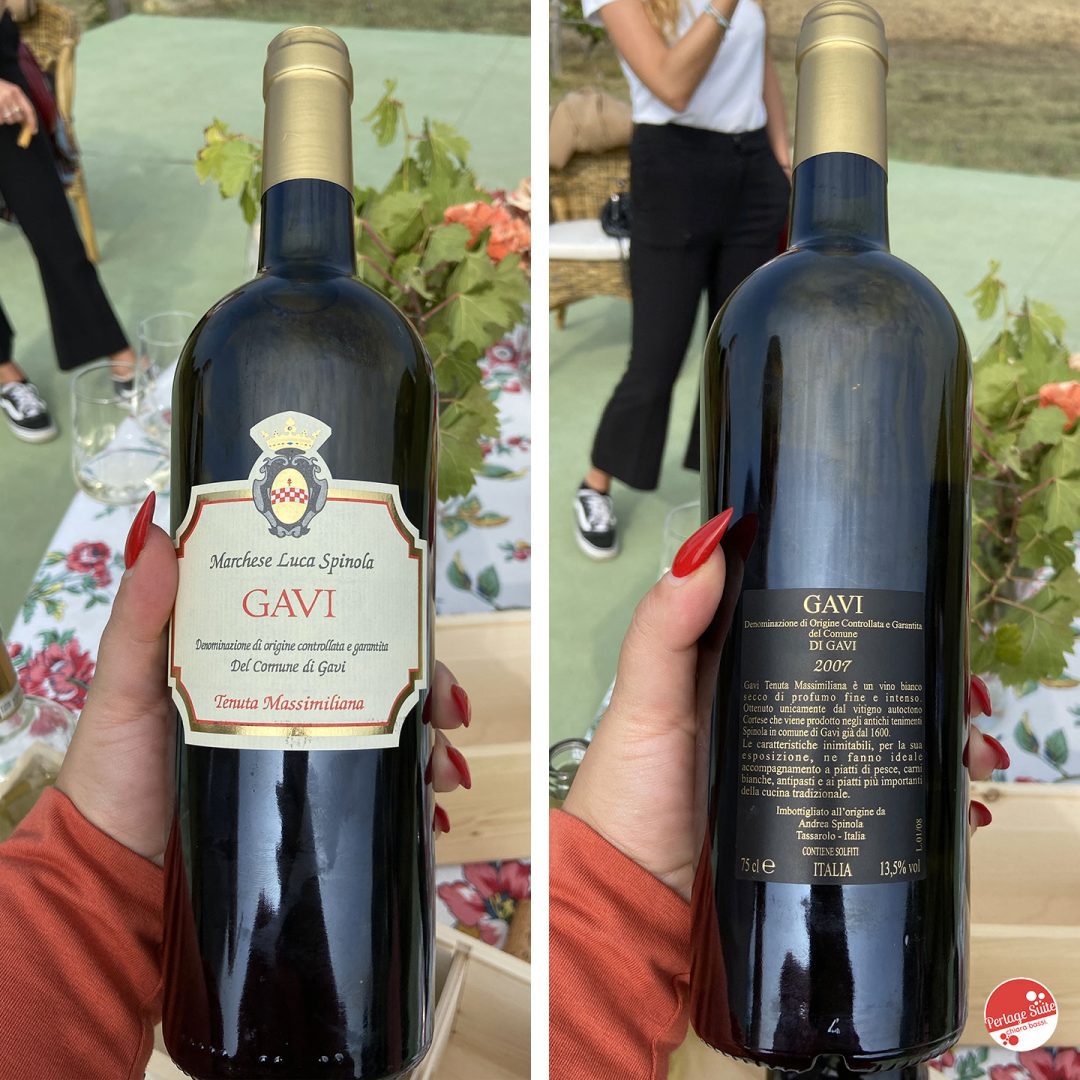 Gavi DOCG 'Tenuta Massimiliana' 2007, Marchese Luca Spinola
We did a vertical tasting of three vintages of this label: the 2019, the 2017 and the 2007. In an extraordinary vineyard, decorated with paper flowers and exquisite scones, I found Nora and Andrea, two wonderful, intelligent people, full of good taste and good ideas.
It is bright golden yellow, intense and consistent. The nose is ample, very fragrant, elegant and ripe with honeyed, balsamic, salt, butter and sage notes, raw chocolate, walnut, amaretto. In the mouth it is consistent, elegant, fine and with excellent balance. Long honey finish. This Gavi DOCG also has a long potential for bottle ageing.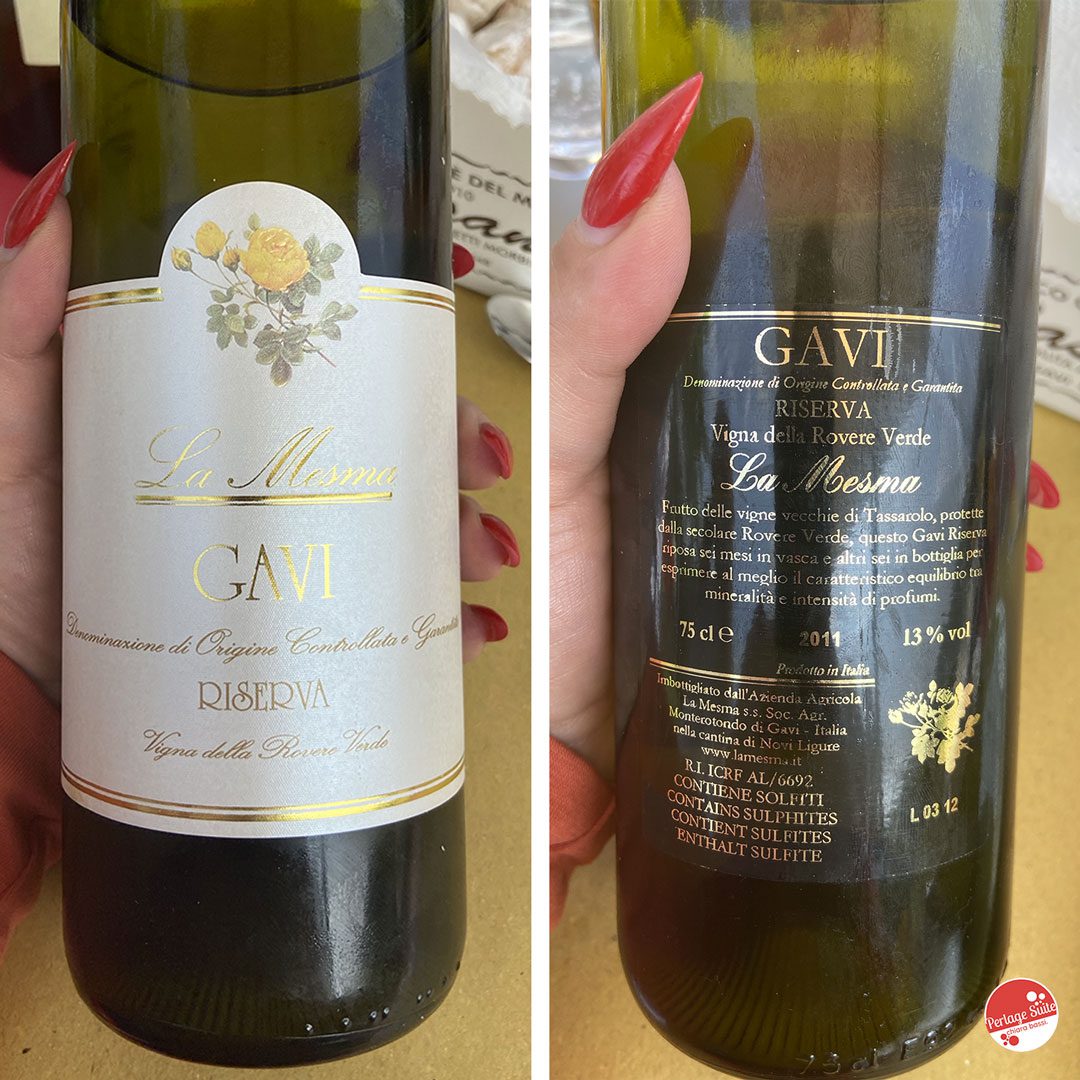 Gavi DOCG Riserva 'Vigna della Rovere Verde' 2011, La Mesma
A wine cellar born from the passion of three beautiful sisters, complementary in their studies and gifted by nature. Every detail is studied with extreme care and the cellar, built with love, preparation and effort, is wonderful. I am talking about two bottles here because my wine blog is called Perlage Suite and the dated classic method sparkling wine I just couldn't leave out!
Sparkling wine 2009 (10 years yeast, 2 years after disgorging)
It is a brilliant straw yellow with a fine, numerous and persistent perlage. The nose is extraordinary with notes of butter, white chocolate, custard, hazelnuts and pink pepper. In the mouth it is silky, fresh, savoury, structured, consistent and elegant. Very long buttery finish.
Gavi DOCG Riserva 2011
It is a brilliant, intense straw yellow with golden hues. Intense nose, with notes of butter, pastry, brown sugar and violets. Taste of zabaglione, fresh, savoury, very soft and with a nice length in the mouth.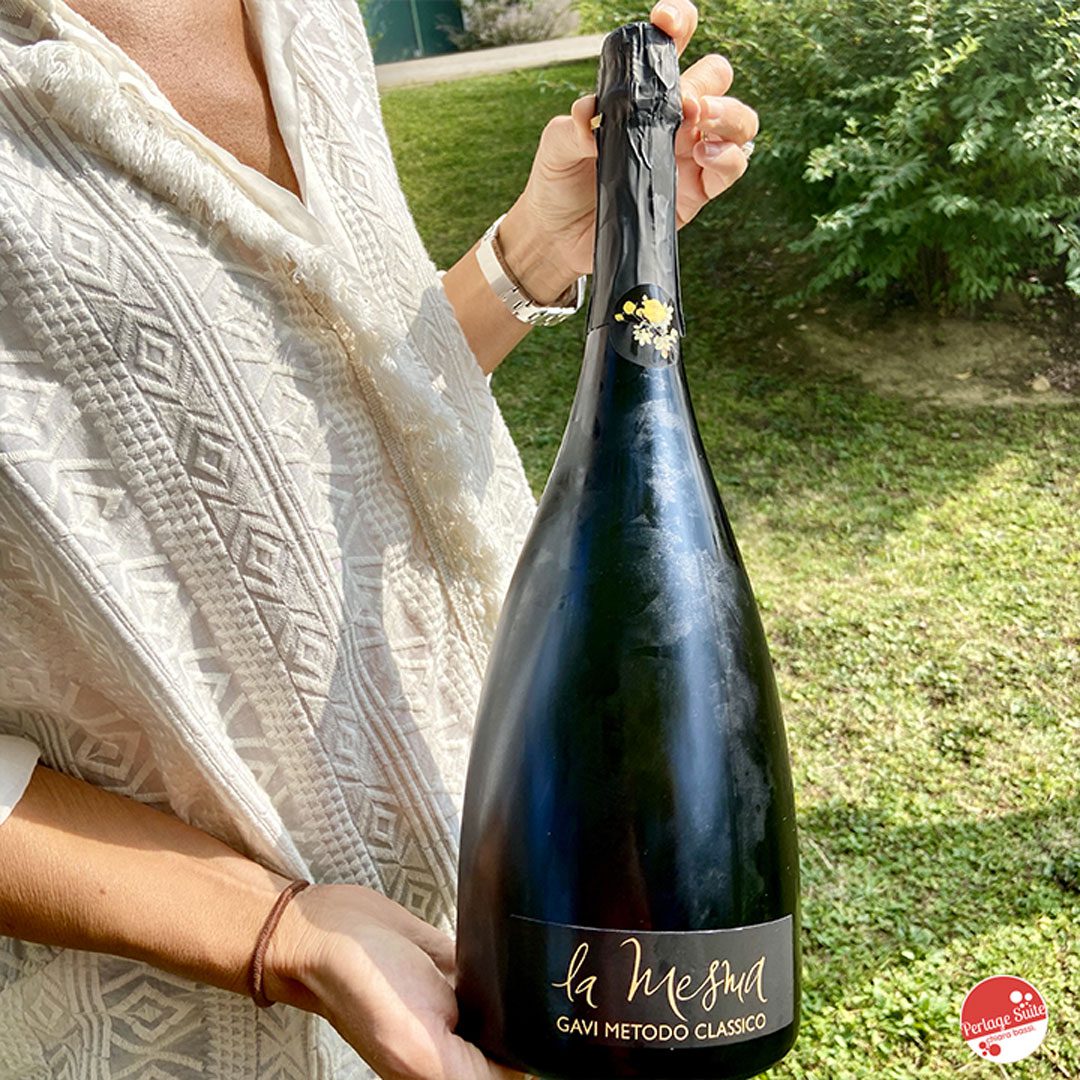 Gavi wine and Piedmontese white wines... a consideration on Gavi DOCG and its communication
A consortium, and I'm not just talking about the Gavi Consortiumis made up of many players with their own business realities and therefore also opposing needs. This is why finding a balance between the needs of a medium-small or very small winery and a large or very large winery is often not at all easy.
I therefore understand that communication solutions are sought for this, at times innovative, and thus capable of bringing Gavi DOCG to conquer a new public: this is normal, healthy and right. In every consortium there are large wineries that do quantity and medium-small wineries that do quality. On the one hand, therefore, you have to expand the public, and you distort the wine to offer it at a low price. On the other you have to increase the perceived value of the wine and align it with the real value so that you don't have to sell out the product and you create fabulous gems between one young bottle and another. Gavi DOCG, for me, is a wine that is sold too young and this can only irreparably lower its price. After all, demand, both from the end consumer and from Ho.Re.Ca. operators, needs to be educated, and until you understand the 'right' target of that new audience you are looking for, you will hardly reach a compromise.
If I may allow myself (and if I can't 'allow myself' anyway) there is a need for awareness on the part of the larger wineries to assist in the process of re-educating the consumer. I am sure the Gavi Consortium already knows that this is necessary. Fortunately, everyone stands to gain from this process, including the same large wineries that today offer a young Gavi for just a few euros. Giving time to Gavi DOCG certainly requires an immediate sacrifice of storage and risk, but I believe that the cortese, or rather the cortese in this terroir, is so 'magical' that it requires far less effort than it can give, and this at all levels of quality.
To do this, however, it must be understood that Gavi DOCG cannot be offered as a mixology wine: I know, I know that Champagne is also mixed. But Champagne can, Gavi still cannot. Gavi DOCG is not such a strong brand and proposing it as a cocktail only lowers its perceived value. Because, let's face it: I know that it is a wine that can age for a long time and I am sure that many of my colleagues, sommeliers and enthusiasts, know this too. It remains, however, one of Piedmont's white wines (and not a Burgundy chardonnay) and the brand is not yet strong enough to afford such blunders. There is still time for Gavi DOCG to turn around and reset its communication, catch the ball before another Prosecco phenomenon arises. Once the name is 'rubbished', there's no turning back. And I see the slammed faces when I say that at my wedding I 'said yes' to a 2010 Prosecco DOCG Metodo Classico (HERE are the 6 wines I chose for my wedding) and not to a Trento DOC or a Franciacorta DOCG.
Gavi DOCG does not mix, it waits. Like all important things.
This for me is the only message that needs to get through.
Cheers 🍷
Chiara
P.S. Remember to pair it with seared duck breast, foie gras, truffles, blue cheeses, smoked sturgeon or carpaccio and oysters!